IBA Ringside Doctors Course for AMBC took place in Guayaquil, Ecuador
April 19th, 2022 / IBA Courses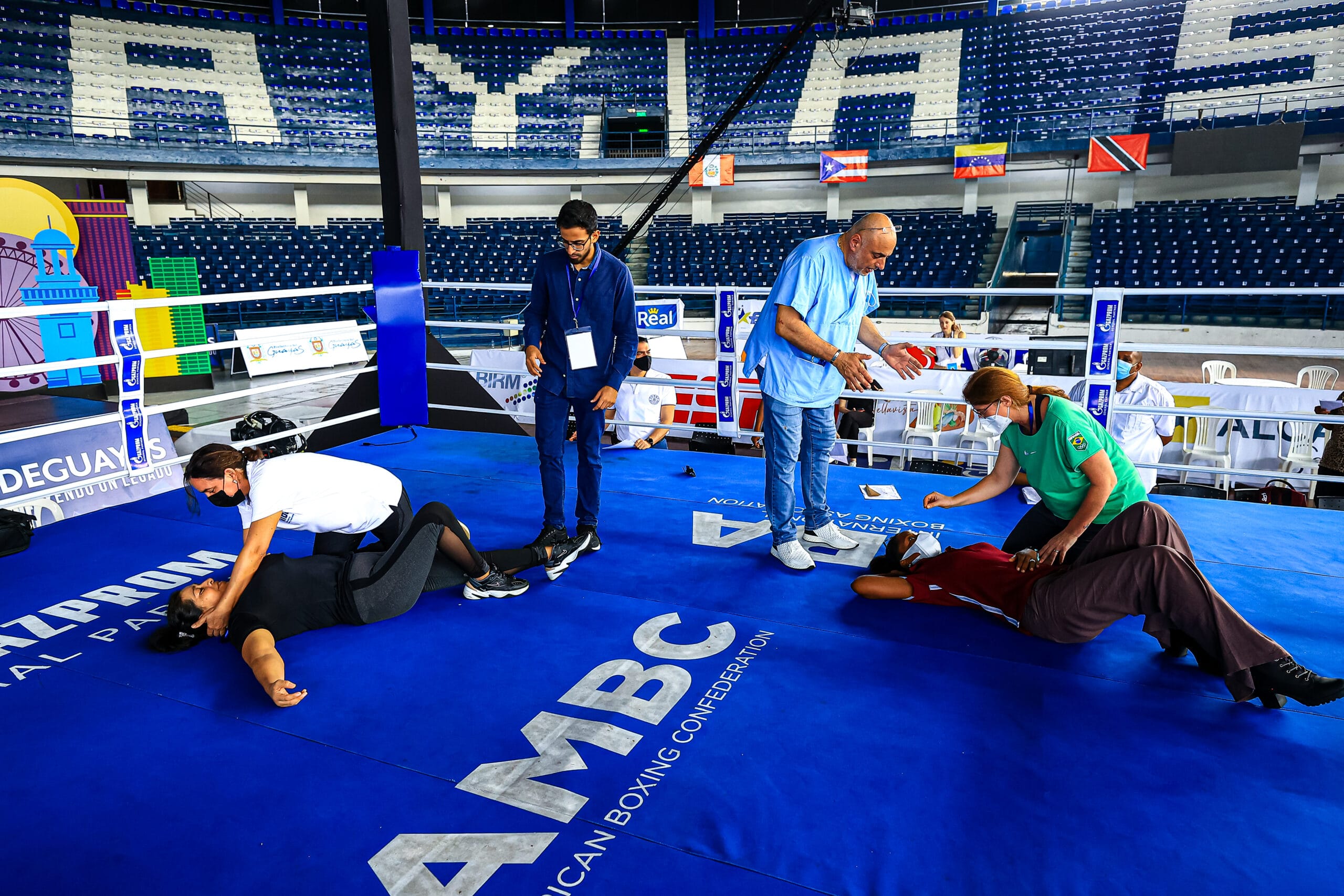 IBA successfully continues educating and requalifying Ringside Doctors around the world.

This time the course was successfully organized on the American continent within the 2022 AMBC Men and Women American Championships in Guayaquil, Ecuador. IBA Ringside Doctors Course for AMBC gathered 26 doctors of different ages, including 11 women doctors, from 18 National Federation. Among the course participants, there were also Ringside Doctors appointed for the championships who have to be recertified this year.

In September 2021, IBA announced that all the Ringside Doctor certificates should be renewed until 31st August 2022, and, consequently, continuous re-qualification of doctors was needed on all continents and at all levels. All National Federations were accordingly informed about the changes that were integrated in order to make all the doctors up to date with the new advancements and complications in the sport to support and protect the boxers in the safest way that had always been one of the IBA's priority.

The program for the IBA Ringside Doctors Course has been updated and now contains more relevant and comprehensive material that coincides with the needs of recent developments in sports medicine. The course consists of theoretical and practical parts in the ring. Since it was organized during the competition, the participants received a valuable opportunity to observe how Ringside Doctors and other officials work in real life and how everything is usually organized on site.

Dr. Alex Gonzalez (Ecuador)

A magnificent experience to learn the knowledge of Dr. Filippatos, his way of delivering the course always captures students' attention. At the same time, it is very didactic which helps to learn faster. It was also very pleasant to share experiences with other doctors and excellent professionals from America, I learned quite a lot from them too.

Dr. Marissa Parris (Guayana)

The course was precise and encompassed all the technical & medical knowledge needed to become an adequate and efficient Ringside Doctor in making strides for boxing to be the safest contact sport.

Dr. Guaicaipuro Jimenez (Aruba)

The course was organized at a high academic standard. Dr. Filippatos teaches you how to solve difficult situations in the ring, in a professional way by thinking out of the box. Great logistical support from the IBA. A great experience with continental colleagues. Priceless!

Dr. Cassiana Pisanelli (Brazil)

In my opinion, the course was fantastic. I learned medicine at university and am improving it on a daily basis, but in Ecuador, with the course, I learned something new – boxing medicine. I met colleagues with the same interests, I went through summarized and real experiences. I am leaving Ecuador with new and more complete knowledge on the subject. My thanks to the organizers and to the Instructor – Dr. Filippatos. I have knowledge of boxing medicine, and flexibility and I hope to be better from now on.

Dr. Jose Piedracruz (Mexico)

Thank you very much for this opportunity the course was excellent as what you learned will contribute directly to the health of boxers in the future. There is always something new to learn.

Dr. Nadia Paiva (Paraguay)
A course that teaches you a lot. There are things that one doctor personally can learn, there are others that will help everyone with practice to improve their performance. I believe this is the main message, to become better every day at what we are doing. And it is great that we had to work as a team, we really feel that, that we were together as a family.