Financial Integrity
IBA is committed to sustainable financing after having been on the brink of insolvency in previous years. A major sponsorship deal with the well-known sponsor of major sports properties was announced in April 2021.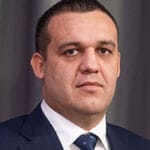 "IBA's financial stability is one of our main goals. That is why partnership with the largest companies in the world is important for us in order to jointly fulfil the tasks set for the boxing family. I am pleased that PJSC Gazprom has become the general partner of the International Boxing Association. This is a tremendous and extremely significant step for us. The company is actively involved in the development of sports, and now supports the values of boxing. We are grateful for the vote of confidence and we are sure that we have a productive partnership and many new joint victories ahead."
Umar Kremlev, IBA President
Oversight of IBA's finances is now provided by the independent Audit and Finance Committees.
Finance Committee
The task of the Finance Committee is to oversee financial management and to advice the Congress and the Board on financial matters and asset management. The Finance Committee is also tasked with reviewing the annual budget before submission to the Board for approval, as well as a quarterly review process"
Audit Committee
The Audit Committee is responsible for reviewing and monitoring statutory, regulatory, financial and legal compliance. The members of the Audit Committee must be elected and dismissed by the Congress and be independent from the IBA Management and Leadership. The terms of office of the members of the Audit Committee are limited.
External Audit
An External Auditor reviews IBA's accounts. The auditor must be independent and qualified, and must be appointed by the Board. At present the role is performed by Moore Stephens, part of BDO's international network.
The External Auditor's most recent report can be found here.
Financial Documents