IBA reaffirms its continuing support to AFBC by delivering another development module on the continent
September 1st, 2023 / IBA Courses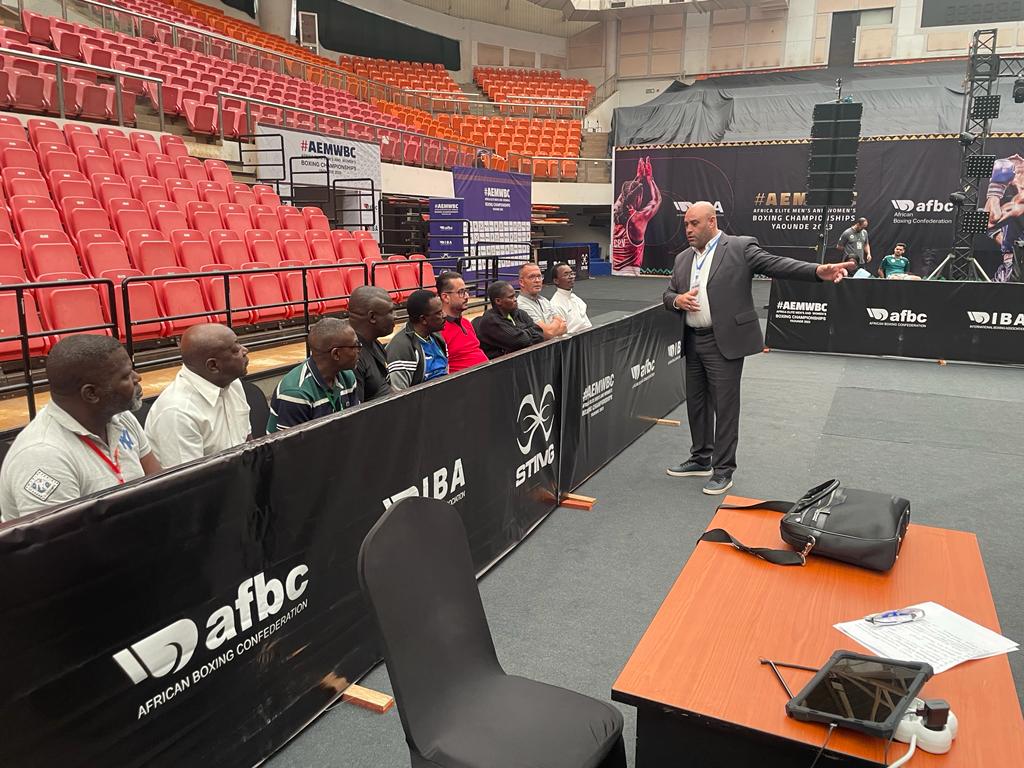 The AFBC African Boxing Championships in Yaoundé, Cameroon welcomed not only boxers in the pursuit of medals but also the officials from all over the continent and other Confederations wanting to acquire new knowledge and upgrade their skills required by the IBA to work at international and continental levels.
The IBA 2-3 Star R&J Course gathered 32 Referees and Judges wishing to gain more experience in and around the ring within the continental championships. The course was led by experienced instructors, John Waith, and Mohamed Braham, who worked as Referees and Judges Evaluators at the competition.
The ITO Course led by John Waith became the first training delivered in Africa according to the updated program which now includes extensive practical exercises in the Field of Play (FOP) and a rigorous theoretical and practical assessment aimed at evaluating knowledge of the most updated IBA Technical and Competitions Rules.
'32 candidates participated in this course from all over Africa, plus 16 IBA 3-star R&Js from around the world. The first day consisted of a full-day presentation on the IBA Technical and Competition Rules. The morning of the second day consisted of the written exam. Further, from the first session and every day after, the course participants were evaluated on their refereeing and judging. The African Championships was very competitive, and they gave the candidates good experience,' Mr. Waith commented on the tournament and R&J's performance.
'The ITO course started with a full-day presentation to give the 12 candidates an insight into their duties as ITOs and to cover most of the IBA Technical and Competitions Rules. The second day consisted of the exams after which the candidates started shadowing the work of the ITOs such as the RJ coordinator and Equipment Manager where they were able to see their first-hand work. The next day continued with extensive practice in the FOP. The last day started with a Q&A session with all the appointed IBA ITOs, where they would describe in detail their position and the work involved with their duties. The same day the doctor held a first-aid workshop where he went into detail about his duties and the injury problems that boxers might have in this sport,' the course instructor added.