IBA Champions' Night shined in Paris with five victories for French boxers
October 19th, 2023 / IBA Champions Night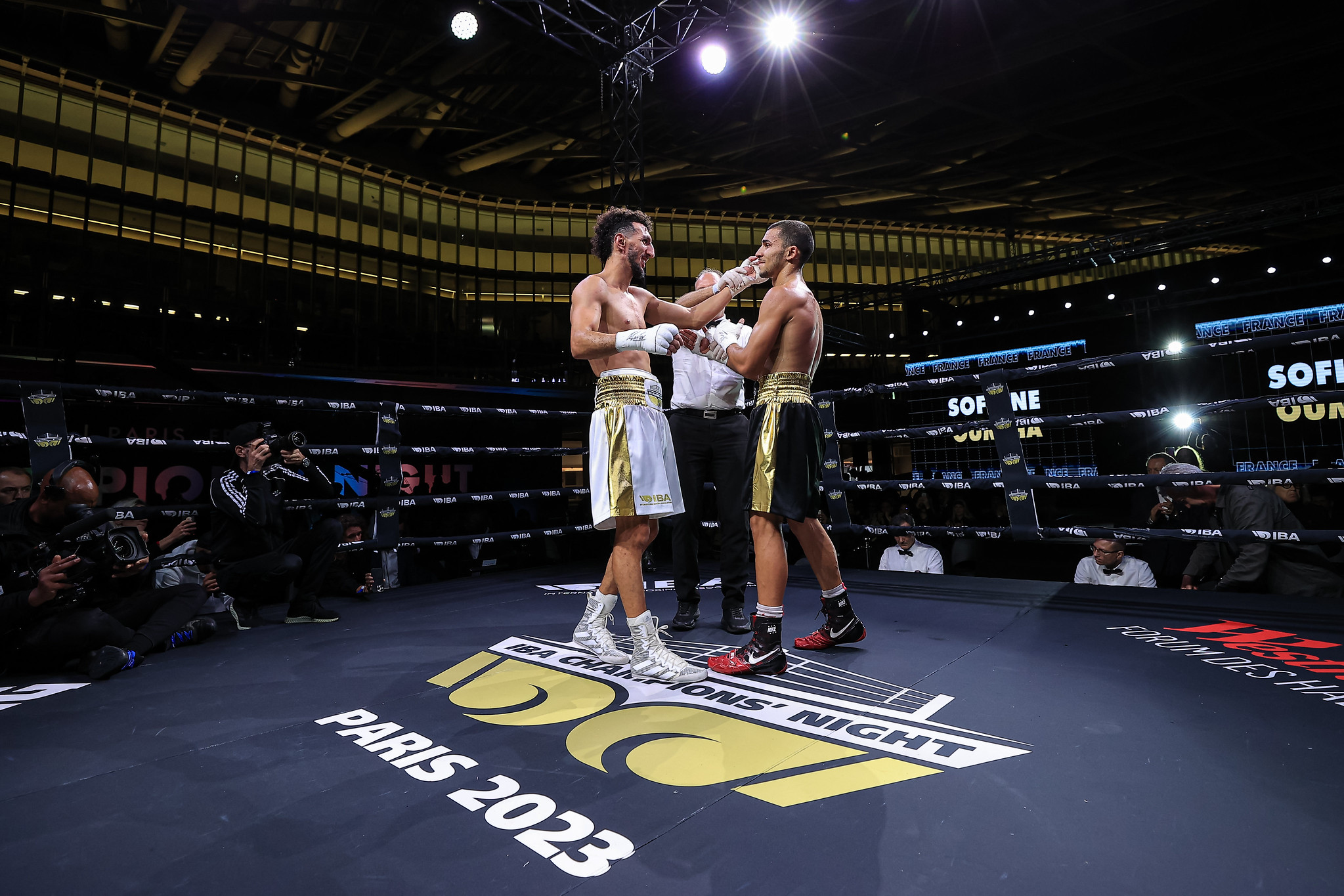 Paris hosted the IBA Champions' Night for the very first time on 18 October. The Westfield Forum des Halles witnessed the epic fights of twelve talented champions, medallists, and contenders. The boxers receive prize money, $10,000 for the winner and $5,000 for the runner-up.
The main event brought the audience excitement, as French boxing star and three-time World champion Sofiane Oumiha faced Bulgarian prospect Radoslav Rosenov. Oumiha started slowly and carefully, and round by round people saw more and more tempo and power in his attacks. The French boxer used a wise strategy and managed to outclass his rival in six rounds. His hand was raised, and the public applauded with excitement.
'I was able to box in Paris in front of my family, my children, and my wife for the first time since long ago. Also, it's the foretasting of Paris with its free spirit and something great in place. I am happy to be one of the names to box in Paris and to have seen so many spectators, people who support me. It warms my heart, and now the only thing I need to do is to train to be able to perform again,' Oumiha said.
'IBA makes things happen that are just magnificent; there are great bouts between the best of the best. And it allows us to encounter the best of the best during such events, where everything is arranged just to shine. That is what IBA does in any case, and it does well, we are a true family,' the boxer added.
Another French boxer Fatia Benmessahel fought against Megan de Cler representing the Netherlands in the women's 63kg division. Both boxers were extremely fearless and constantly attacked with a series of punches. The judges gave preference to a French boxer, who is a World Championships bronze medallist.
'I'm happy and proud to be chosen to compete at the IBA Champions' Night. It was a tense fight, everybody wanted to win. All people at the arena wanted me to win, and I am very happy with the result. I enjoyed the fight, it was really crazy! It was my first time competing without headguards, and I liked it. I am ready to do another Champions' Night and win again,' Benmessahel claimed after the fight.
Marta Lopez del Arbol from Spain challenged local boxer Wassila Lkhadiri in the 50kg division. The latter was very precise in her punches and after 5 rounds she triumphed.
'I'm happy to fight in Paris, it is my first bout without a headguard. It was a tough fight, I was a bit stressed, but everything went well. I am always that determined in the ring,' Lkhadiri said.
Rady Gramane from Mozambique faced French Davina Michel in a 75kg contest. In a dramatic fight, Michel managed to win by a unanimous decision to the excitement of the fully packed venue.
In a 57kg bout, Michaela Walsh from Ireland and Amina Zidani from France demonstrated one more competitive fight with a strong will to win from both sides. The judges' opinions split, and Zidani celebrated a victory by a 3:2 decision.
Netherlands' Gradus Kraus showed an exceptional performance this night against Croatian Gabrijel Veočić in the 80kg category. Kraus' strong punches on target made his rival uncomfortable, and the referee counted several times. At the end of the 5th round, the referee stopped the contest. The dominance of Gradus Kraus was well-received by the public that truly enjoyed the IBA Champions' Night in Paris.