Aimed to save his gym after the flooding Sewon Okazawa won «Best in Boxing» prize 
September 7th, 2020 / IBA
Japan Boxing Federation has awarded the «Best in Boxing» of the country. The prize was given not only for sporting achievements but also for the social input. The award was dedicated to the International Boxing Day which is celebrated on July 22nd annually.
Sewon Okazawa, who worked with Kanoya gym's head coach Shunya Aratake, has been awarded the Best Elite Man Boxer of the year. The quarter-finalist of the last edition of the AIBA Men World Boxing Championships cares not only about his own career. This summer he claimed he would take a break in his preparation for home Games to repair the boxing gym in Kanoya damaged by flooding after the torrential rain. He is working with the
'I want to give something back by helping return the gym to its usual condition', he said in June to Kyodo News.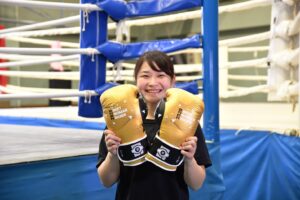 21-years-old Tsukimi Namiki has become the Best Elite Woman Boxer. She is a quarter-finalist of the last edition of AIBA Women's World Boxing Championships. She is the first woman ever from Japan who has qualified for the Games. 
The Best Coach of the «Best in Boxing» awards, Yoshiyuki Hirano, has participated for many years in the national team training camps and international tournaments. 
Japan Boxing Federation has organized "High school shadowboxing Challenge 2020" for the students who are enthusiastic about boxing training at their respective high schools all over Japan. This event has been awarded the Best Innovative Project of the year. 
Owing to the impact of the new coronavirus, most of the boxing events for high school students have been canceled so far. As an alternative idea to support the students who are training hard, Japan Boxing Federation has planned the "High school Shadowboxing Challenge 2020".
Videos of boxers doing shadowboxing have to be uploaded on social media, and they will be judged by distinguished experts, such as Naoya Inoue, the WBA and IBF World Bantamweight Champion, and other top-level boxing specialists.
All the winners of the Japan «Best in Boxing» prize:
The Best Elite Man Boxer – Sewon Okazawa

 

The Best Elite Woman Boxer – Tsukimi Namiki
The Best Coach – Yoshiyuki Hirano
The Best Youth Man Boxer – Reito Tsustumi
The Best Youth Women Boxer – Hikaru Shinohara
The Best Ringside Doctor – Mr. Tetsuya Sakamoto
The Best R&J – Katsunori Hanabusa
The Best official – Tomoaki Takenowaki
The Best Boxing School – Kokoku Highschool
The Best Innovation Project – High School students shadowboxing challenge 2020