AIBA October Boxer of the month – Mohammed Rabii
November 4th, 2015 / All
The International Boxing Association (AIBA) has named Moroccan welterweight Mohammed Rabii its Boxer of the Month for October. The 22 year old became Morocco's first ever gold medallist at the AIBA World Boxing Championships held in Doha earlier in the month, continuing an impressive run of form that included an unbeaten World Series of Boxing Season V with the Morocco Atlas Lions team.
"It was an incredible feeling to win the gold in Doha after a lot of hard work and an intense training schedule, and I am honoured that AIBA have recognised that effort, too", said Mohammed Rabii following the announcement.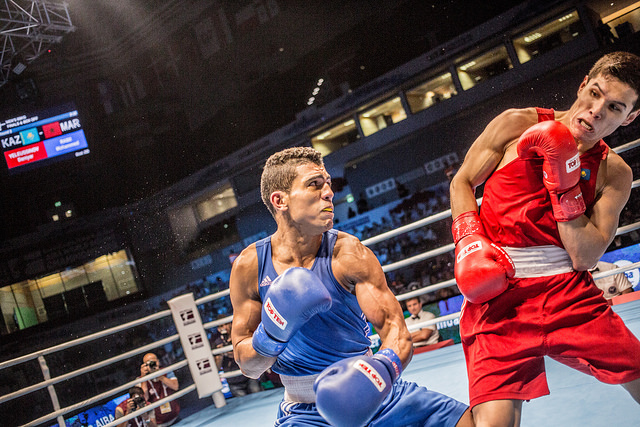 An AIBA specialist's panel created the shortlist of boxers all of whom had put in exceptional performances in Doha, with the responsibility passed to AIBA's social media followers to vote for their Boxer of the Month. Irish star Michael Conlan and French super heavyweight champion Tony Yoka were close seconds, but Rabii's accomplishments had clearly captured the public's imagination.
"Congratulations to Mohammed Rabii on his achievements in Doha and winning AIBA Boxer of the Month for October. It is with great pleasure that we saw the reaction of Morocco's boxing fans to his gold medal win, which I have no doubt will help inspire Africa's boxers to further success. I would also like to praise the other contenders for their brilliant results at the latest World Boxing Championships", said AIBA President Dr Ching-Kuo Wu.