AIBA celebrates 70-year anniversary with Gala Dinner in the company of Boxing Legends
December 21st, 2016 / IBA
AIBA celebrated its 70th anniversary on Tuesday evening with a Gala Dinner and Awards Ceremony in the Swiss city of Montreux sponsored by TaiShan. This year's awards saw the launch of the AIBA Legends programme, honouring the personalities and talents that have blessed the sport over AIBA's seven decades as world boxing's governing body. Ukraine's Wladimir Klitschko, India's MC Mary Kom, Cuba's Felix Savon and France's Brahim Asloum were recognised for their achievements, and the great Muhammed Ali's life and legacy were affectionately remembered with the first AIBA Greats award.
"More than ever in its 70 years as the sport's governing body, AIBA today exists to provide our National Federations and boxers with the opportunities and platforms to help them fulfil their potential, build the strongest pool of talent and compete at the highest levels possible. As we celebrate this milestone, it is important that we remember those figures and personalities who continue to inspire thousands of boxers and around the world with their integrity, dedication and achievements, but equally important is that we keep building the platform on which we can forge the strongest possible future for our sport, beginning now with the Tokyo 2020 Olympic cycle," said AIBA President Dr Ching-Kuo Wu.
"I am honoured to be one of the first recipients of the AIBA Legends award. My journey with AIBA began when I was 14 years old and boxing has given me so many positive experiences since then. Congratulations to AIBA on your 70th anniversary and for your continued dedication to the growth and development of boxing around the world", said Wladimir Klitschko.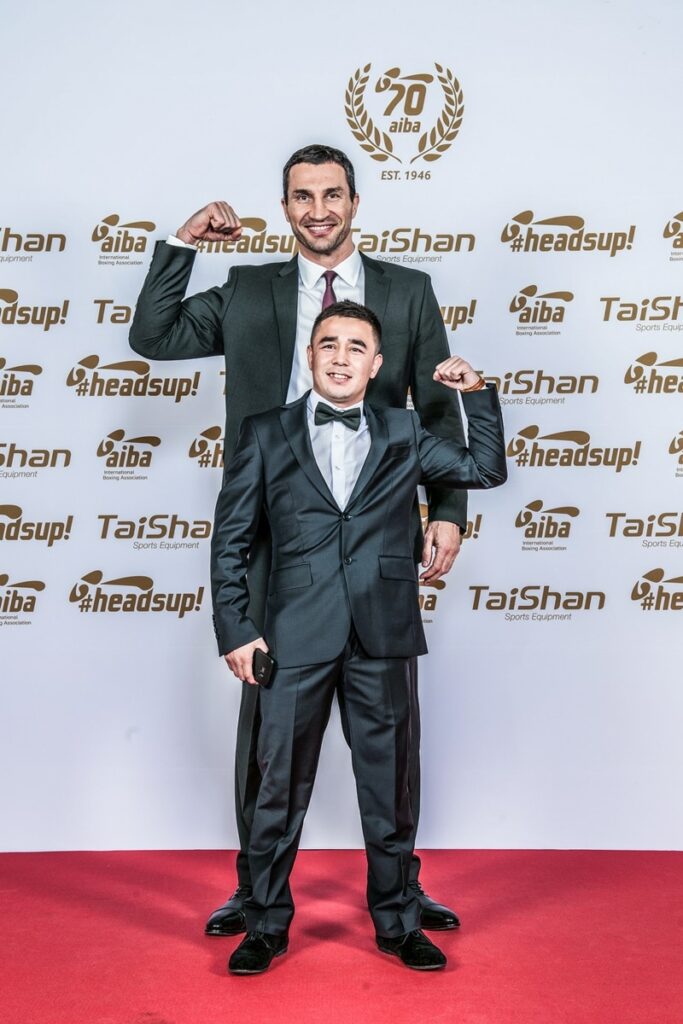 Wladimir Klitschko and Hasanboy Dusmatov
At the end of a packed Olympic year, the best performances and events of 2016 were recognised, with Uzbekistan's Light Flyweight Champion Hasanboy Dusmatov and the British Women's Light Flyweight Olympic Champion Nicola Adams both winning Boxer of the Year. The Best Coach award went to Billy Walsh following a highly successful first full year in charge of the US team, Cuba Domadores were crowned Best WSB Team and India's Vakas Krishan won Best APB Boxer.
Cuba's David Morrell's starring role at the 2016 Youth World Championships, where he won Light Heavyweight gold, earned him the Best Youth Boxer award and hosts Saint Petersburg won Best Youth Event, with Astana winning Best Elite Event for their superb hosting of the Women's World Championships in May. Helmut Ranze won Best Supervisor for his role at the Rio 2016 Olympic Games.
The dinner was sponsored by TaiShan Sports Equipment, and the company took the opportunity to present its portable boxing ring during the dinner, an affordable, innovative design set to help grassroots boxing programmes, gyms and competitions around the world.