Adriana Araujo, Brazil's first ever Women's Olympic Boxing medallist, is back in the ring and going for gold at Rio 2016
August 12th, 2016 / IBA
The 2016 Women's World Championships in Astana earlier this year ended with an emotional outpouring for Brazil's Adriana Araujo. More than any feeling of disappointment at not leaving with a medal, the Bahia native was overcome with joy at returning back to the national team fold. This was only her third match after a two-year hiatus, and the London 2012 bronze medalist was already looking ahead to the chance of a second Olympic podium appearance, this time in front of the Brazilian people.
"It is hard to imagine what it would be like to take a medal in Rio. I mean, it would be incredible to do it at home, to do it for everybody going through so much in Brazil at the moment," admits the 34 year-old, who begins her Rio 2016 campaign against Finland's Mira Potkonen on Thursday morning.
Rewind four years, and Brazil's newest boxing star was riding the crest of a wave after her London 2012 success. Araujo's performances on the way to winning Olympic bronze captured the imagination of a nation already brimming with excitement at the prospect of hosting the next Olympiad. Araujo's performance also helped to propel women's boxing further into the national spotlight.
"I had no idea at the time of the impact my medal had had back home. That moment really seemed to open up people's minds to women's boxing in Brazil. It followed Roseli Feitoso's AIBA World Championship title in 2010 and helped bring lots more young people to our sport. The investment and sponsorship followed too, and finally gave us a solid base for the national boxing squad and opportunities to compete on a new level."
Araujo began boxing back in 1998. Always keen on sports, studying and the need to earn a living halted her dreams of representing Brazil until, as she puts it, boxing 'found' her. A friend invited the then 17 year-old to try it at her local gym; "So I gave it a shot. I took it up really just to stay fit, then the coach, Rangel Almeida, said that I should try sparring."
With few women taking up the sport at the turn of the millennium, and no other women boxers training at the gym, Araujo was breaking new ground. "I was told that this was a man's sport, that I should be doing ballet, but then I met Luiz Dorea. He had coached big names like Acelino Freitas, and when he said I had what it took to one day be a world champion, I knew I had to take up boxing full time. To hear those words from someone with so much experience, I began to believe."
After becoming champion of her home state Bahia in 2002, Araujo went on to win the first of eight Brazilian Championships in 2003. Astana 2016 was her fifth AIBA Women's World Championships, but it was in late 2009 that she first heard that women's boxing was in the running to become an Olympic sport.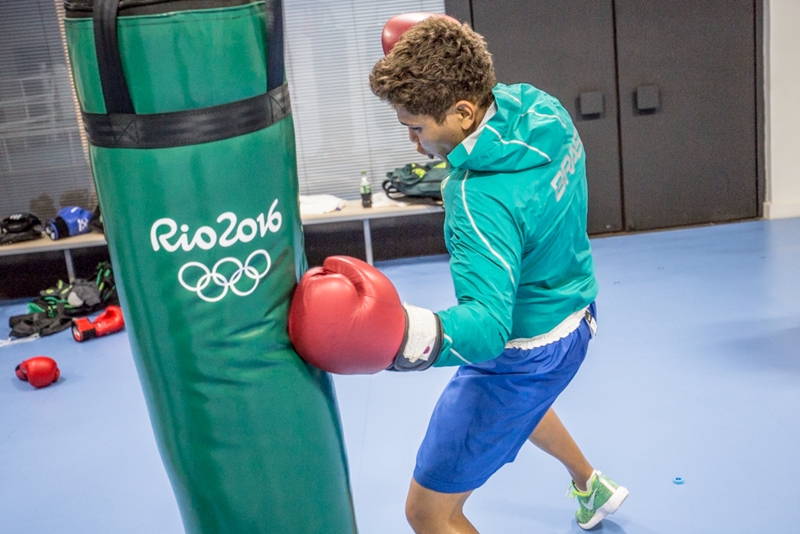 "In 2008 I already felt part of the Brazil team in Beijing even though it was only the men's competition, and by the end of 2009 I knew I would have another chance to represent my country in front of the world. We arrived at London 2012 a fortnight before the start of the competition to acclimatise, but I tried to treat it like another major championship and didn't feel too much pressure. Boxers always want to win of course, but in London I knew I was ready. I'd trained so hard and really developed my boxing so I felt like a lion in the ring. Winning the bronze medal was the happiest moment of my life."
The moment was tinged with sadness, too, to that her father, who passed away in 2006, and mother who died in 2008, weren't there to see her take to the Olympic podium after everything she had put into the sport. "It was sad. They supported me but, in truth, at the start neither was too happy that I had chosen boxing and they didn't like me coming home with bruises. It was at a tournament in 2005 that my mum first really got behind me, and I wished they could have been there to see me win an Olympic medal."
Another huge source of pride came earlier this year when the Brazilian Minister of Sport invited Araujo to be one of the first athletes to carry the Rio 2016 Olympic torch after its arrival in the capital Brasilia, the start of its journey through the country to the Maracanã stadium, the venue for the Opening Ceremony.
As Araujo begins her Olympic campaign, she will be looking to find her inner lion once again and secure a second Olympic medal in Rio. With the crowd right behind her and her parents' spirit within, it would take a brave person to bet against her achieveing that podium finish and giving the Brazilian people yet another reason to embrace one of the strongest characters in women's boxing.