Women's prize money boost confirmed as leaders gather for IBA Women and Sport Conference
March 24th, 2023 / Women and Sport Conference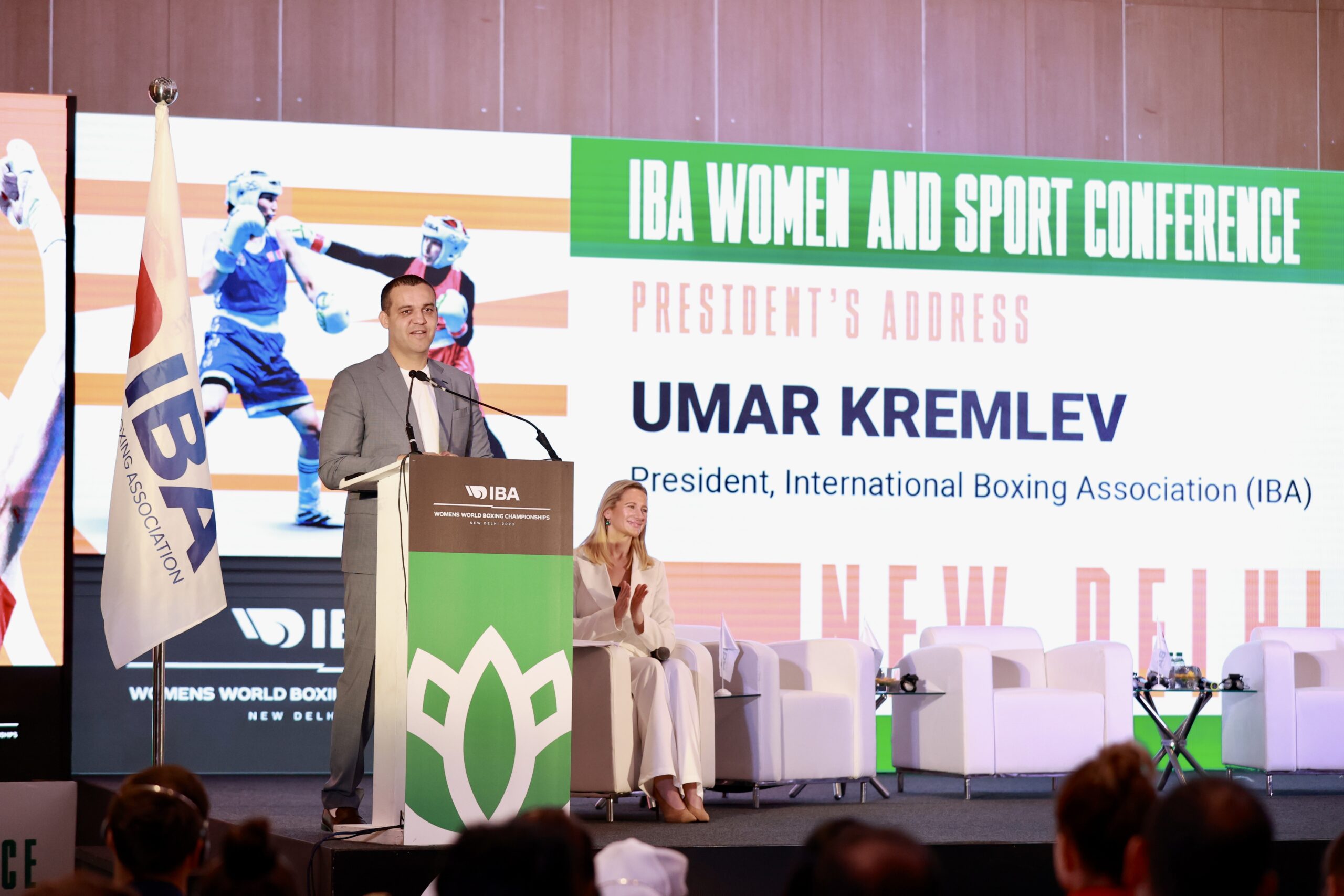 International Boxing Association (IBA) President Umar Kremlev has confirmed that prize money will double for the next edition of the IBA Women's World Boxing Championships
The announcement was made during the inaugural IBA Women and Sport Conference earlier today on the sidelines of the IBA Women's World Championships in New Delhi
Leading speakers from the sporting world shone a spotlight on women's rights and the growth of women's boxing in India and worldwide
New Delhi, India – International Boxing Association (IBA) President Umar Kremlev has underlined the governing body's commitment to women's boxing by revealing at today's IBA Women and Sport Conference that prize money will double for the next edition of the IBA Women's World Boxing Championships in 2025.
President Kremlev confirmed that gold medal-winners at the next edition of the Championships will receive $200,000 during his opening remarks at the inaugural IBA Women and Sport Conference, which took place on the sidelines of the IBA Women's World Boxing Championships in New Delhi. The total prize money for this year's event is $2.4 million.
"We will double the prize money, and in the future I would also like to see boxers who finish outside the top three at the IBA Women's World Boxing Championships receiving prize money, and not just those who finish on the podium," Mr Kremlev said. "Women should be allowed to reach their full potential, as is their right, and that is my mission and goal as President of IBA. I will do all I can to help women achieve their dreams in boxing."
Mr Kremlev also confirmed that Women and Sport Conferences will become a regular feature alongside future major IBA events on the calendar and praised India's hosting of this year's Championships and the country's support for women's boxing.
Boxing Federation of India President Ajay Singh outlined the challenge as well as the opportunity in his country, by explaining: "Of a population of 1.3 billion, we have 650 million women. To a large extent, this is still a patriarchal society, with women taught that they are below men. However, sport is a wonderful way of showing that women count and that they can change their lives and the lives of their families."
An IBA Board of Directors Member and a Chair of Diversity Committee Pearl Dlamini welcomed the IBA President's prize money announcement, and outlined the task of increasing the numbers of women competing and coaching, with only 4.75% of the IBA's registered boxing trainers currently being women. "At IBA, we fight for equity, not equality," Dlamini stressed.
The audience also heard from current and former women boxers, with Kristy Harris, a Director on the IBA Board and a competitive athlete, among those to reflect on her own journey in the sport under the conference theme of 'Level Canvas – Equal Opportunities' and explored 'Breaking Down the Barriers to Women's Participation in Sport.'
"When I started out in boxing, I disliked the environment, so this is a topic that really resonates with me," she said, before adding that "persistence" was needed to progress in a male-dominated sport, with derogatory comments adding "fuel to the fire", outlining the broader challenge of making boxing more welcoming for emerging women's talent in the future.
The event featured sessions on how sport can create an environment for women coaches to thrive, as well as how sport is responding to the needs of athletes' physical and mental wellbeing, plus numerous other topics.
The conference took place the day ahead of the start of the finals of the IBA Women's World Boxing Championships, with 12 bouts split across 25-26 March at the 6,000-seat K.D. Jadhav Indoor Hall in New Delhi.