The Toronto 2015 Pan American Games finishes with seven superb Finals
July 26th, 2015 / All
A spectacular day of action saw the final seven champions crowned in the boxing tournament of the Toronto 2015 Pan American Games.
The women's Flyweight (51 kg), women's Lightweight (60 kg), men's Flyweight (52 kg), men's Lightweight (60 kg), men's Welterweight (69 kg), men's Light Heavyweight (81 kg) and men's Super-Heavyweight (+91 kg) weight classes all completed their finals on the last competition day.
Bout of the day
Canada's three-time AMBC American Women's Continental Champion Mandy Bujold arrived to the Games as the defending champion, and began her final with AIBA Women's World Champion Marlen Esparza eager to become the second Canadian gold medalist in Toronto.
The US Flyweight star defeated Bujold in the final of the Pan American Games Qualifier in Tijuana, Mexico six weeks ago, but on the day of her 28th birthday, Bujold secured a memorable triumph in front of her home fans.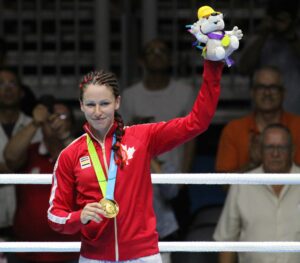 Esparza attempted to control the first round of their battle as she moved forward with serious intent, before Bujold began to launch great combinations of her own.
Buoyed by the fantastic support in the packed arena, the Canadian athlete soaked up the adulation and increased her work-rate as the fight progressed.
After all four rounds had been completed, Bujold was named the winner via split decision as she narrowly edged the captivating bout.
Gold medal winners on the final day in Toronto
Women's 51 kg: Mandy Bujold, Canada
Women's 60 kg: Caroline Veyre, Canada
Men's 52 kg: Antonio Vargas, United States of America
Men's 60 kg: Lazaro Alvarez, Cuba
Men's 69 kg: Gabriel Maestre, Venezuela
Men's 81 kg: Julio Cesar La Cruz, Cuba
Men's +91 kg: Leinier Pero, Cuba
Team of the day
The Cuban boxers claimed three gold medals on the first day of the finals, and their strong team doubled that tally on Day 8.
Cuba's two-time AIBA World Champion Lazaro Alvarez began the gold rush with a dynamic victory over Mexico's Central American & Caribbean Games silver medallist Lindolfo Delgado.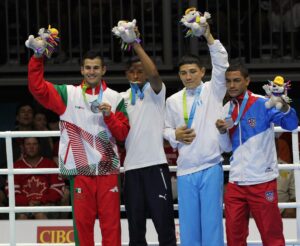 Alvarez had twice defeated his Mexican rival over the past year, and made it a hat-trick of wins after his impressive performance.
Two-time AIBA World Champion and WSB standout Julio Cesar La Cruz then achieved another Cuban success in the Light Heavyweight final with a strong triumph over Venezuela's new Albert Ramirez.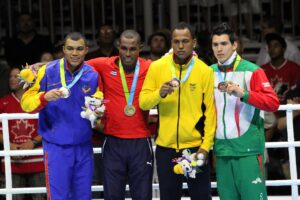 This was the very first meeting between the two talented boxers, where the movement and sharpness of La Cruz proved to be the main difference between the fighters.
The last final of the boxing tournament was held between Cuba's Leinier Eunice Pero and Venezuela's veteran Edgar Ramon Munoz, and the Cuban star won his second successive Pan American Games after a close bout.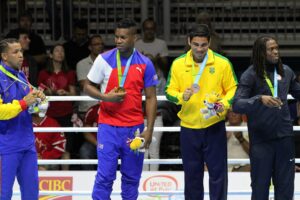 Pero used his height advantage against the Venezuelan boxer, but faced a tough battle to evade the fast punches of his experienced opponent.
The young Cuban ultimately asserted his dominance in the final round to secure a close victory and the Super Heavyweight gold medal.
Surprises of the day
Although Cuba's Yosbany Veitia Soto has already qualified for the Rio 2016 Olympic Games after his dominance of WSB last season, the world class Flyweight star suffered a surprise final defeat to USA's Antonio Vargas in Toronto.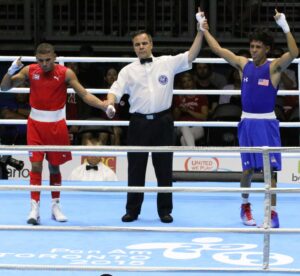 Vargas had eliminated three tough rivals en route to the gold medal bout including a thrilling victory over Puerto Rico's Jeyvier Cintron, but few expected the talented young American to complete his tournament with the gold medal after the effort he had already expended.
The 19-year-old used an aggressive tactic against his Cuban rival, and shocked Veitia with his rapid number of attacks.
Veitia's footwork was exemplary once again in the second round as he attempted to work from long range but he could not break the spirit of his rival.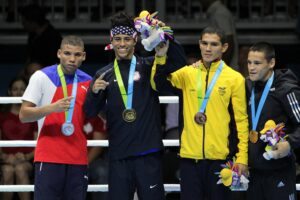 Despite all of his efforts in the early stages of the Games, Vargas continued to excel in the latter rounds of his bout with Veitia, and he eventually became the second US Champion in Toronto by unanimous decision.
A second surprise occurred at Welterweight, when Venezuela's AIBA World Boxing Championships bronze medallist Gabriel Maestre outperformed Cuba's London 2012 Olympic Champion Roniel Iglesias.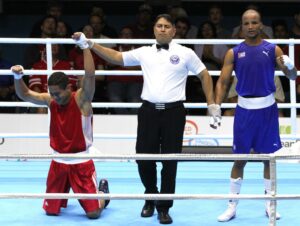 The Venezuelan boxer has more than 240 bouts during his career, and enjoyed possibly his best victory of all against Iglesias.
Maestre took control of every inch of the ring, and pressurised his virtuoso Cuban rival with dangerous hooks and uppercuts.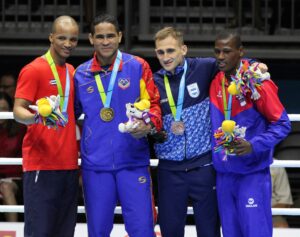 His pressure and punches never wilted, which led to him winning Venezuela's lone gold medal at the Toronto 2015 Pan American Games.
The Round-Up
Canada's Caroline Veyre won the women's Lightweight Pan American Games Qualifier last month, and met Argentina's Dayana Sanchez for the gold medal in her home Games.
Sanchez is four years younger than her Canadian rival, but has been a member of the Argentine national squad since 2009.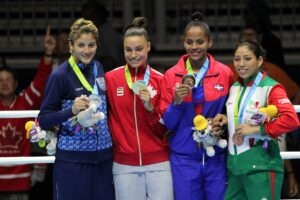 Veyre is a very talented boxer however, and her superb ability resulted in Canada's third boxing gold medal in Toronto.
Fact of the day
The following nations secured boxing gold medals at the Toronto 2015 Pan American Games:
Cuba: 6 gold medals
Canada: 3 golds
United States of America: 2 golds
Mexico, Venezuela: 1 gold
Quotes of the day
"I am very happy with the result that I have achieved in Toronto, and I want to thank God for allowing me to come here and get this achievement. I want to thank my family, coaches, my national federation and all of the people who have been supporting me during the whole Pan American Games," said Mexico's Lindolfo Delgado who secured silver medal at the Men's Lightweight class (60 kg).
"I felt great in the ring tonight against Marlen Esparza. I was able to put my game plan to work, and I could see her punches coming. I fought smart and I am proud of that. I am going to celebrate my gold medal and my birthday tonight with everyone who came to Oshawa to cheer me on," said Canada's gold medallist Mandy Bujold after her final bout.