Semifinal bouts of the WBT Silver Belt tournament are finished in Maribor
October 28th, 2022 / General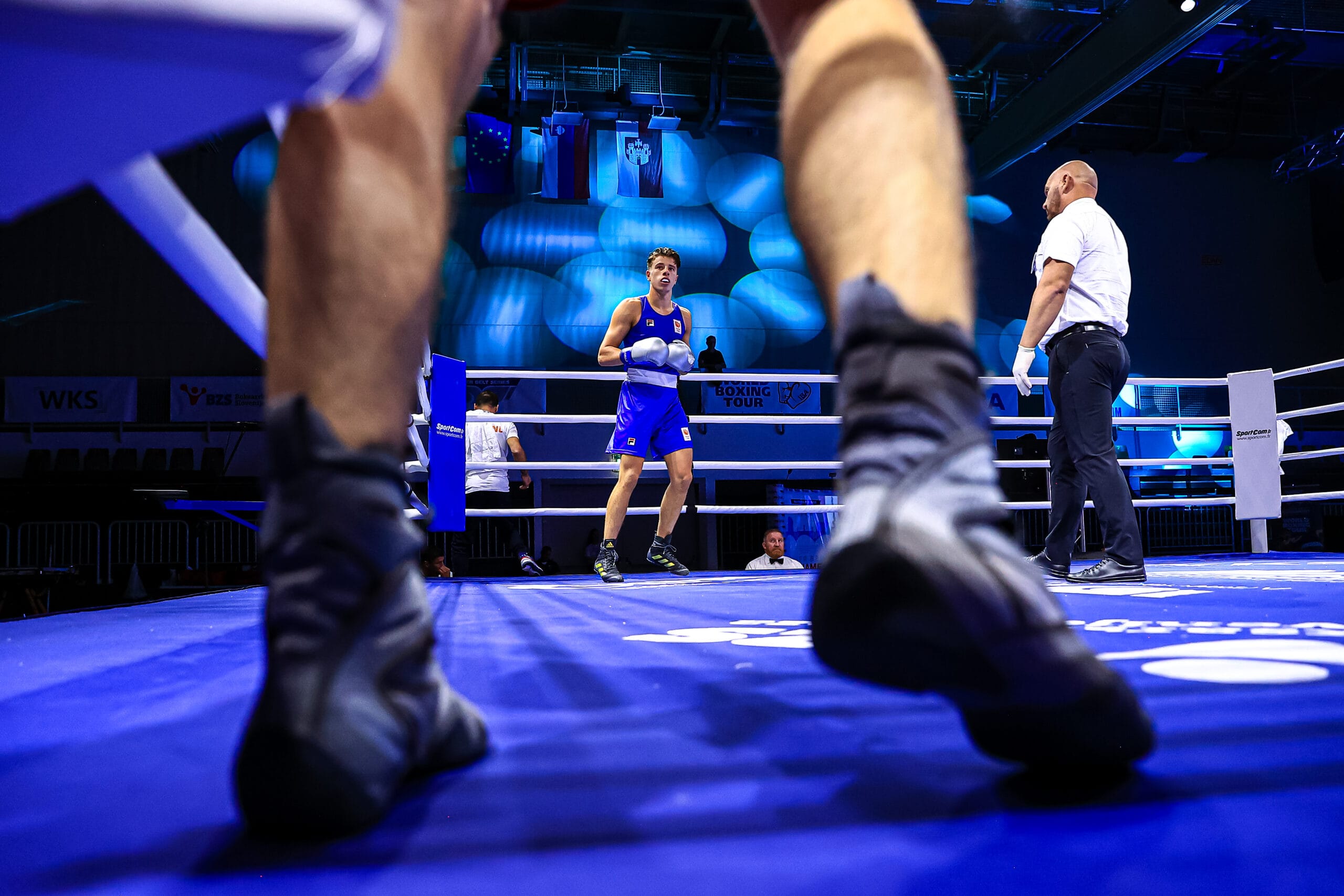 The final line-ups are announced in the new World Boxing Tour Event in Maribor, Slovenia following all of the semi-finals are concluded on the sixth day of boxing. Spanish Gabriel Escobar made his debut in his new weight class and advanced to the finals after beating the AFBC African Champion.
Armenia, Austria, Bulgaria, Croatia, France, Hungary, Mozambique, Serbia, and Spain are the nations which have finalists at the Silver Belt Series Event in Maribor.
The Silver Belt Event is an IBA 3-stars Referee & Judge Course and for the very first time it is conducted by two women instructors: Sadie Duffy of Ireland and Terezie Krejbychova of the Czech Republic. The Technical Delegate of the WBT competition is the experienced Mr. John Waith of Wales.
Artur Bazeyan eliminated a professional star
Hong Kong Tso Sing Yu from Hong Kong returned from professional boxing after 25 contests and he has the full focus on the ASBC and IBA events. The 35-year-old veteran faced Armenia's EUBC European U22 Champion Artur Bazeyan in the semi-finals of the featherweight (57kg) and had a few nice attacks but his opponent was faster in the exchanges. The thirteen-years younger Armenian was smaller than his opponent but he worked from longer distances several times to catch Tso with rapid attacks. The Armenian proved his strong developments since the last championships and he joined the finals of the weight class.
Gabriel Escobar won the battle of the champions
Spanish Gabriel Escobar put himself into the spotlight first when he won preliminary contests at the 2014 Youth World Boxing Championships as a newcomer in the national team. He won the 2019 European Games in Minsk and he is one of the stars in the World Boxing Tour. Escobar moved up to the featherweight (57kg) and he uses the Maribor event as a test for the future championships. The Spanish boxer's best weapon, the left-handed hook was effective in the semi-finals as well and he controlled the bout against Mozambique's AFBC African Champion Armando Rugoberto Sigauque. Escobar won all of the three rounds in each of the scorecards in the battle of the continental champions.
Pratljacic and Hagag are the finalists at the super heavyweight
Croatian Luka Pratljacic continued his winning path in Slovenia, he had another surprise success in this World Boxing Tour event. The 25-year-old Croatian adopted the strength of the punches in his new weight class this year and his speed paid off in the semi-finals against Armenia's Davit Chaloyan who earned a silver medal at the World Boxing Championships in Belgrade. The Croatian had a great final round which decided their tight semi-final bout at the super heavyweight (+92kg). Pratljacic will be boxing for the title against Austrian Ahmed Hagag who earned a historic bronze for his nation at the EUBC European Men's Elite Boxing Championships.
The list of final bouts
45-48 kg Gonzalez Ortega Carmen (ESP) – Mezei Petra (HUN)
48-51 kg Molina Salvador Martin (ESP) –  Boukedim Ibrahim (FRA)
50-52 kg Bagao Helena (MOZ) – Sipos Hajnalka Monika (HUN)
51-54 kg Tamir Galanov (SRB) – Radev Yasen (BUL)
54-57 kg Bazeyan Artur (ARM) – Escobar Mascunano Gabriel (ESP)
57-60 kg Dadaev Malik (AUT) – Ghazaryan Artur (ARM)
60-63.5 kg Hovhannisyan Narek (ARM) – Rosenov Radoslav (BUL) 
63.5-67 kg Fedorov Pavel (SRB) –  Chabyan Arsen (AUT) 
67-71 kg Traore Makan (FRA) – Abbasov Vakhid (SRB)
71-75 kg Kiwan Rami Mofid (BUL) – Meinl Marcel (AUT) 
75-80 kg Jalidov Gafurova Gazimagomed (ESP) – Veocic Gabrijel (CRO) 
80-86 kg Gabriel Albino Julio (MOZ) – Hovannisyan Rafayel (ARM) 
86-92 kg Manasyan Narek (ARM) – Reyes Pla Enmanuel (ESP)
92+kg Hagag Ahmed (AUT) – Pratljacic Luka (CRO)