Jabali Breedy is the first quarter-finalist from Barbados at AIBA World Boxing Championships since the 2001 edition
October 31st, 2021 / IBA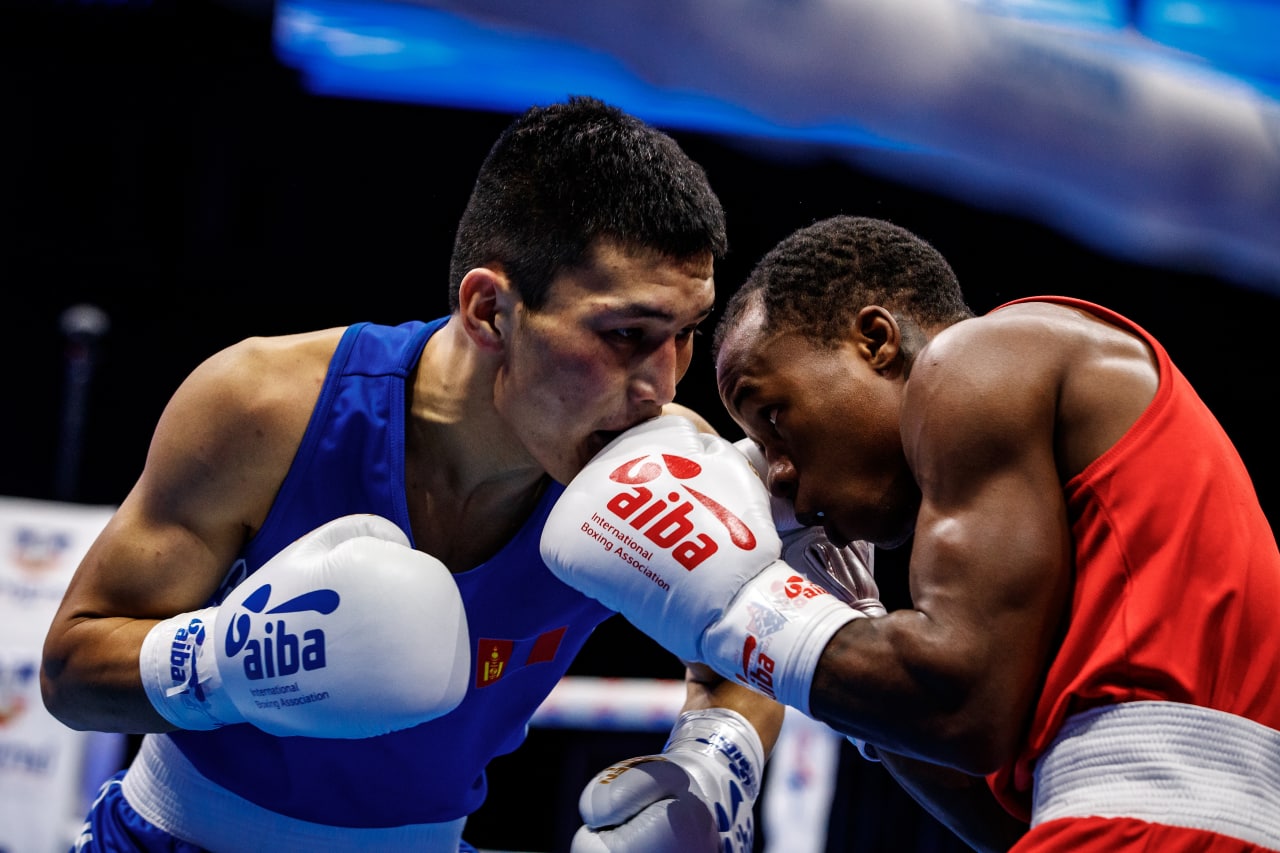 The 12th session of the AIBA World Boxing Championships determined the quarter-final places in the bantamweight (54kg), cruiserweight (86kg) and super heavyweight (+92kg) in Belgrade today. The session delivered several surprises but one of the highlights is Jabali Breedy's success in the bantamweight (54kg). Not only did the 24-year-old boxer win his second contest, but he became the first boxer from Barbados who advanced to the quarter-finals since the 2001 edition.
Tomoya Tsuboi caused the first sensation of the day
Uzbekistan's Shakhobidin Zoirov won the flyweight (52kg) in the last editions of the AIBA World Boxing Championships and ASBC Asian Elite Boxing Championships. Since the new categories have been introduced in August, Zoirov moved up to the bantamweight (54kg) which is also perfect for his height. The 28-year-old Uzbek met in the last 16 with Japan's Tomoya Tsuboi who is in excellent shape at this Championships. Zoirov worked a lot on his feet and tried to find the best attacking angles against the experienced Japanese who joined the elite national team in 2015. The Uzbek southpaw did not plan to save energy and gave everything to this key contest and he had a narrow advantage after two rounds. The Japanese impressed in the third round and he was able to turn back their world-class battle.
"I felt before the Championships that I am in good shape and I did my best in this contest. The third round was the best for me today."

Tomoya Tsuboi (JPN)
Jabali Breedy is Barbados' first quarter-finalist after 20 years
Barbados' Jabali Breedy began boxing only seven years ago but he competed in several championships during his career. He spent the recent 18 months with active preparation and increased his physical conditions during the hardest pandemic period. Breedy was hungry for boxing at a big event once again and opened his campaign with a success against Hungary's Nandor Csoka. The Barbadian used a different style of boxing in his second bout against Mongolia's Enkh-Amgalan Bayarsaikhan and worked from counter-attacking distance. This tactical change surprised the Mongolian, therefore, Breedy's effective strategy was enough to win their bout in the bantamweight (54kg). Jabali Breedy is Barbados' first quarter-finalist at the AIBA World Boxing Championships since Shawn-Terry Cox's performance in the Belfast 2001 edition.
"I had a different game plan for today after my first success when I pushed my opponent and put pressure on him. This time I moved back and used my footwork to score from longer range and to catch my Mongolian rival. It is an amazing feeling that I am in the quarter-finals at the World Championships but I am ready to win also the next contest."

Jabali Breedy (BAR)
Escobar lost to Finol in a frenetic fight in the bantamweight
Spain's Gabriel Escobar won the Minsk 2019 European Games and he is one of the top boxers at this competition. He had to meet with Venezuela's Yoel Finol who was born also in 1996 as Escobar and won several medals during his career. The Spaniard moved ahead more this time in comparison to his last bout in Belgrade and he caught the quick Venezuelan in the first round. Escobar was energetic and his famous hooks worked well but Finol had excellent defensive skills in this bantamweight (54kg) bout. Finol tried to keep the safest distance against Escobar who used a different style of boxing. Finol's counter-attacking style paid off in this contest and he won the amazing bout by split decision.
Brazil's first quarter-finalist in Michael Trinidade
The Brazilians arrived with several newcomers at this AIBA World Boxing Championships, their boxer Michael Trinidade is also inexperienced on the international stage yet. The 22-year-old boxer had only 44 bouts during his whole career but he impressed with his power and fighting spirit in Belgrade. Trinidade had some difficulties maintaining the best fighting range in the first round against Turkey's Muhammet Sacli but he found that on time at the beginning of the second round. He was inspired by his coach Mateus Alves to give everything and Trindade doubled his efforts in the second part of the bout to win their tough fight. Trinidade is Brazil's first quarter-finalist at the Championships and he will be meeting with Kazakhstan's super talented Makhmud Sabyrkhan.
"I am a fighter, so our strategy for today was very simple, to move forward and land punches as many times as possible. This is my first major international event as I joined the high performance team only this year. My Turkish opponent was also strong and it was a good fight today.

Michael Trindade (BRA)
England's Conner Tudsbury recovered from his back injury and advanced to quarter-finals
England's Conner Tudsbury won a bronze medal at the Budapest 2018 AIBA Youth World Boxing Championships and joined the GB Program after that result when he turned elite age. He had a back injury in 2020 and did not compete in any international events but he returned with a gold medal at the Algirdas Socikas Tournament in Lithuania this May. The 21-year-old boxer moved up to the cruiserweight (86kg) and demonstrated his power once again in Belgrade. Tudsbury faced Mexico's most experienced national team member Rogelio Romero and caught his taller opponent with speedy attacks. The English athlete was better in all aspects of boxing and his impressive control of the bout means Tudsbury is his nation's first quarter-finalist in Belgrade.
"Everything went according to our plans in this contest, we analysed the Mexican boxer and we knew with the coaches what to do today. I was not able to compete last year and waited for my comeback so much. I claimed bronze among the youth boxers but my objective is even higher here in Belgrade."

Conner Tudsbury (ENG)
RBF Team's Mark Petrovskii eliminated the German favorite
One of the most anticipated contests of the session was held between Germany's Nelvie Tiafack and RBF Team's Mark Petrovskii in the super heavyweight (+92kg). Both boxers were born in 1999 and they could be the next stars of the heaviest weight class but they had to box each other already in the 1/8 final. The German, who claimed bronze at the 2016 AIBA Youth World Boxing Championships, started the first round better against the tough Russian. Petrovskii was smaller than his German opponent but he had the speed to reduce the fighting distance in the second round. Tiafack landed tough shots but he looked tired in the third round. Petrovskii's intense attacks turned back their contest.