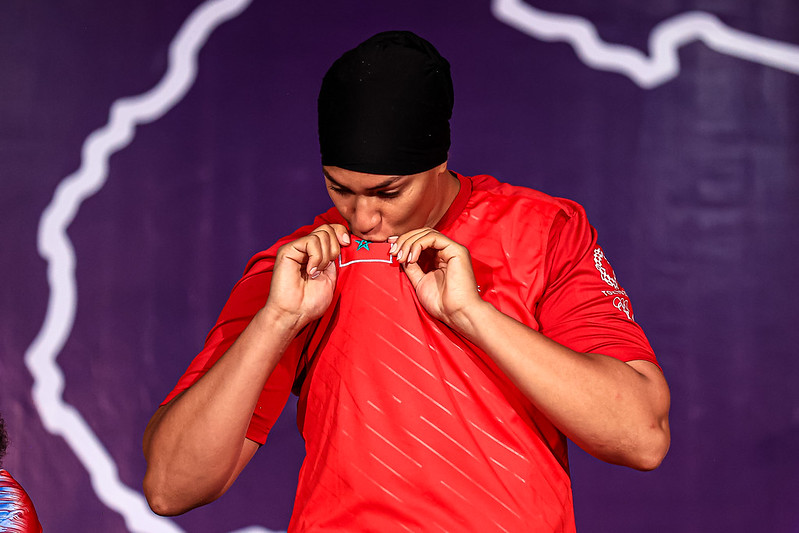 Moroccan boxer Khadija Mardi went through thick and thin before achieving what she had been training her whole life for. During this journey, is when she was tested the most by tragedy, as she lost her mom tragically.
However, she did not give up and gave it all to achieve her ambitious career goals. In 2019, she became the bronze medalist of the Women's World Boxing Championships in Ulan Ude, and three years later, she improved to become a silver medalist in Istanbul. Her rise did not stop there as she went on to win the AFBC African Championships in the +81kg weight category.
Young Khadija Mardi got her start in boxing as suffered violence at the hands of her classmates and wanted to learn boxing to learn to protect herself. When she told her family about the idea, they were strictly against it, even her father, despite being a boxer himself.
'Since then, I planned to join a boxing club, and one day I started training secretly from my father. I told only my mom and asked her not to let my father know,' Khadija confessed.
Her long-time coach Ismail taught her the techniques, and she practiced in front of the mirror for hours doing left-right shadow punches from the very beginning.
'When my father noticed my absence, he asked my mom. She told him that I was studying with friends. My mom wouldn't tell him I was training, however, one day he followed me to the club and revealed everything, asking why I was lying,' Khadija remembered.
'I told him to let me carry on, I loved this sport. By chance, I had my first fight the next day, and we agreed that if I win, I could continue with boxing, and if I lose, I would stop.'
Her parents and her brother came to watch her fight. Khadija won, surprisingly for her family, and that was the moment her sports career began.
The Mohammed VI International Cup in 2014 became the toughest moment of Khadija's young life. While her mom was watching the competitions and cheering her daughter on, she suffered a heart attack while in the exhibition stands and later died on the way to the hospital.
'This was the hardest, toughest, most difficult moment of my life, and it still brings tears to my eyes remembering it,' Khadija said.
Now, 31-year-old Khadija is a mom of three beautiful girls. She's married and happy in her family life while continuing to rock the ring.
'It's true that it's very hard to combine the life of a married woman, a mother, and a high-level athlete, it's a real challenge. I have my home and three young daughters that I have to take care of and think about their future. It's a sacrifice for all working mothers. I only see my girls on the weekends, it's not enough, but I'm trying to do as much as I can to combine my family life and my Olympic dream,' Khadija shared.
'If my daughters want to do boxing later on, I would be happy and I would help them on their way. Should they want to do something else, I let them choose their path. The most important thing is that they accomplish their dreams,' she added.
The year 2022 was her career highlight. She was stopped one step before the IBA World Championships title, and got a silver, while at the AFBC African Championships in Maputo she was unstoppable.
'Last year was a success because of very hard training. I remain very assiduous and follow the outcomes of my technical supervision,' she explained.
She is religious and fasts during Ramadan, combining that with high-intensity training.
'It's true that it's hard to do both, but fasting is one of the pillars of my religion, which I respect a lot.'
Khadija sees a huge step forward in women's boxing development.
'Women's boxing is constantly evolving in the world. In Morocco, it also has developed and continues to grow very quickly, especially with the media coverage of our sports performance. Now, many women practice boxing in most gyms in my country,' she went on to say.
From 2-10 February, Marrakesh is to host the World Boxing Tour event, the prestigious Golden Belt Series tournament, and Khadija Mardi will represent her country in front of the home crowd.
'I aim for a gold medal in Marrakesh,' Khadija claimed. 'I am very happy that this great international event will be held in Morocco. I definitely have something to say in the ring. Of course, I would like to raise the flag of my country at this competition,' she concluded.