IBA Champions' Night to take place in Phuket featuring La Cruz, Dusmatov, and Lopez
July 4th, 2023 / IBA Champions Night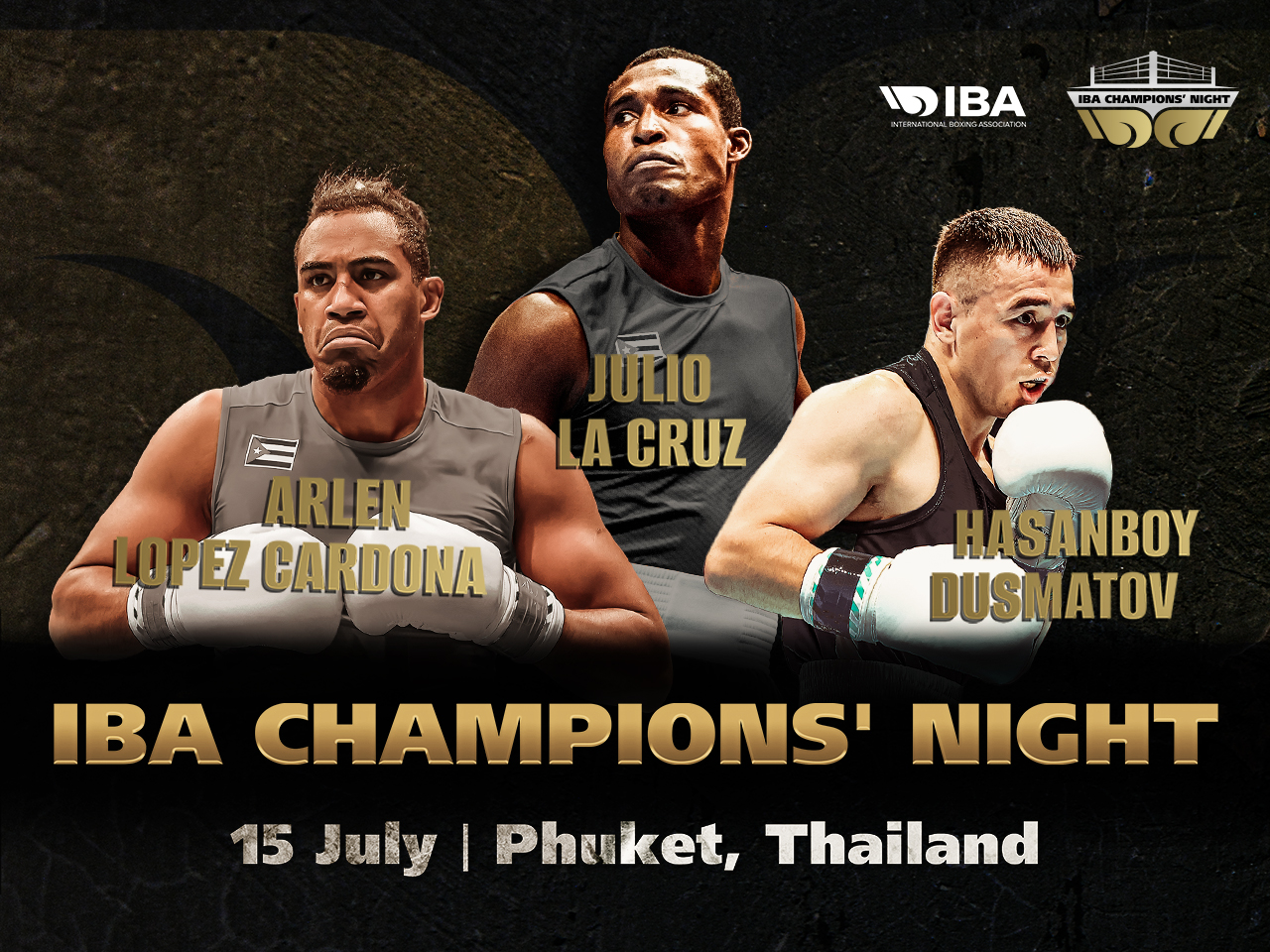 The next edition of IBA Champions' Night will take place in Phuket, Thailand on 15 July 2023 featuring our top boxers fighting to become the Champion of Champions. An exciting fight card of seven bouts are awaiting both a local and international crowd that remain passionate about the noble art of boxing.
IBA Champions' Night features pro-style boxing fights consisted of 5 x 3-minute rounds for the men, and 5 x 2-minute rounds for the women.
World and Olympic champion Hasanboy Dusmatov from Uzbekistan, 5-time World Champion and 2-time Olympic champion Julio La Cruz from Cuba, and his countrymen, Arlen Lopez, who is World champion and 2-time Olympic champion, are confirmed to become headliners of the Champions' Night. Prize money at stake for IBA Champions' Night winners is $10,000 with runners-up receiving $5,000.
'This event is the 'icing on the cake' for the selected high-ranked boxers as they challenge themselves by facing top rivals. Some of them have tried the taste of professional boxing already and have succeeded, and for others is a great opportunity to broaden their horizons. The unique format gives that quality entertainment for those spectators when they witness uncompromising fights and true grit in the ring. I am really looking forward to greeting the stars of our sport in Phuket and watching them in action,' IBA President Umar Kremlev said.
IBA Interim Secretary General and CEO Chris Roberts OBE added that the tournament continues the IBA series of pro-style boxing events that aim to bring more experience to the athletes.
'15 July marks not just a date on the calendar, but a grand celebration of skill, courage, and determination. The IBA Champions' Night in Phuket is the epitome of the IBA spirit in its purest form. It's not just an event – it is a spectacle that brings our World Champions to the ring, demonstrating a true testament to the power of boxing that brings us all together, regardless of borders. For the athletes, it's a platform to become legends; for us, it's a night that defines the very essence of our commitment to the sport. We will continue to work extremely hard, to provide the opportunity for our athletes to become those exceptional 'stars' of the future.' Mr. Roberts OBE said.