Honduras capital Tegucigalpa ready to welcome Olympic and World Champions to the 2017 AMBC American Confederation Championships
June 10th, 2017 / IBA
Honduras continues to underline its credentials as a growing force in boxing as the country prepares to unveil the 2017 AMBC American Confederation Championships in the capital city of Tegucigalpa. Running from 10 to 18 June, the tournament will see the continent's 131 best men and 59 top women boxers competing across ten weight categories, with the men's competition also serving as the direct qualification route to the 2017 AIBA World Championships in Hamburg.
As Honduran boxing has continued to go from strength to strength in recent years, the much-improved host team will undoubtedly relish the opportunity of earning a first medal this time around. The competition for the podium places will once again be incredibly strong, with a line-up of athletes that includes defending AMBC title-holders, Olympic and World Champions and stars of the World Series of Boxing, all competing with the added incentive of 60 places at the World Championships at stake.
Among those looking to secure a top-six finish and passage to Hamburg are Colombia's Rio 2016 silver medallist Yuberjen Martinez, who has continued his brilliant Olympic form in this year's WSB competition, and his Cuban Flyweight (49kg) rival and defending AMBC Champion Joahnys Argilagos. Indeed, the ever-strong Cuban delegation also includes three Olympic Champions in the form of Arlen Lopez, Julio Cesar La Cruz (Rio 2016) and Roniel Iglesias (London 2012), as well as triple World Champion Lazaro Alvarez. Venezuela's Gabriel Maestre will be among those pushing for Welterweight (69kg) gold, while the likes of Guatemala, Dominican Republic, Costa Rica, Brazil and USA will be determined to qualify as many boxers as possible for this year's World Championships.
In the women's competition, three boxers will try to defend their titles, Colombia's Ingrit Valencia (51kg), Argentina's ever-impressive Leonela Sanchez (54kg) and compatriot Lucia Perez (69kg). A strong Canada team includes the hugely experienced Mandy Bujold (51kg), winner in 2007 and 2010, while the Costa Rica, Nicaragua and USA selections are all capable of taking home medals.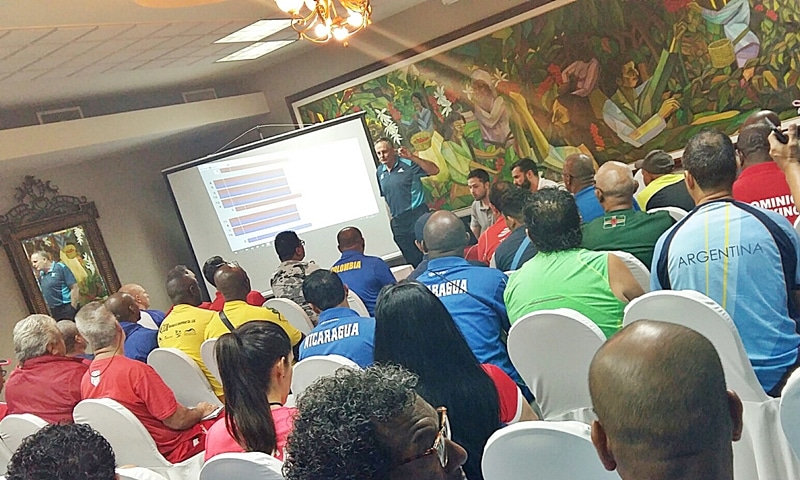 (Photo: AMBC Continental Champioships Official Draw)