Historic moments for Belgium, Serbia, Italy, Georgia, Germany and Spain at the EUBC European Men's Elite Boxing Championships
May 30th, 2022 / EUBC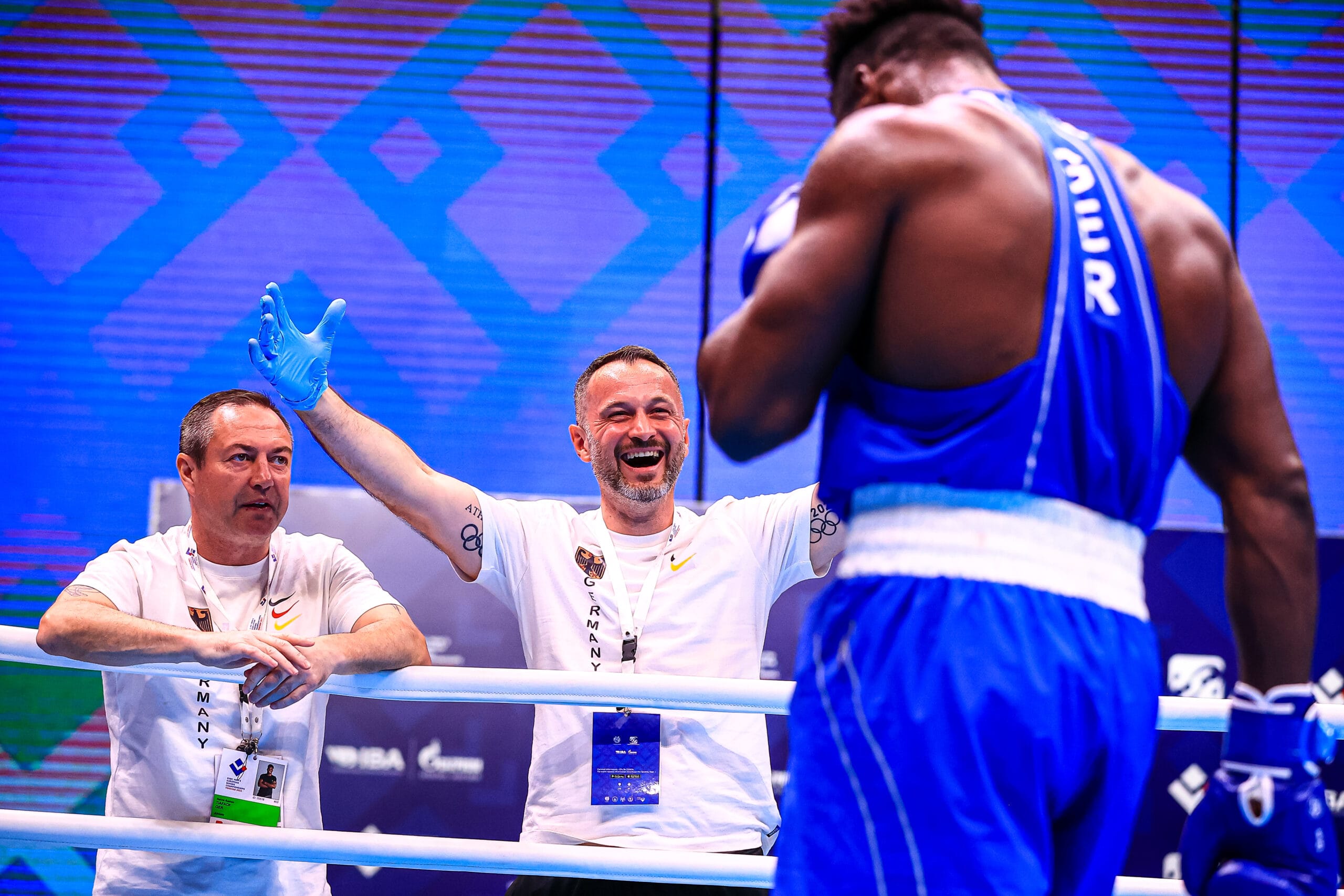 Thirteen boxers secured the titles at the EUBC European Men's Elite Boxing Championships in Yerevan, Armenia. Ten nations shared the gold medal in the championship. Belgium, Serbia, Italy, Georgia, Germany and Spain made historic steps.
Albania, Armenia, Austria, Belgium, Bosnia & Herzegovina, Bulgaria, Croatia, Czech Republic, Denmark, England, Estonia, Finland, France, Georgia, Germany, Greece, Hungary, Iceland, Ireland, Israel, Italy, Lithuania, Luxembourg, Moldova, Montenegro, Netherlands, Norway, Poland, Romania, Scotland, Serbia, Slovakia, Slovenia, Spain, Sweden, Switzerland, Turkey, Ukraine and Wales sent their best boxers to Yerevan. Among them 20 countries achieved at least one medal and twelve had at least one finalist.
Georgian Sakhil Alakhverdovi is the first European Champion in Yerevan
Georgia reached a historic result in the semi-finals following four of their boxers advancing to the finals of the EUBC European Men's Elite Boxing Championships. Their first finalist was Sakhil Alakhverdovi, the bronze medallist from the AIBA World Boxing Championships 2021. Bulgarian 21-year-old Ergyunal Sebahtin Sabri surprised him with his quick attacks therefore the final result was open before the start of the third round. The Georgian landed better shots and found his best rhythm in time to win their contest and take his first European elite title.
"I am so happy to take this gold medal which is the hard work of my team, coaches and thanks for the support of my family," said Sakhil Alakhverdovi after the first final of the championship.
Martin Molina from Spain reached a gold medal in Yerevan
The Spanish boxing team reached historic results with their five semi-finalists and four finalists in the EUBC European Men's Elite Boxing Championships. Their flyweight (51kg) hope, Martin Molina has been a member of their national team since 2014 but he developed in all aspects of boxing during the Covid-19 period. Now he is more experienced, skilled and he managed to increase his speed well enough to take the lead on the scorecards in the first round against English Kiaran MacDonald. Molina had a fantastic second round and his right-handed hooks were always dangerous for his opponent. The smaller Molina used the perfect strategy against the English hope and after Gabriel Escobar's gold in 2019, achieved the next success for Spain.
"I cannot believe that I am a European Champion after so many years of hard work. I was dreaming about a final in my whole life and I won my first. My coaches told me after the second round that I can make it," said Martin Molinal.
Hovannes Bachkov earned his third European title
Following Georgian Armenian-descent Artyush Gomtsyan's tight success at the lightweight (60kg), the best local hero was the next in the finals. Armenian two-time champion Hovhannes Bachkov achieved three bronze medals at the 2017, 2019 and 2021 AIBA World Boxing Championships and he is one of the biggest names of the entire event. The 30-year-old athlete won three professional contests too but returned to the national team to achieve his third European title. Bachkov was highly confident in the final bout and dominated the exchanges against Lounes Hamraoui from France who took his career's best result in Yerevan with this silver medal. The Armenian celebrated his third European gold medal in this championship and made his nation proud of him.
Historic gold medals for Serbia
Vakhid Abbasov achieved a gold medal at the 2019 EUBC European U22 Boxing Championships representing Russia. Following his loss to World Champion Andrey Zamkovoy in their National Championships, he switched to Serbia in 2020. Abbasov was one of the secret favourites of the welterweight (67kg) at the Belgrade 2021 AIBA World Boxing Championships but he was not able to make the strong breakthrough. The 25-year-old boxer was more confident in this championship in Yerevan and he controlled his final against Georgia's Lasha Guruli from the first seconds. His opponent was bronze medallist in Belgrade but Abbasov delivered a fantastic performance in the final earning the independent Serbia's first gold in the event's history. His teammate, another ex-Russian veteran boxer, Artjom Agejev was slightly better than Italy's EUBC European U22 Champion Alfred Commey at the light heavyweight (80kg) bagging Serbia's second gold.
"This is history for Serbia and I would like to take this opportunity to thank for my team and coaches who worked hard on this gold medal. It was a good fight but I felt from the first seconds that I am stronger today," added Serbia's ex-Russian Vakhid Abbasov.
England and Ireland secured gold medals
Mohammed Harris Akbar from England eliminated the World Champion and one of the Ukrainian biggest stars Yuriy Zakharieiev in the semi-final of the light middleweight (71kg). The 24-year-old English boxer continued his winning path and defeated Walesh Garan Croft in the final earning a gold medal. Irish Gabriel Dossen was better than Lewis Richardson from England in their final bout and delivered a gold medal for Ireland.
"If you don't believe in yourself, you won't be able to win any big championships. I not only dreamed about the gold medal but worked hard for it all the previous years. My opponent was strong, a top one. But I did my best today," said Gabriel Dossen/
Nelvie Tiafack was the last gold medallist in Yerevan
European Games bronze medallist Nelvie Tiafack from Germany has six years of international experience at the super heavyweight (+92kg) and he started the final bout against Spanish Ayoub Ghadfa Drissi El-Aissaoui with strong hooks. The Spanish boxer moved more and responded with quick counter-attacks in the second part of the first round. Tiafack increased the tempo in the second round and as a result the Swedish referee had to count twice in this period. The Spanish ringside abandoned the bout after two rounds and the German celebrated his victory.
The list of the winners of the EUBC European Men's Elite Boxing Championships
48kg: Sakhil Alakhverdovi, Georgia
51kg: Martin Molina, Spain
54kg: Billal Bennama, France
57kg: Vasile Usturoi, Belgium
60kg: Artyush Gomtsyan, Georgia
63.5kg: Hovhannes Bachkov, Armenia
67kg: Vakhid Abbasov, Serbia
71kg: Mohammed Harris Akbar, England
75kg: Gabriel Dossen, Ireland
80kg: Artjom Agejev, Serbia
86kg: Georgiy Kushitashvili, Georgia
92kg: Aziz Abbes Mouhiidine, Italy
+92kg: Nelvie Tiafack, Germany