Great Day for Cameroon, Kenya and Cape Verde at the IBA Women's World Boxing Championships in New Delhi
March 18th, 2023 / New Delhi 2023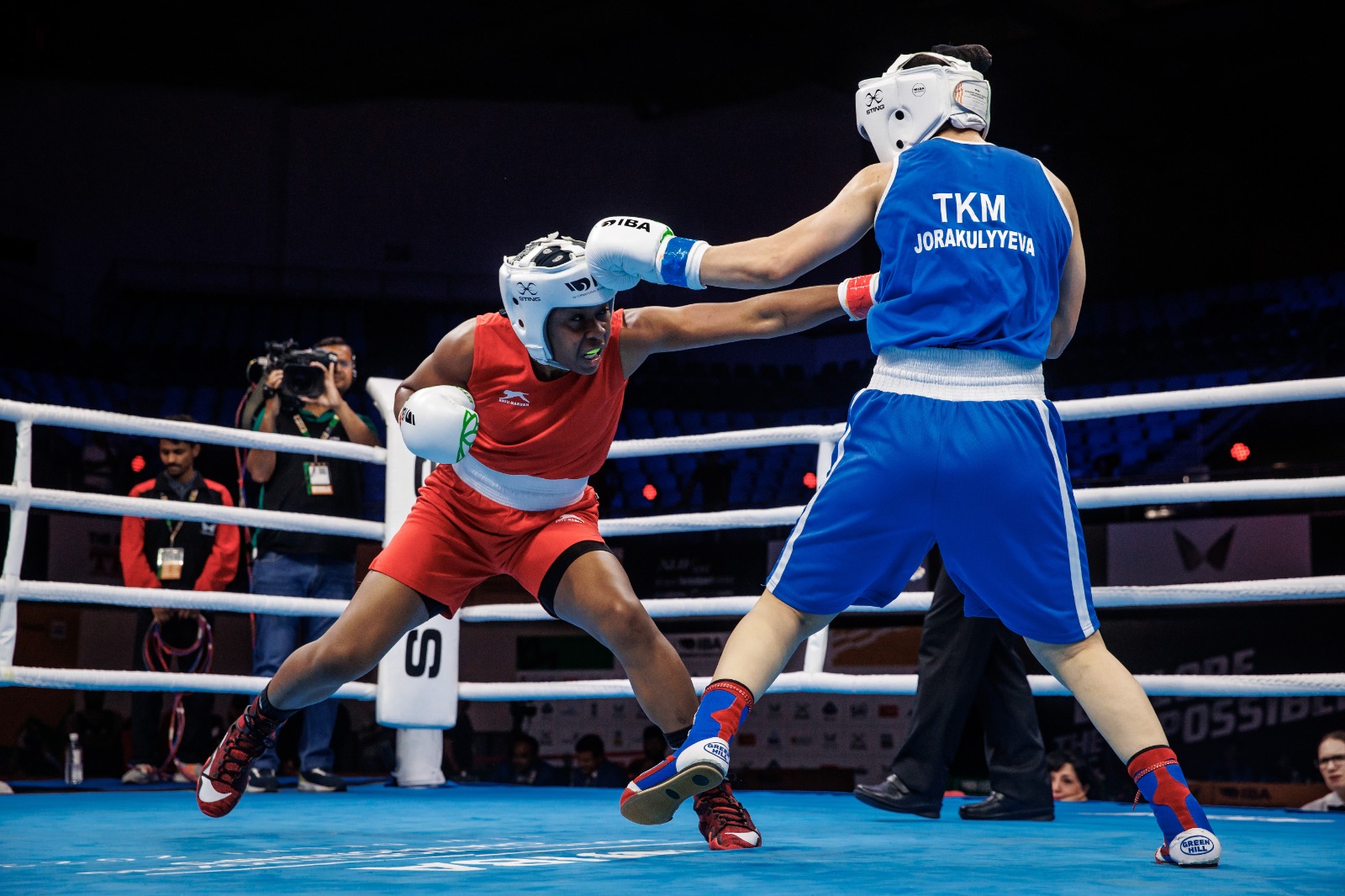 The third day of the IBA Women's World Boxing Championships brought a lot of emotions.
Imane Khelif from Algeria became a silver medallist at the previous World Boxing Championships editions, and now she aims to improve her performance in the 66kg weight category. She eliminated Anyango Asiko Friza from Kenya in the first round.
'I am happy about the first fight and looking forward to the second one. This fight was very easy for me, I'll stay focused and will fight all my rivals. I want to win a gold medal for my country,' Khelif said.
A big day for Cameroon, as Mireille Bindzi eliminated her Turkmenistan rival Gulzada Jorakulyyeva by points 4-0. She is having her debut at the World Championships successfully and proceeded to the Round of 16.
'It's my first international fight, and I really had to go and get it, especially the last two rounds. I had to show the best of myself, and I think I did pretty well. I am really happy that I can go forward to the competitions. I am happy, excited, and have all the emotions all over the place,' Bindzi claimed.
Mireille holds dual citizenship, as she lives and trains in Canada, however, it was her decision to represent Cameroon internationally.
'Ever since I started boxing, it was always like a consideration, I always wanted to represent Cameroon. I feel like it's even more meaningful to me because I feel that African countries are not represented much on the international stage. I'm intending to do to bring glory to my country,' the boxer added.
Christine Ongare from Kenya marched to the last 16, eliminating Rahma Maganga from Tanzania in the second round by RSC in the 48kg division. This victory became the first one in the last 13 years for Kenya, who had the last victorious fight at this level in 2010.
'I am very happy to make this historic achievement after trying in 3 World Championships, my dream has always been winning a title outside Africa and this could be the stepping stone to the achievement of my dream,' Ongare said.
Sumaya Qosimova from Tajikistan had a tough fight against Wafa Hafsi from Tunisia. She won on points after the bout review that overturned the result from 2-3 to 4-3 in her favor.
'I am proud to represent Tajikistan on the international stage. I haven't fought internationally for a year, and today this fight was quite tough for me. I'll give it all to win a medal here for my country. We spend years of training for several minutes on the podium, but it's my childhood dream to become a champion,' Qosimova told.
Huang Hsiao-wen from Chinese Taipei won the 2019 edition and now aims for her second world title in the 54kg division. She trained in the USA for this tournament and looks forward to repeating her previous success. Today she won by RSC in the third round over Yaren Cam Nilay from Türkiye.
Sara Haghighat-joo from Sierra Leone lost on points to Johana Gomez from Venezuela in the 54kg weight category and finished her performance at the World Championships. Despite being upset, she mentioned that it only would make her stronger.
'It's my third time at the World Championships, and it is what it is. I'll be back with better performance, it will make me stronger,' Haghighat-joo claimed.
Gomez in turn proceeded to the Round of 16 where she meets with Zeynab Rahimova from Azerbaijan.
Kazakhstan celebrated three victories out of three fights today. In 48 kg, Alua Balkibekova eliminated Key Wann Chee Wai from Singapore by a unanimous decision. Two other athletes of their team met with South Korean rivals. Zhaina Shekerbekova, performing in the 54kg division, won Aeji Im by a split decision 4-1, and in 66kg, the fight of Nadezhda Ryabets against Sujin Seon was overturned after the bout review, hence the boxer from Kazakhstan won by split decision 4-3.
Second-seeded Cape Verde's Ivanusa Gomes Moreira proceeded to last 16 in 66kg weight class. Last year in Istanbul she was one step close to securing the medal, but lost, so this year she has a special motivation to complete the goal. She eliminated Aratwa Francinah Kasemang from Botswana unanimously, and her next target is Mongolian Tsetsegdari Yagmarsuren.
Day 4 of the IBA Women's World Boxing Championships in New Delhi is going to bring more exciting preliminary fights.