Claressa Shields, Katie Taylor, MC Mary Kom and Ren Cancan among the stars of women's boxing ready to go for gold at Women's World Boxing Championships
May 13th, 2016 / IBA, Astana 2016
326 boxers from 73 countries are beginning their final preparations for the 2016 Women's World Championships in Astana, Kazakhstan.
The world's top women boxers are once again getting ready to take to the ring in pursuit of World Championship gold this month, with the added incentive of twelve Rio 2016 quota places available in the three Olympic weight classes. The famous Barys Arena in the Kazakhstan capital of Astana will host the nine-day tournament from 19 May, which promises to be the strongest in its 15-year history.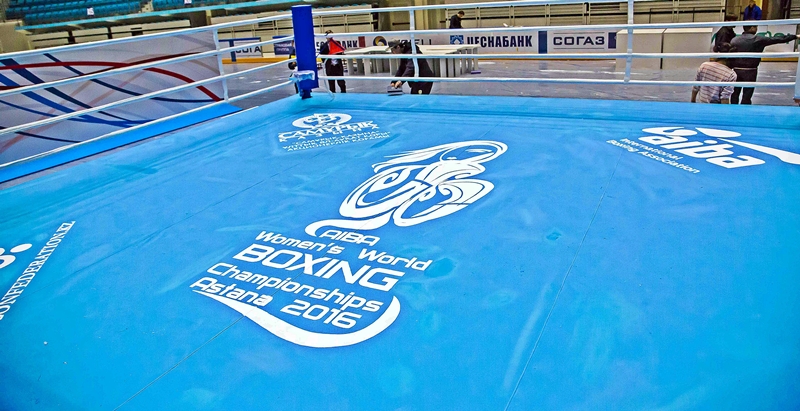 The Barys Arena is getting ready to host the 2016 Women's World Boxing Championships
"We are living in thrilling times for women's boxing, and the 2016 AIBA World Championships will once again raise the profile of this incredible sport around the world," said AIBA President Dr Ching-Kuo Wu. "We are both fortunate and hugely proud to have iconic champions, young talents and inspirational figures taking part in Astana, and the city of Astana is ready to begin another sporting journey by which future tournaments can be measured. I am confident we will experience an amazing event in a country with a longstanding boxing tradition".
Ireland's Katie Taylor and India's Mary Kom will both be chasing a record sixth World Title in Astana, with American Claressa Shields, Britain's Olympic champion Nicola Adams and Chinese rival Ren Cancan also among the favourites for gold.  Among the 73 nations represented by a record 326 boxers, Jordan, Mozambique and Sierra Leone will be represented for the first time in the competition's history.
"The standard of boxing will be the strongest in the history of the Women's World Championships, and we are ready to reflect that by putting on a world-class tournament here in Astana," said Bolat Abdrakhmanov Chairman of the Local Organising Committee. "Kazakhstan has hosted major boxing events, including the 2013 AIBA Men's World Championships and of course our own Astana Arlans WSB team matches. We have built on those experiences and are ready to do boxing, and our country, proud by staging another memorable tournament to the pleasure of our truly passionate fans."
In the week leading up to the championships, the Kazakhstan Boxing Federation will also be hosting an AIBA 1-star women's coaching course from 12-18 May.  The course covers theory, practical and technical aspects of coaching, and is designed to help bring out the new generation of women's coaches within the sport.
Media Press Kit available here.