Children from local boxing gym make their way to Riocentro to get a taste of the Olympic Boxing experience on Day Thirteen of the Rio 2016 Games
August 18th, 2016 / IBA
AIBA welcomed fifteen children from the Celeiro do Boxe boxing gym in Jacarepagua on Thursday afternoon for their first slice of live Olympic Boxing action. Following the cheers in Pavilion 6 for Brazil's new hero Robson Conceição, it was a perfect opportunity to give the children a taste of the unique Olympic magic and hopefully inspire them on towards being a future champion.
The day began with a tour of the AIBA Experience in the Riocentro entrance hall, where the guests were introduced to some of the AIBA family and given a  brief history of Olympic boxing and some of the legends that have competed. They went on to watch the day's session, which included a gold medal performance from Cuba's Julio Cesar La Cruz.
Kleber Luis dos Santos, one of the training team at Celeiro do Boxe, is in charge of the technical and physical training of the beginners and advanced boxers.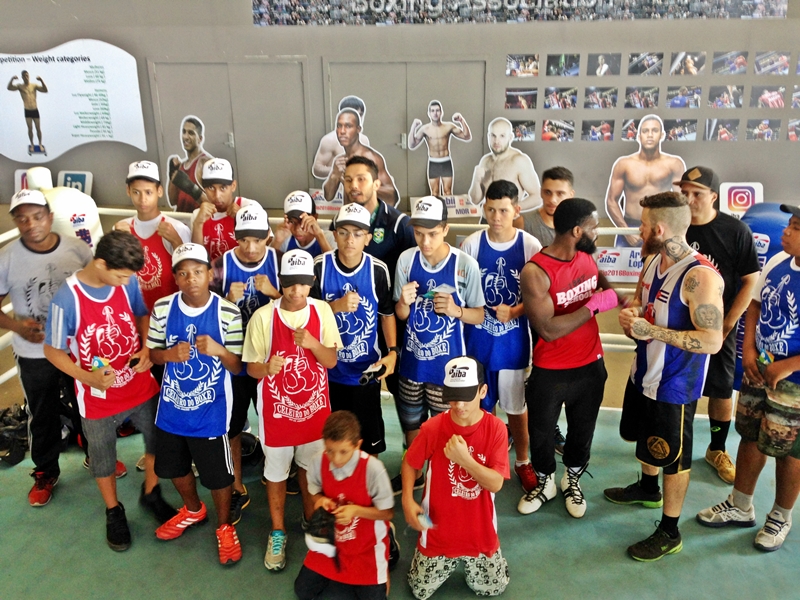 "I live in Rocinha and, like lots of kids, I liked to box when I was young but didn't really have an outlet for it. I met a coach called Roberto and he took me to his gym, Nobre Arte, and kick-started my amateur career. I had to cut it short because of work and family commitments but I came back to boxing and started to give lessons to kids at the Celeiro do Boxe gym."
While some of the kids looked at photos of Rio 2016 Olympians like Nicola Adams and Julio Cesar La Cruz, others took to the pads, jumping at the opportunity to show what they can do.
"I've been boxing for ten months," said Ria Fereira da Silva, 13, with a huge grin as he squared up to the speed bag. "One day someone asked if I wanted to try it, and as the place was nearby, I thought I would. I loved it. When I went in there it changed my life. Now I want to be the World Champion. When I saw Robson Conceição winning on TV I thought 'that could be me'. I thought of me up there one day winning the Olympic Flyweight gold."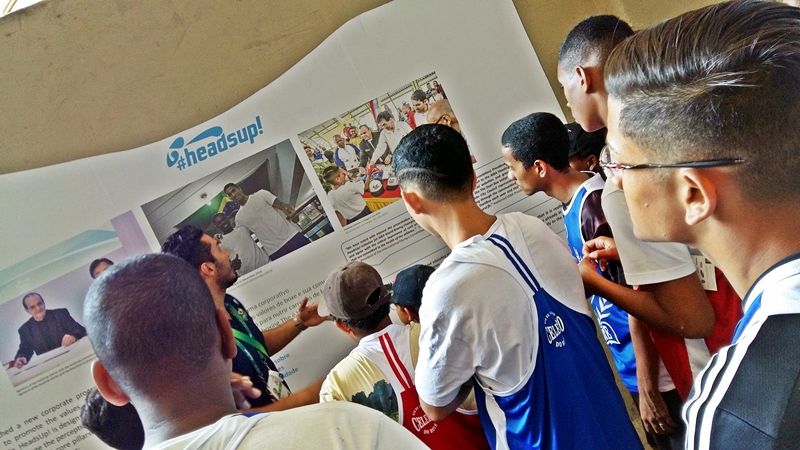 Given the shortage of investment for facilities in communities like Pechincha, home of Celeiro do Boxe, dos Santos' and his team's hard work is vital for the 85 registered kids' development both in and out of the ring.
"Here in Rio, there's a lot of negativity these kids get exposed to", says the coach. "Some have family issues, don't ever really sleep at night. Boxing helps to keep them away from the problems in this city, and we have created a really positive family here. It is an interesting balance we try to strike between having a fairly strict training regime and not wanting to put them off coming. We insist on punctuality, on giving your all in training, but every athlete has their own tempo and intensity for working."
Given the enthusiasm of the children and their coach alike, the possibility of Celeiro do Boxe – which translates as the Boxing Barn – giving rise to Brazil's next big star is certainly not out of the question. For dos Santos, when he sees talent that he can develop and nurture, that is all the motivation he needs.
"When you see the results it is really gratifying. You hope that one day they can reach the same level of Robson Conceição or Michel Borges or Patrick Lourenço. Brazil has a huge potential to see more like Robson in the coming Olympic Games in 2020 or 2024."