Cameroon's super heavy Zacharie Mvogo Amougou advanced to the final of the AFBC African Boxing Championships 
August 5th, 2023 / AFBC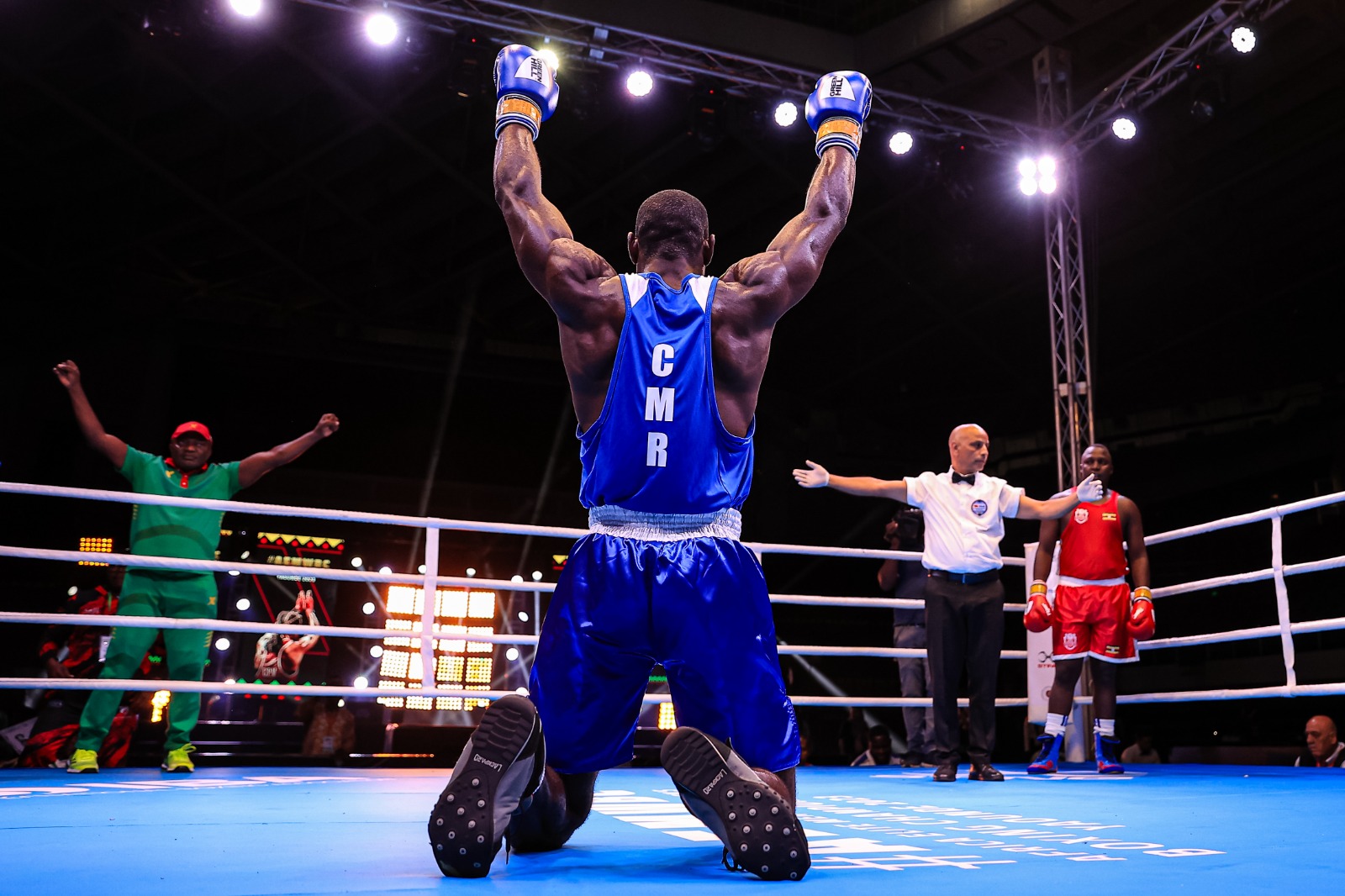 Following the second part of spectacular semi-final fights, all finalists are set at the AFBC African Boxing Championships in Yaoundé, Cameroon. The total number of 16 nations have at least one finalist. 
The Democratic Republic of the Congo has the most number of the gold medal contenders with 11 boxers fighting on Saturday in the finals. Morocco follows with 10 finalists, and Algeria has 6 boxers in the finals. Host nation Cameroon has 4 athletes qualified for the final stage, same as Mozambique, and South Africa got 3 athletes in. Nigeria (2 finalists), Uganda (2), Cape Verde (1), Republic of the Congo (1), Gabon (1), Mauritius (1), Senegal (1), Seychelles (1), Tanzania (1), and Tunisia (1) keep their chances to bring home at least one gold medal. 
The 24 semi-final bouts held on Friday were truly exciting. In the opening bout of the day, Hichrak Chahib from Algeria confidently started the fight against Amboki Jeanine Mbala in women's 63kg. Chahib used her advantage in reach to deliver strong jabs and hooks from a distance, and the referee invoked her rival the standing counts twice during the bout. Algerian won unanimously to meet Erina Namutebi from Uganda in the final. The latter was very persistent in her unstoppable attacks and had a strong will to win, so her bout against Isabel Mulungo from Mozambique was stopped in the second round. 
Oumayma Bel Ahbib from Morocco faced Mireille Bindzi from Cameroon in a very competitive fight in women's 66kg. Bel Ahbib was more serial in her attacks and was successful by a unanimous decision. Ivanusa Gomes Moreira from Cape Verde became the other finalist winning over Emily Nakalema from Uganda on points due to her smart tactics.
Alcinda Dos Santos showed her boxing skills and eliminated Mbabi Brigitte from the Democratic Republic of the Congo without any issues in women's 70kg. She is to meet with Grace Mwakamele from Tanzania who moved forward against a taller opponent from Senegal Seynabou Ndiaye and won by a split decision 4:1 despite her rival's counter-attacks.  
Rady Gramane from Mozambique was way stronger than her opponent Chepe Lenou Balemaken from Cameroon, and the referee stopped the contest in the women's 75kg division in the first round. Another semi-final bout of the category finished in the second round with Nigeria's Patricia Mbata triumphing over Muriel Sithole Mkateko from South Africa. 
In women's 81kg, Marie-Joelle Mwika from DR Congo gave a fight to Keuye Bernadette from Cameroon. The home crowd gave strong support to Bernadette who constantly moved forward, however, the Congolese boxer accepted the challenge. In the first round, the referee counted Mwika after a precise punch from her rival, but in the last round, it was Bernadette who was counted after missing a strong blow. In the close fight, Mwika was slightly better and the bout review confirmed her victory with a split decision of 5:2 (2:0BR). The favorite of the category, World champion from Morocco Khadija Mardi confidently won the contest against Elizabeth Andiego from Kenya, as the referee invoked the standing count several times during the bout. 
South African Sinovuyo Mtintelwa worked on counter-attacks as his rival David Macharia from Kenya was moving forward. The referee invoked a standing count to the Kenyan boxer in the third round after a strong punch from Mtintelwa, and the latter was declared a winner by a unanimous decision in the men's 51kg. Moroccan Said Mortaji will be his rival in the final, as he eliminated Mouhaman Issouhou from Cameroon by points unanimously in a close fight. 
In men's 57kg, Soulaimane Samghouli from Morocco used his height advantage and right tactics against Armando Sigauque from Mozambique, he was declared a winner by a split decision of 4:1. DR Congo's Fraizer Mujinga used a lot of pressure against Dolapo Omole from Nigeria, as he was attacking non-stop, and that brought him victory by points.  
Ait Beka Jugurtha from Algeria concentrated on counter-attacks in his fight against Abdelhaq Nadir from Morocco. Jugurtha demonstrated good reflexes, used sidesteps to avoid attacks, and responded timely which brought him a victory on points 4:1 in men's 63.5kg. Louis Richarno Colin from Mauritius confirmed his status as one of the most experienced boxers of the championships in his semi-final fight against the Republic of Congo's Dival Malonga. In the second round, Colin knocked his rival down, and despite that he recovered, Mauritius boxer scored a confident victory 5:0. 
Steve Kulenguluka from DR Congo challenged Merven Clair from Mauritius in men's 71kg. Clair faced a very unpredictable boxer with high-speed attacks, and despite he was well-prepared, he could not adapt to the rival's style, and Kulenguluka celebrated a unanimous victory. In another good fight of the category between Tiago Muxanga from Mozambique and Albert Mengue Ayissi from Cameroon, the boxers were showing their best in the ring. Muxanga was better in technique with both attacks and defense and celebrated a unanimous victory. 
Anauel Ngamissengue from the Republic of the Congo threw a lot of punches from close and middle distances in his men's 80kg fight against Kenyan Robert Okaka. The referee invoked standing count Okaka twice, and the Congolese boxer celebrated a victory 4:0. The favorite of the category Peter Pita from DR Congo won unanimously against Senegal's Mouhamed Konate Seydina, and the final against Ngamissengue promises to be truly spectacular. 
Mohamed Assaghir from Morocco went through a tough fight with Julio Gabriel Albino from Mozambique. He was leading after the first two rounds, but in the third, an athletic Mozambique boxer gave him a fight. It was not enough to overturn the result, and Assaghir won this tough contest in men's 86kg by a split decision of 5:2 (2:0BR). The bout between Yusuf Lucasi Chamgalawe from Tanzania and Nathan Landu Mbeli from DR Congo was stopped due to a head clash and the Congolese was declared a winner by points 4:3 (1:1BR). 
Two great contests were held in men's 92+kg. Zacharie Mvogo Amougou from Cameroon delivered an amazing bout against Solomon Kozaala from Uganda. It is quite rare to see the super heavyweight fight with this amount of punches and this intense speed. Ugandan boxer overcame the first powerful attack of Mvogo Amougou but at the end of the first round, he was knocked down. The referee decided to stop the contest to the excitement of the local crowd. The second semi-final impressed the tribunes as well, as Algerian Mourad Kadi faced Keddy Evans Agnes from Seychelles in high-speed exchanges where the latter was better. Agnes celebrated a victory to meet with local hopeful Mvogo Amougou on Saturday. 
The final bouts are scheduled for today with 25 exciting contests in 13 men's and 12 women's weight categories. Medallists are to receive prize money, where $15,000 is for the first place, $10,000 is for the second, and $5,000 is for each of the third places.