ASBC Asian Youth & Junior Boxing Championships finished in Jordan
March 15th, 2022 / IBA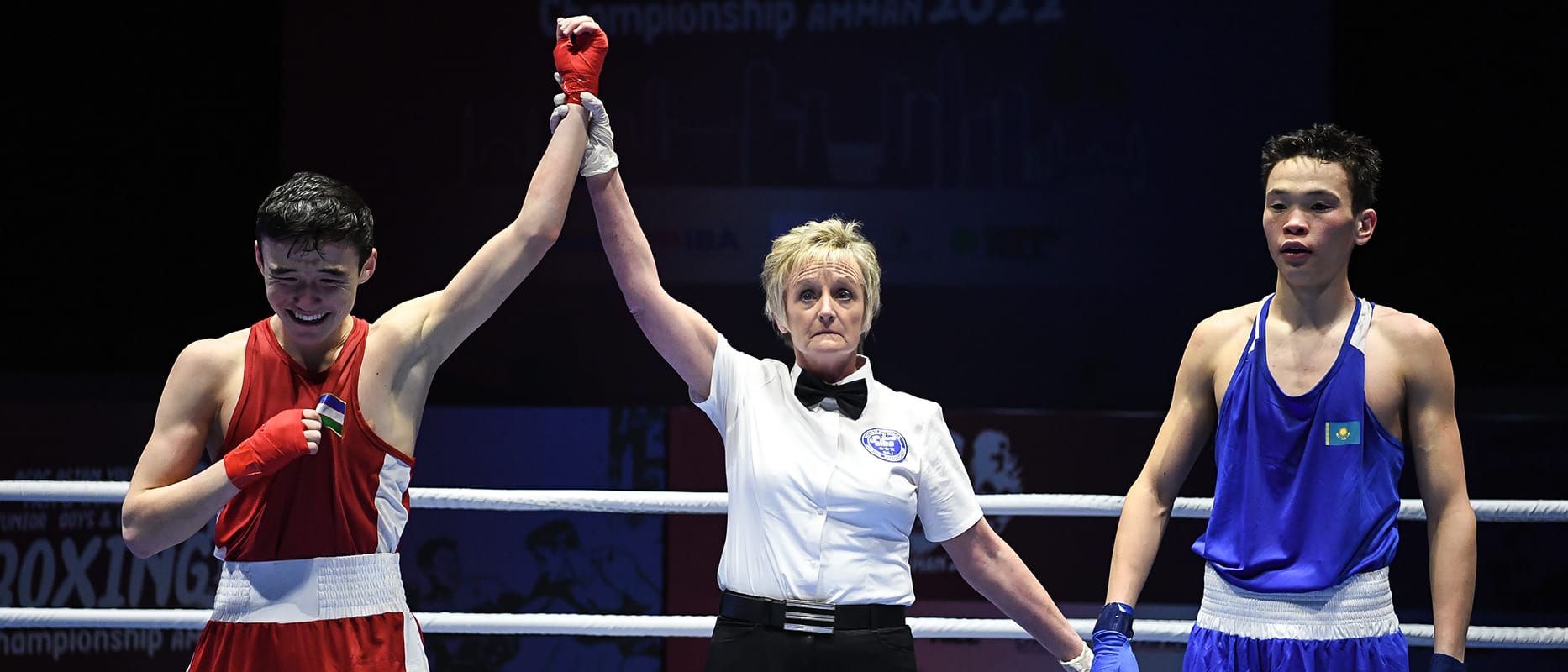 51 female and male champions were crowned in the competition in Amman, 26 junior boxers and 25 youth athletes.
Outstanding number of 352 female and male boxers from 21 nations were competing in Amman, Jordan. India, Iran, Iraq, Jordan, Kazakhstan, Kuwait, Kyrgyzstan, Lebanon, Mongolia, Nepal, Pakistan, Palestine, Philippines, Sri Lanka, Syria, Tajikistan, Thailand, United Arab Emirates, Uzbekistan, Vietnam and Yemen sent their best talents to the ASBC Asian Youth & Junior Boxing Championships.
Boxers who were born in 2004 and in 2005 were eligible to participate in the ASBC Asian Youth Boxing Championships. For the youth boxers, this is an excellent option to prepare for the upcoming IBA Youth World Boxing Championships which will feature later this year. The younger talents from the 2006 and 2007 age groups competed in the junior part of the championships in Jordan.
India, Kazakhstan, Thailand and Uzbekistan earned 26 titles in the junior part of the championships.
India, Jordan, Kazakhstan, Kyrgyzstan and Uzbekistan earned the youth titles.
List of the winners after the junior finals of the ASBC Asian Youth & Junior Boxing Championships
Women's Junior 46kg: Jasmin Tokhirova, Uzbekistan

Women's Junior 48kg: Zilolakhon Yusufova, Uzbekistan

Women's Junior 50kg: Vini, India

Women's Junior 52kg: Yakshika, India

Women's Junior 54kg: Uzukjamol Yunusova, Uzbekistan

Women's Junior 57kg: Vidhi, India

Women's Junior 60kg: Nikita Chand, India

Women's Junior 63kg: Shrusthi Sachin Sathe, India

Women's Junior 66kg: Aruzhan Zhangabayeva, Kazakhstan

Women's Junior 70kg: Oysha Toirova, Uzbekistan

Women's Junior 75kg: Rudrika, India

Women's Junior 80kg: Kuralay Yeginbaikyzy, Kazakhstan

Women's Junior +80kg: Sobirakhon Shakhobidinova, Uzbekistan
Men's Junior 46kg: Krrish Pal, India

Men's Junior 48kg: Ilkhomjon Ergashev, Uzbekistan

Men's Junior 50kg: Samandar Olimov, Uzbekistan

Men's Junior 52kg: Aidar Kadyrkhan, Kazakhstan

Men's Junior 54kg: Thanaphansakon Kalaseeram, Thailand

Men's Junior 57kg: Torekhan Sabyrkhan, Kazakhstan

Men's Junior 60kg: Yashwardhan Singh, India

Men's Junior 63kg: Akhmet Ussen, Kazakhstan

Men's Junior 66kg: Sanzhar-Ali Begaliyev, Kazakhstan

Men's Junior 70kg: Djafarbek Shakhbazov, Uzbekistan

Men's Junior 75kg: Temurbek Abduvakhobov, Uzbekistan

Men's Junior 80kg: Rakhmonjon Kodirov, Uzbekistan

Men's Junior +80kg: Ozodbek Aliyev, Uzbekistan
List of the winners after the youth finals of the ASBC Asian Youth & Junior Boxing Championships
Women's Youth 48kg: Nivedita Karki, India

Women's Youth 50kg: Tamanna, India

Women's Youth 52kg: Tomiris Myrzakul, Kazakhstan

Women's Youth 54kg: Viktoriya Baidukova, Kazakhstan

Women's Youth 57kg: Ulzhan Sarsenbek, Kazakhstan

Women's Youth 60kg: Shaheen Gill, India

Women's Youth 63kg: Ravina, India

Women's Youth 66kg: Bakyt Seidish, Kazakhstan

Women's Youth 70kg: Aziza Zokirova, Uzbekistan

Women's Youth 75kg: Muskan, India

Women's Youth 81kg: Kamila Bazhbenova, Kazakhstan

Women's Youth +81kg: Sakhobat Khusanova, Uzbekistan
Men's Youth 48kg: Vishvanath Suresh, India

Men's Youth 51kg: Khujanazar Nortojiyev, Uzbekistan

Men's Youth 54kg: Abduvali Buriboyev, Uzbekistan

Men's Youth 57kg: Bakhtiyor Asadov, Uzbekistan

Men's Youth 60kg: Almaz Orozbekov, Kyrgyzstan

Men's Youth 63.5kg: Vanshaj, India

Men's Youth 67kg: Fazliddin Erkinboyev, Uzbekistan

Men's Youth 71kg: Yegor Yegorov, Kazakhstan

Men's Youth 75kg: Rakhmatullo Boymatov, Uzbekistan

Men's Youth 80kg: Abdulaziz Abdurakhmonov, Uzbekistan

Men's Youth 86kg: Temirlan Mukatayev, Kazakhstan

Men's Youth 92kg: Aynazar Kenesbayev, Uzbekistan

Men's Youth +92kg: Saif Al-Rawashdeh, Jordan