Amanda Coulson: how one article inspired a victorious boxing career
January 7th, 2022 / Women in boxing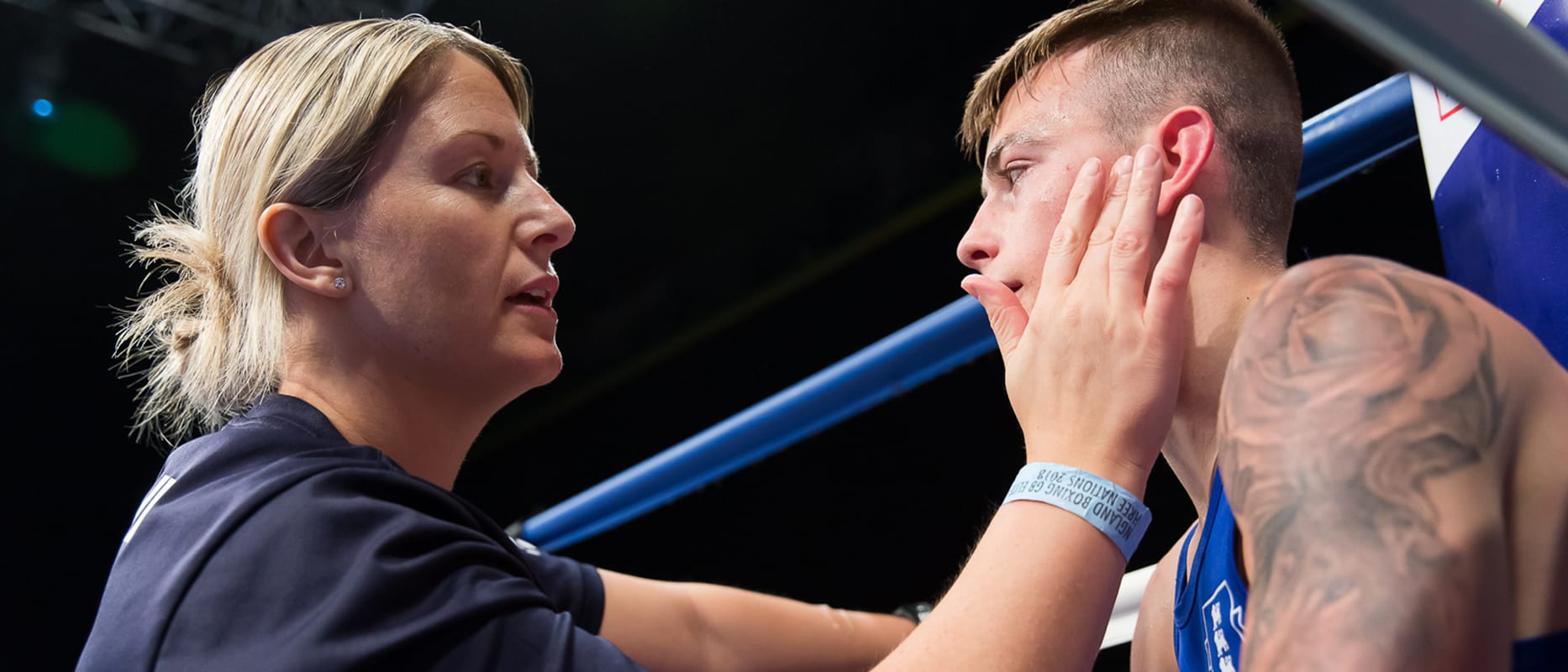 Amanda Coulson, Chair of the IBA Women's Committee, is a former successful boxer who is now a coach and a talent recruiter in England. However, her path was beset by obstacles from the very beginning. She tells her story to inspire other women to achieve something in the sport. 
Young Amanda was overwhelmed, having read an article about two 13-years-old girls who were going to be the very first to box in Britain. 
"I was 14 myself and didn't know that girls could box. It was back in 1997, and it was the first bout between women in Great Britain. It inspired me to find a boxing club and start boxing," she says.
Despite being athletic as a girl, Amanda only had the opportunity to practise team sports at school. She started her search for a boxing gym with the Yellow Pages, but drew a blank. However, a sports development agency gave her about seven numbers to call.  
"I tried the first one. 'My name is Amanda, I want to do boxing, can I join your club?'," she says, adding: "The guy laughed at me and put down the phone saying: 'In my club, you have no chance, love'. That was my first introduction to the barriers that women were facing in boxing." 
She called the next number, and heard: "We don't have any women's changing facilities," then the next one: "We don't have a female coach who can train you." There were some simple "No's" as well. 
"The last number I had on the list was Hartlepool Catholic Boys Boxing Club, and after these negative responses I didn't expect this 'boys' club' to take me on," she continues.
Nevertheless, the secretary said 'Yes', adding: "This is the address, this is the cost, and this is the equipment that you need."
 "He even said to me there will be no leniency for you, you'll be expected to do the same as boys," she adds. "I said: 'That's fine, thank you very much,' and after the conversation looked in the mirror and thought: 'Yesss! I won my first fight'. 
"I went to the club and on the first evening I was told to observe what was going on and if I liked it, I could return the next day. Then I came back night after night, week after week, year after year… I went to this boxing club for 16 years, I was the best attender every year – first to arrive, last to leave." 
"It was a slow process until the coach became interested in me and started to realise that I deserved as much attention as the boys, and that he needed to help me to become the best I could be to perform for the club." 
IN THE RING 
Amanda's first fight took place in 1999 – and, by the way, after that her club was renamed the Hartlepool Catholic Boxing Club. 
"There weren't many girls of my age in England who boxed," she recalls, "so it was really difficult to find a match. In my first fight, I stopped the girl 45 seconds after the start. Her corner threw in the towel. She was outclassed."
Amanda kept boxing and beating everybody she could in England. 
"That brought me to Ireland and later to Sweden, where I won a tournament," she says. "I thought I was doing really well! Then we were brought to the European Championships 2004 in Italy. I boxed against a girl from Denmark and she eliminated me in two rounds, scoring her 15 points. That brought me to real life, I understood the standards of Europe. I needed to go back to my gym and work harder and prepare better, get more contests. 
"Later, I missed an opportunity to compete at the Olympic Games in London 2012. Natasha Jonas, who was my teammate and rival, beat me, and she took her chance.
"I was 29 by then, I had a tear on my extender hood in the knuckle, which needed an operation, and I honestly felt tired at that point after 16 years of intense training. I decided that this was my time to step down and let new kids come, and that I wanted to give back to the sport that ultimately changed my life. So I became a coach in December 2012." 
During her boxing career, Amanda was four-times National champion, once Great Britain champion, a three-times silver medallist at EU Championships and participant at two AIBA World Championships, while also winning multiple international tournaments. 
COACHING CAREER 
"I was in love with this opportunity to guide people so they can realise their potential and dreams, that they can achieve amazing things with a bit of desire, determination, commitment, perseverance and all the other qualities that boxing brings," says Amanda.
"Being a coach is a selfless act for sure. You're always second and the boxer is first. However, being able to guide – that is really rewarding for me. I get as much pride seeing the boxes compete, get better, increase their performance, and stand on the podium as I did when I competed. So it's just a different angle."
Amanda's biggest highlight as a coach has been taking a team out to the Youth Olympic Games in Buenos Aires in 2018. Four boxers qualified for the tournament, and they came back with three golds and a bronze, a phenomenal achievement. 
"That was the first time that Team GB had ever had a female coaching at the Olympics in their set-up," Amanda says. "For me, it was amazing to go out there as a head coach and come back with the success that the team did. One girl and three boys just got people in England to realise that I'm a good coach. I'm not just a good female coach. I'm actually a good coach, and that was really important for me and for the future of coaching for women, I think." 
Amanda trains both men and women. She says that there are major differences in boxing – not between genders, but between each individual personality.  
"It's my job as a coach to be a chameleon, to flex, to adapt, to change so that each of them can be successful and I can build a connection with them," she says. "That's my kind of philosophy of coaching, to empower the boxers, to understand why they're doing things and the purpose behind their actions. 
'Some need an arm around the shoulder, some need a change in tone, volume, pitch. Others need you to be nice and quiet. Some want to be included in the creation of the sessions or the plans, others just want you to tell them. So everybody is different. And it's our job as coaches to adapt to what's in front of us."
It's not always been easy. Amanda admits that she's still learning because she needs to be ahead of the game. Every day.   
"Enjoy what you do – or don't do it at all," she says, passionately.  
That motto is in her veins as lead development coach for England Boxing Talent Pathway. She identifies boxers who have potential and recruits them. She then designs, implements, delivers and reviews training programmes for these boxers to help them reach their potential – regardless of gender, and at all levels of experience. 
Amanda is Chair of the IBA Women's Committee, a job she regards as a great privilege. After months of intense work, the committee presented a roadmap of changes essential for the further development of women in boxing – not only the athletes, but referees and judges, coaches, ringside doctors and cut-women, as well as sports managers and administrators.   
"First of all, we try to increase the number of women in boxing worldwide, on every continent, in each country. We also need to create equal opportunity for women. There should be a cultural change to attract more women to boxing," she says. "There are already some areas where we have quite a good number of women but we need to extend it in each direction.
"For instance, female coaches need to be visible in the gyms, that might help young girls and retain them in the sport. We need to transform it, bring invisible to visible. We need role models to inspire new generations, at all levels."
GENDER-BALANCED SPORT 
Gender equality is an issue that Amanda is keen to address in her role. This is complex and requires a lot of work. Not only does it mean the recruitment of women in boxing, but also providing education for them.  
"The Women's Committee should not be in place for a tick, just as with women in leadership," she says. "It's not about percentages. They should have a voice. I am happy that within our association it is how it should be.
"One of the key projects is the Women's Aspire programme that we've designed, and we're hoping to initiate that in all five Confederations. There will be women only; it will include coaches' courses, R&J courses, ITO courses. Lack of them is a barrier that prevents women from getting involved."
 Attracting new people is one issue; another is changing the culture of the 'male-dominated sport,' the mindset of all involved.  
"With barriers, opportunities to change come," Amanda says. "I think that the IBA President is really keen on gender equality. He sees the benefits of having a diverse workforce and having diversity within the IBA and the boxing world."
It's a snowball effect, according to Amanda: the more women come to boxing and the more visible they become, the more equality and diversity they bring. 
"This is not something that happens overnight," she continues. "This has got to be on everybody's agenda, not just the Women's Committee's one. We have to remember that it's one sport: it's not men's or women's boxing, it's boxing. And once we all understand that, we will then embrace the opportunities that actually involving women can have for our sport."
LIFE-CHANGING OPPORTUNITIES 
"As you already know, my story comes from being inspired by one article," Amanda concludes. "Had I never seen that article, I wouldn't be in this position now, I wouldn't have had this fantastic boxing career and journey that I've had so far. So that's just one example. How many other women and girls are out there that have seen an article, that have read something that I've seen, something that has inspired them to make a change to get involved?
"Boxing is more than just boxing, fact. Boxing teaches you life skills. It teaches you things that can help you prepare for high-pressure situations. You get in the ring, you have to compete against somebody, and your heart is racing. It's the same emotional feeling you have when you step into an interview for a job or going to a driving test.
"This is just one example of the transferable skills that boxing can create. Boxing can truly transform the lives of everybody involved. Being able to create opportunities for the next generation to help shape them and change their lives is a huge privilege and motivation for me… and hopefully for many others too."