AIBA President visits Nepal to discuss development of boxing in the country
November 17th, 2021 / IBA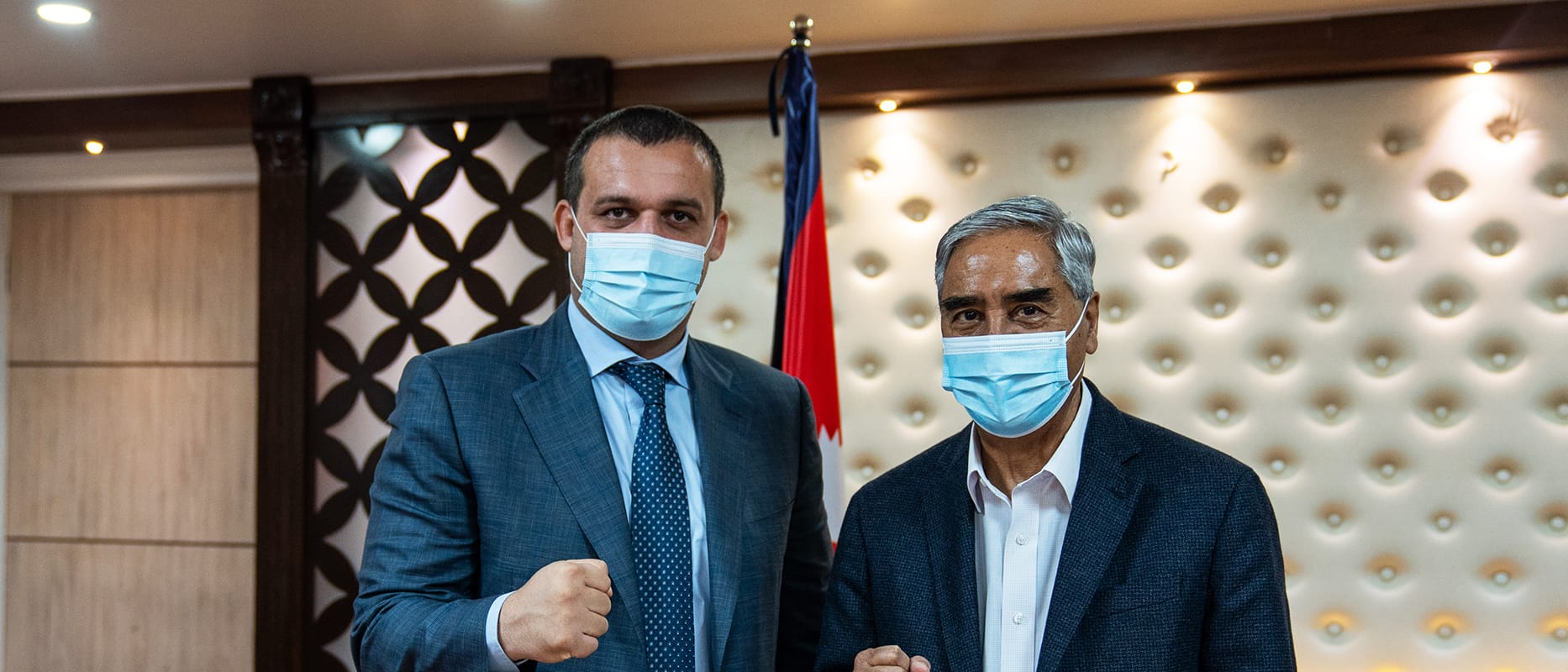 During his official visit to the capital of Nepal, Kāthmāndau, AIBA President Mr. Umar Kremlev held several meetings with senior government officials including Prime Minister Mr. Sher Bahadur Deuba and Minister of Sports and Youth of Nepal Mr. Maheshor Jung Gahatraj.
"Everyone who gathered here today, is committed to developing our sport. We aim to see more and more champions appear, more competitions emerge. I want to express sincere gratitude to the government of the country, the Ministry of Sport, the Nepal Boxing Federation for their support in developing sport for young people actively all across the country," AIBA President Mr. Kremlev said.
Support for developing countries is a part of AIBA Financial Support Program (FSP) that is now being actively implemented. AIBA already successfully helped boxers from more than 18 countries to come and participate in 2021 Men's World Boxing Championships which took place in Belgrade in October-November.
Mr. Kremlev assured of a tight collaboration between AIBA and Nepal by implementing different projects such as the organization of joint training camps, exchanging experience between coaches and judges, and ensuring an additional qualification program for Nepali sports officials.
Also, the opportunity to hold Asian Championships in Nepal was discussed, which is planned to take place at existing venue with a capacity of 20,000.
"Here in Nepal, we are developing sports for health and various activities, which unfortunately due to the pandemic are not now at full speed. We are thankful to the AIBA President for coming and contributing to the development of boxing all around the globe and in our country in particular. Nepal has great natural opportunities for training camps to arrange at the highest point of the earth', Minister of Sports and Youth Mr. Maheshor Jung Gahatraj stressed.
'I am glad to see how the AIBA President is developing boxing. Boxing is the most popular sport in Nepal and it will be great if AIBA could provide assistance for educational programs in schools and institutes. I am sure that we will be successful in our cooperation. From our side we will provide full support to the Nepal National Federation', Prime Minister Mr. Sher Bahadur Deuba concluded.
During his visit AIBA President also visited "Late Prakasha Dahal Memorial" 2nd National Men's and Women's Boxing Championships, which has been taking place 15-19 November in Kathmandu, to greet athletes personally and to give away sport equipment.