AIBA President expresses condolences following the death of Emil Jechev
July 29th, 2015 / All
Emil Jechev, the former President of the European Boxing Association, and erstwhile AIBA Vice President passed away in Sofia yesterday aged 88.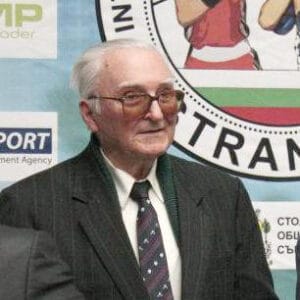 He devoted his life to serve Bulgaria and the entire world through the sport of boxing, and earned an outstanding reputation from the International Olympic Committee (IOC), AIBA and all of the regional sport associations in Europe.
"In my capacity as President of the International Boxing Association, AIBA, and on behalf of the entire boxing family, I would like to express my most heartfelt condolences and my deepest sympathy for the mourning of Mr Jechev," said AIBA President Dr Ching-Kuo Wu in a letter to Mr Jechev's family.
"He will always be remembered for his great passion and dedication to the improvement and development of boxing. Mr Jechev achieved many successes in the course of a long and active career, including his periods as AIBA Vice President and Chairman of the R&J's Commission. His expertise and knowledge highly contributed for the benefit of AIBA and our beloved sport," continued Dr Wu.
Jechev began his career with a Referee & Judges course in 1947, and worked in national Bulgarian competitions through the 1950s.
In 1958, he became an AIBA Referee, and was named as the best Referee & Judge at the 1961 European Continental Boxing Championships in Belgrade, Yugoslavia.
Later he became the Head of the Boxing Department at the Vasil Levski National Sports Academy, and was also named as the Best Referee & Judge at the Tokyo 1964 Olympic Games.
After becoming one of the founders of the European Boxing Association in 1970, he served until 2006 for that organisation, while he was worked tirelessly as the Chairman of the AIBA Refereeing & Judging Commission from 1974 until 1998.
Jechev worked as the EABA Vice President in 1978 until 1989, and was also a member of the Bulgarian National Olympic Committee since 1978.
Perhaps his most significant role saw him excel as AIBA Vice President from 1986 until 1998.
Conveying his loyalty and desire to help advance the entire boxing world, Jechev attended eight AIBA Congresses, while his aptitude for success and tireless work ethic also saw him serve as the President of the European Boxing Association from 1989 – 2006, before becoming their Honorary President in 2006.
Jechev worked as both a Referee & Judge, and Chairman of the Jury in 12 Olympic Games, and was also the Professor of the National Sports Academy and Academician of the Sports Academy in St. Petersburg, Russia, and Baku, Azerbaijan.
A proficient and accomplished author, one of his most famous books was the Commentary for the rules of AIBA which saw four editions published in German and English versions between 1980 and 1991.
Altogether, the Bulgarian wrote 25 books, and was awarded the AIBA Order of Merit.
He enjoyed his later years with his grandchildren Kiril and Emilia, and celebrated his last birthdays with the Bulgarian Boxing Federation.
Emil Jechev's life and times
Date of Birth : July 13, 1927
Place of Birth : Silistra, Bulgaria
Died : July 28, 2015
Career Highlights:
1974-1998 – Chairman of the AIBA Refereeing & Judging Commission
1978-1997 – Member of the Bulgarian National Olympic Committee
1986-1998 – AIBA Vice President
1978-1989 – Vice President of the European Boxing Association
1989-2006 – President of the European Boxing Association