AIBA World Championships Baku 2011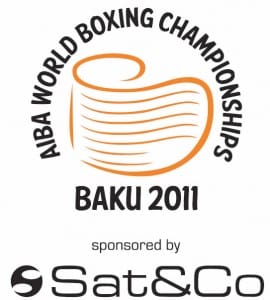 From 22 September
to 10 October, 2011

Baku, Azerbaijan
The AIBA Men's World Championships is the signature event on the AIBA calendar going back 35 years to its beginnings in 1974 when the AIBA Men's World Championships made its debut in one of the heartlands of boxing – Havana, Cuba.
Boxers aged 17 to 34 are united every two years to compete against the best in their division from around the world. The athletes participate in the official 10 weight categories in accordance with the AIBA Technical and Competition Rules with hopes of claiming ultimate glory, becoming a world champion.
The 2011 AIBA World Boxing Championships which will be held from September 22 – October 10, 2011 in Baku, Azerbaijan, will have a particular significance as the first major qualifying event for the London 2012 Olympic Games.
Following the success of the AIBA World Boxing Championships Milan 2009 with a record of participants, an even higher number of boxers is expected in Baku.
IBA's "Road to Dream" programs are benefiting to boxers and coaches from selected IBA's National Federations, coming from boxing developing countries.
Since 2009, IBA offers prior to each of its World's Championships, airline tickets and local transportations, accommodations and meals, training infrastructures and equipment, instructors and visa procedures to boxers and coaches. IBA fully fund this coverage from the Training Camp to the end of the Championships.
Through this program, a lot of boxers and coaches have been developing their skills and knowledge of boxing.
The "Road to Baku" Training Program has started on 9 September 2011 and is running smoothly.
Mr. Mars Kuchkarov, head instructor, is taking care of 48 boxers (from 17 to 30 years old) and 20 coaches invited from 28 different nations, with the help of two IBA selected assistant coaches along with two additional local coaches.
The training center, based in Lankaran, has all infrastructures needed and Top Ten materials have been provided.
Boxers benefit of two daily training sessions, as well as healthy meals, according to their needs.
The camp will close on 22 September with all boxers and coaches moving to Baku to stay at the Team Delegation hotels for their participation in the World Championships.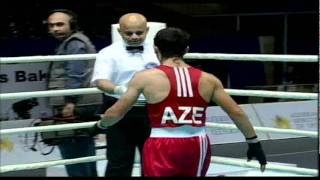 Day8 - Highlight - 2011 SAT&CO IBA World Boxing Championships, Baku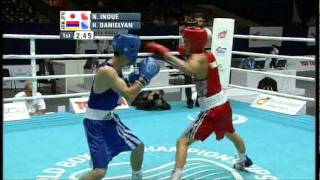 Day8 - Highlight 2 - 2011 SAT&CO IBA World Boxing Championships, Baku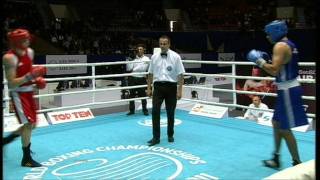 Day7 - Highlight 2 - 2011 SAT&CO IBA World Boxing Championships, Baku