Olympic Games history
One of the oldest recorded sports in the world, boxing was first incorporated into the Ancient Olympic Games in 688 BC, when Onomastos of Smyrna won the first ever boxing gold medal. Just 18 athletes were competing when boxing was launched into the modern Olympic era at the third edition of the Games in St. Louis in 1904, but by the London Games four years later, that number had grown to 41, split across five weight categories.
By the Antwerp 1920 Olympic Games, competition was strong. In Belgium, 116 competitors from 12 nations challenged for medals, with Africa winning its first boxing gold thanks to Clarence Walker. Eight years later in Amsterdam, for the first time national teams were limited to fielding one boxer per weight class.
Since then, Olympic boxing has evolved and developed, and created its very own icons like Laszlo Papp, the Hungarian southpaw who claimed three consecutive gold medals in 1948, 1952 and 1956. Four years later it was the turn of an 18 year-old by the name of Cassius Clay to write himself into history and begin a glittering career by taking the gold in Rome.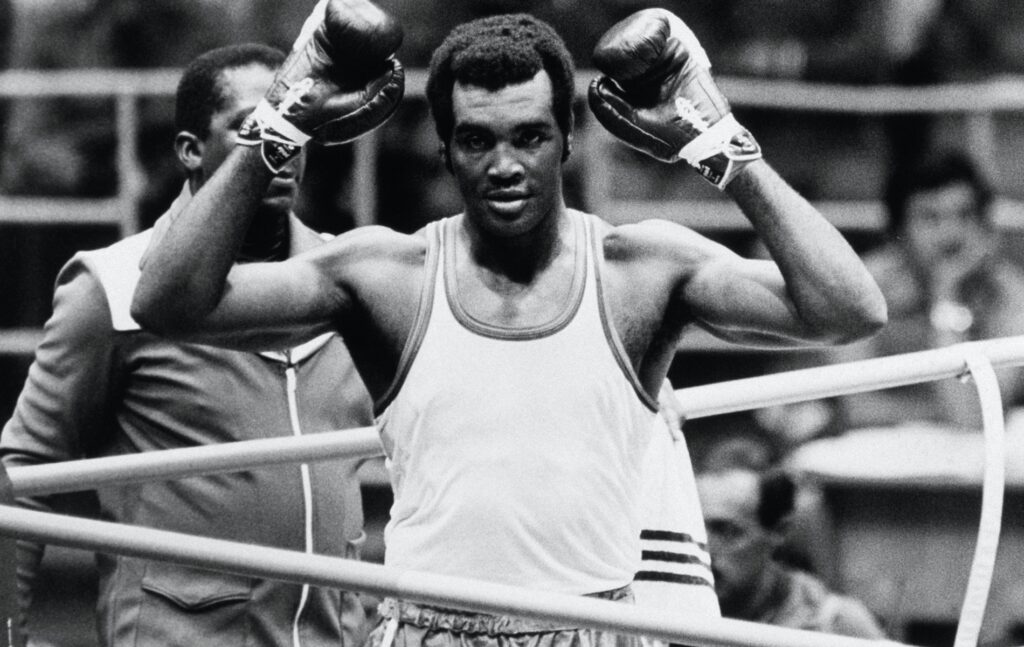 The first Asian gold medalist would be Japan's Takao Sakurai, who took the title on home soil at the Tokyo 1964 Games. Four years on, a consistently devastating Cuban team first appeared on the scene, spearheaded by Teofilo Stevenson, who repeated Papp's feat of triple gold during the 1970s, and then by Felix Savon, who was crowned Olympic champion in 1992, 1996 and 2000.
Other legends of boxing including Joe Frazier, George Foreman, Ray Leonard and Oscar de la Hoya from the US, the Soviet Union's Valeriy Popenchenko and Danas Pozniakas, Yugoslavian Mate Parlov, Canada's Lennox Lewis, Bulgarian Petar Lesov and Kenya's Robert Wangila all started long and glittering careers with an Olympic title. The youngest ever Olympic Boxing Champion was US athlete Jackie Fields, who won gold in 1924 at the age of just 16.
Following a historic IOC meeting in August 2009, women's boxing became part of the official program of the Olympic Games for the first time at London 2012. Competing  across three weight categories, Nicola Adams of Great Britain, Katie Taylor of Ireland and the USA's Claressa Shields were crowned the first ever female Olympic boxing champions, bestowing three new superstars on this great sport in the process. Now, Rio 2016 awaits, and with qualification already underway, the world's best boxers are once again preparing to carve their names into history, and a crop of relative unknowns will be hoping to burst onto the scene like so many before them.
The most successful boxing nations at the Olympic Games 1904-2012
| Rank | Country | Gold | Silver | Bronze | Total |
| --- | --- | --- | --- | --- | --- |
| 1 | United States | 50 | 23 | 38 | 110 |
| 2 | Cuba | 34 | 19 | 14 | 67 |
| 3 | Great Britain | 17 | 12 | 24 | 53 |
| 4 | Italy | 15 | 15 | 17 | 47 |
| 5 | Soviet Union | 14 | 19 | 18 | 51 |
| 6 | Hungary | 10 | 2 | 8 | 20 |
| 7 | Russia | 9 | 5 | 12 | 26 |
| 8 | Poland | 8 | 9 | 26 | 43 |
| 9 | Argentina | 7 | 7 | 10 | 24 |
| 10 | Kazakhstan | 6 | 5 | 6 | 17 |