Victorious start for Estelle Mossely, a powerful debut for Megan de Cler at the IBA Women's World Boxing Championships in New Delhi
March 17th, 2023 / New Delhi 2023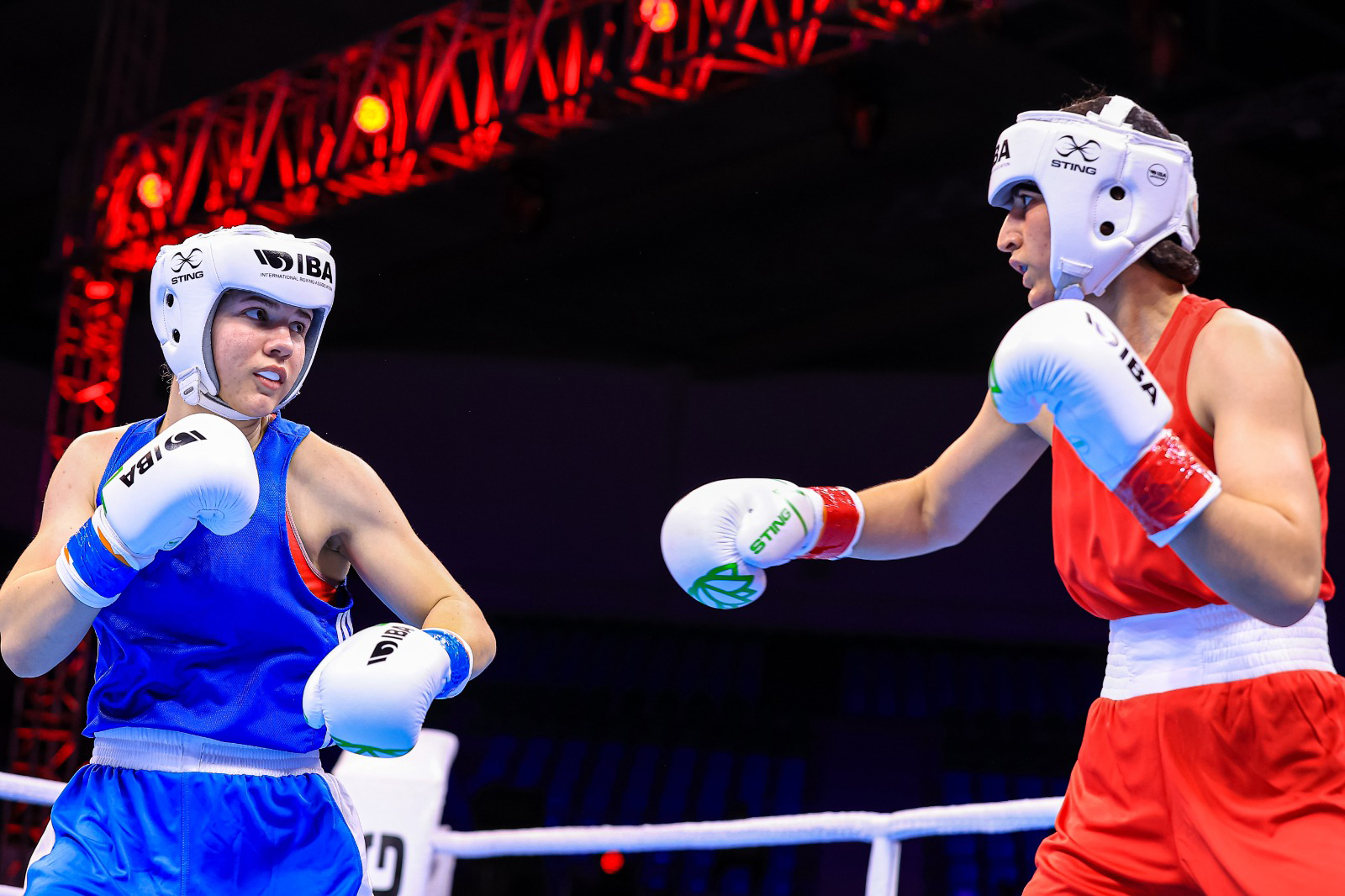 The second day of the IBA Women's World Boxing Championships was remarkable on several occasions. World and Olympic champion from France Estelle Mossely featured her comeback to IBA competitions after a 7 year break where she went professional. The Dutch national Megan de Cler, who is competing at the tournament as an individual athlete, fulfilled her dream to fight at the World Boxing Championships. 
Mossely said that it was a 'good feeling' to be back. She called the first fight at the tournament in 60kg against Porntip Buapa from Thailand one of the most challenging ones, but so would be the next bouts, in her opinion. In fact, Estelle looked super fit and was confident in the ring with her every move.
'It's been the first time in a long time, it's a good start for me. Let's go for more now. Every fight here will be like a final one for me, and I have to be really focused. Now it will become better fight after fight,' Mossely claimed.
Her next challenge is scheduled to take place on 21 March when she is facing Colombian Angie Valdez who eliminated second-seeded Wu Shih-Yi from Chinese Taipei.
Megan de Cler turned 19 the day before the opening ceremony in New Delhi. The boxer claimed silver at the IBA Youth World Boxing Championships in La Nucía last November. She is now competing at her first elite large-scale event as an individual athlete following her nation's boycott of the World Championships in New Delhi. The IBA is supporting de Cler through its Financial Support Program (FSP).
The first round of her kick-off bout was taken by her rival Nilufar Boboyorova from Tajikistan. Being under the pressure, de Cler managed to put all her efforts together and make a comeback in the second round, and she took advantage in the third, winning with a split decision after a bout review.
'I am not competing for the Netherlands, I am here on my own. I don't do politics, I do boxing, that's why I am here, to make my dream come true. My dream was to compete here, so I did it,' de Cler claimed.
She will be back to action on 21 March, and her next challenge is second-seeded Guadalupe Solis Acosta from Mexico.
The Indian team continues to hit the road and keeps eliminating the rivals on the way to the top. Jasmine won Beatrice Ambos Nyambega from Tanzania by RSC in the first round in their 60kg bout. In 63kg weight category, Shashi Chopra defeated Kenyan Teresiah Wanjiru Mwangi by a unanimous decision. However, in the 70kg fight, Shruti Yadav lost her initial fight to Zhou Pan from China.
Two Serbian boxers, Natalia Sadrina and Nikolina Gajic marked two victories for their country in 60kg and 70kg, respectively. Experienced Turkish boxer Elif Guneri, who has 4 bronze and 1 silver medal from various World Championships in her record, started with a victory over Baison Manikon from Thailand in 75kg division with a split decision, where the bout review confirmed her dominance in the ring. Third-seeded Viviane Pereira from Brazil is starting her campaign against Guneri, which promises to be an exciting fight.
For Russia, the second day was more successful than the first one with Anastasiia Shamonova unanimous victory in 75kg against the Colombian Angie Solano Vanegas. Her next rival is going to be a strong challenge, as she is facing World champion Atheyna Bylon from Panama, who also claimed a silver at the last World Championships in Istanbul.