USA boxers impressed in the second semi-finals at AIBA World Boxing Championships
November 4th, 2021 / IBA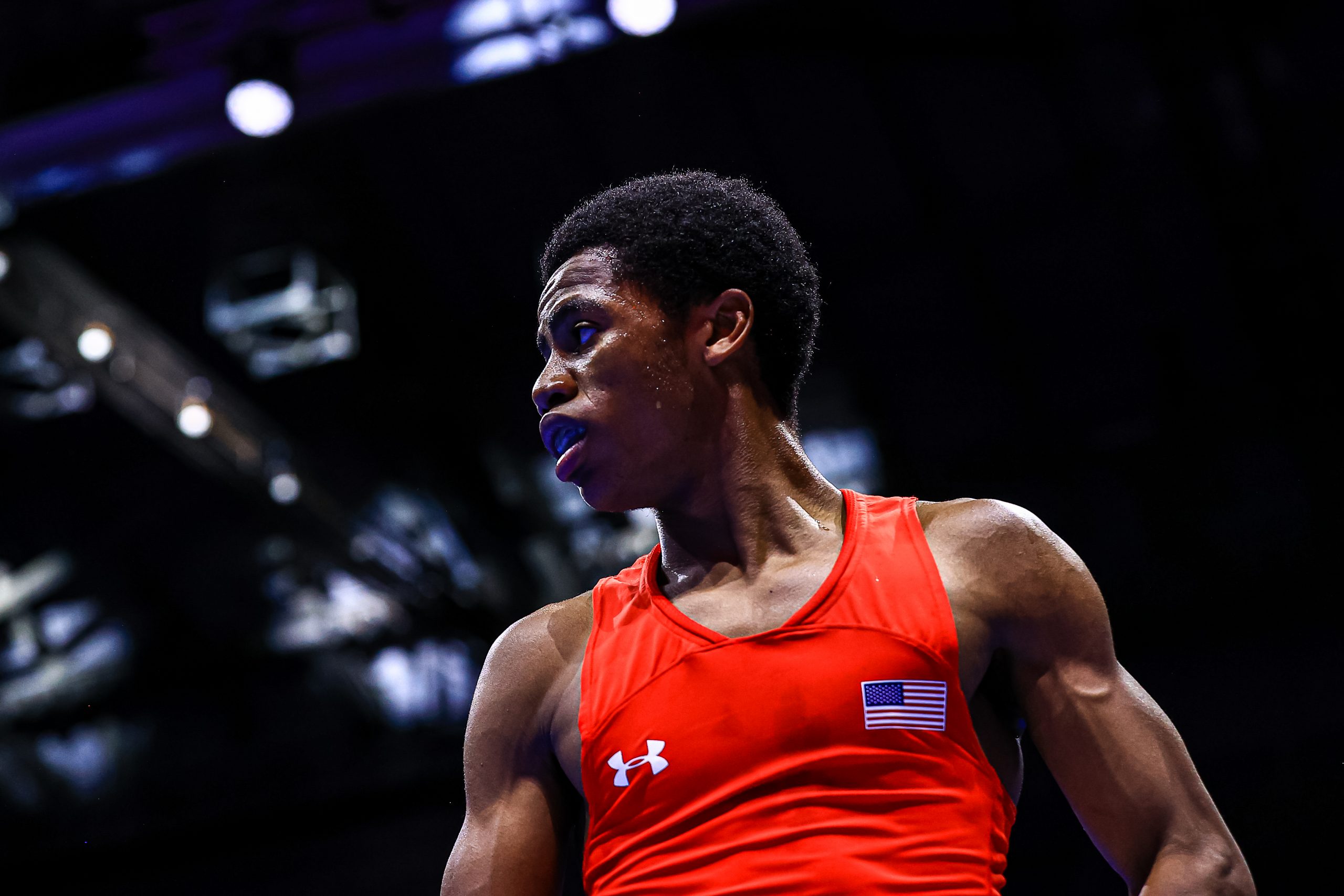 The second part of the semi-finals took place in Belgrade during the evening session at the AIBA World Boxing Championships. Young boxers Jahmal Harvey from the USA, Turkey's Kerem Oezmen, and Ukraine's Yurii Zakharieiev were the heroes of the session, all of these 19-year-old talents proceeded to the finals.
The semi-finals of the flyweight (51kg), featherweight (57kg), light welterweight (63.5kg), light middleweight (71kg), light heavyweight (80kg), and heavyweight (92kg) were on the official program. Fifteen nations from three Confederations have finalists in the 21st edition of the AIBA World Boxing Championships.
United States' Roscoe Hill showed great skills in the flyweight (51kg)
United States' Roscoe Hill achieved a bronze medal in their main national selection event two years ago, but he decided to continue his career to earn top results. The 27-year-old US boxer had a 15cm height advantage in the semi-final of the flyweight (51kg) against the RBF Team's Akhtem Zakirov and he used that well to take the advantage after three minutes. Hill amazed with his fantastic footwork and will be fighting with Kazakhstan's Saken Bibossynov who had to do a hard work against Thailand Boxing Federation's 19-year-old Thanarat Saengphet in the second semi-final.
"It is fantastic that I advanced to the final of the AIBA World Boxing Championships but I worked hard on it to make it happen. My Russian opponent was strong and I tried to push myself today. I am fine, no injuries, still fresh, ready for the final."

Roscoe Hill (USA)
Jahmal Harvey is the youngest finalist of the AIBA World Boxing Championships
United States' next sensation of the AIBA World Boxing Championships is Jahmal Harvey, who won several junior and youth events in his homeland, but on the international stage he had only one event before Belgrade. Harvey, who began boxing six years ago, won the Emil Zhechev Youth Memorial Tournament in Bulgaria against strong opponents in April 2019 but in the recent two and half years, he became a real elite boxer. The 19-year-old US boy is such a great talent in our sport and despite his difficulties in the first preliminary round, he defeated stars including the defending champion, Mirazizbek Mirzakhalilov of Uzbekistan. Harvey gained control of his semi-final against France's Samuel Kistohurry immediately and shocked the more experienced European boxer.
 "I did not expect six years ago that I could be a finalist in a World Boxing Championships so quickly but I worked a lot to do that. My coaches are         fantastic, they managed the right strategy and I am excited to win this Championships."

 Jahmal Harvey (USA)
Turkey's Kerem Oezmen will fight for the title against Cuba's star, Andy Cruz
Turkey's Kerem Oezmen is another young sensation at this AIBA World Boxing Championships, who exceeded all of the previous expectations. The 19-year-old Turkish boxer eliminated such top boxer as India's five-time ASBC Asian Boxing Championships medallist Shiva Thapa in the quarter-final of the light welterweight (63.5kg). The first-ever Scottish medalist opened the second round in a different rhythm and the Kyrgyz referee counted the Turkish boxer following Lynch's big punch. Oezmen made a comeback once again in the third round and his strength was the difference between them today. The 19-year-old Turkish talent will now meet with Cuba's two-time AIBA World Champion Andy Cruz,who is unbeaten since October 2015. The Cuban landed better combinations against Armenia's Hovhannes Bachkov in his semi-final bout.
"I tried to prepare for the next big championships within a short period of time but I am not exhausted yet. I knew my Armenian opponent well from several previous events but it was always hard to box against him. I arrived to win my third AIBA title."

Andy Cruz (CUB)
Ukraine's 19-year-old Yurii Zakharieiev is a finalist in Belgrade
Ukraine's Yuriy Zakharieiev achieved the gold medal at the AIBA Youth World Boxing Championships in Kielce this April and he is also a two-time EUBC European Youth Champion. The Ukrainian young boxer won their Elite National Championships for the very first time this September and became the only boxer from his nation who advanced to the semi-finals in Belgrade. Zakharieiev has an amazing rhythm and he is one of the biggest punchers of the light middleweight (71kg). His semi-final opponent, Azerbaijan's Sarkhan Aliyev tried to be smarter in the first round and moved a lot on his feet to avoid the Ukrainian punches. Zakharieiev increased his tempo at the beginning of the second round and he caught the quick Azeri boxer with tough punches, therefore, the 19-year-old Ukrainian can box for the gold medal against Russia's Vadim Musaev.
"My coaches arranged a strong tactic for me today, I had to watch my steps and move as close as possible. This is my first big elite Championships but I would like to win it."

Yurii Zakharieiev (UKR)
Aliaksei Alfiorau is Belarus' first finalist since 2005
Belarus' Aliaksei Alfiorau took the bronze medal at the Budapest 2018 AIBA Youth World Boxing Championships and competed in a lot of elite international tournaments to increase his experience. The Grodno-based boxer eliminated tough rivals in Belgrade and he had the technical skills to keep the safest range against the RBF Team's Savelii Sadoma. The 21-year-old Belarusian maintained the fighting distance successfully in the first minute against the rival boxer and his amazing tempo feeling guaranteed his advantage in their light heavyweight (80kg) semi-final. Alfiorau overcame Sadoma in the attacks and in the third round his jabs controlled their contest. The last boxer from Belarus who could make it to the final was Mahamad Nurudzinau at the Mianyang 2005 AIBA World Boxing Championships. Alfiorau filled this 16 years gap successfully today and will be meeting for the title with United States' Robby Gonzales who had success against Serbia's Vladimir Mironchikov.
"I competed several times in European international tournaments which might be helpful for today's success. I have just listened to my coaches and followed their instructions against such strong boxer as the Serbian."

Robby Gonzales (USA)
Cuba's Julio Cesar La Cruz is aiming for his fifth title
Cuba's Julio Cesar La Cruz is a four-time AIBA World Champion who is aiming for his fifth title in Belgrade. Following his unexpected semi-final loss in Ekaterinburg two years ago, the gifted Cuban changed to the heavyweight (92kg). He is even quicker than any of his opponents than in the previous light heavyweight and proved his speed against Uzbekistan's World Military Games winner Madiyar Saydrakhimov. The 32-year-old Cuban used his opponent's faults and he was too experienced for the promising Uzbek today. La Cruz can win his fifth title against Italy's Aziz Abbes Mouhiidine who eliminated Spain's ex-Cuban Emmanuel Reyes in the second semi-final.
"The tactic was the same as last time based on my footwork. My Uzbek opponent was a strong fighter, there are not an easy contest. What to expect in my next final? Certainly, the gold medal which will be the fifth for me at the AIBA World Boxing Championships."

Julio Cesar La Cruz (CUB)