Uganda's Joshua Tukamuhebwa is the first surprise winner at the Commonwealth Games
July 29th, 2022 / Commonwealth Games 2022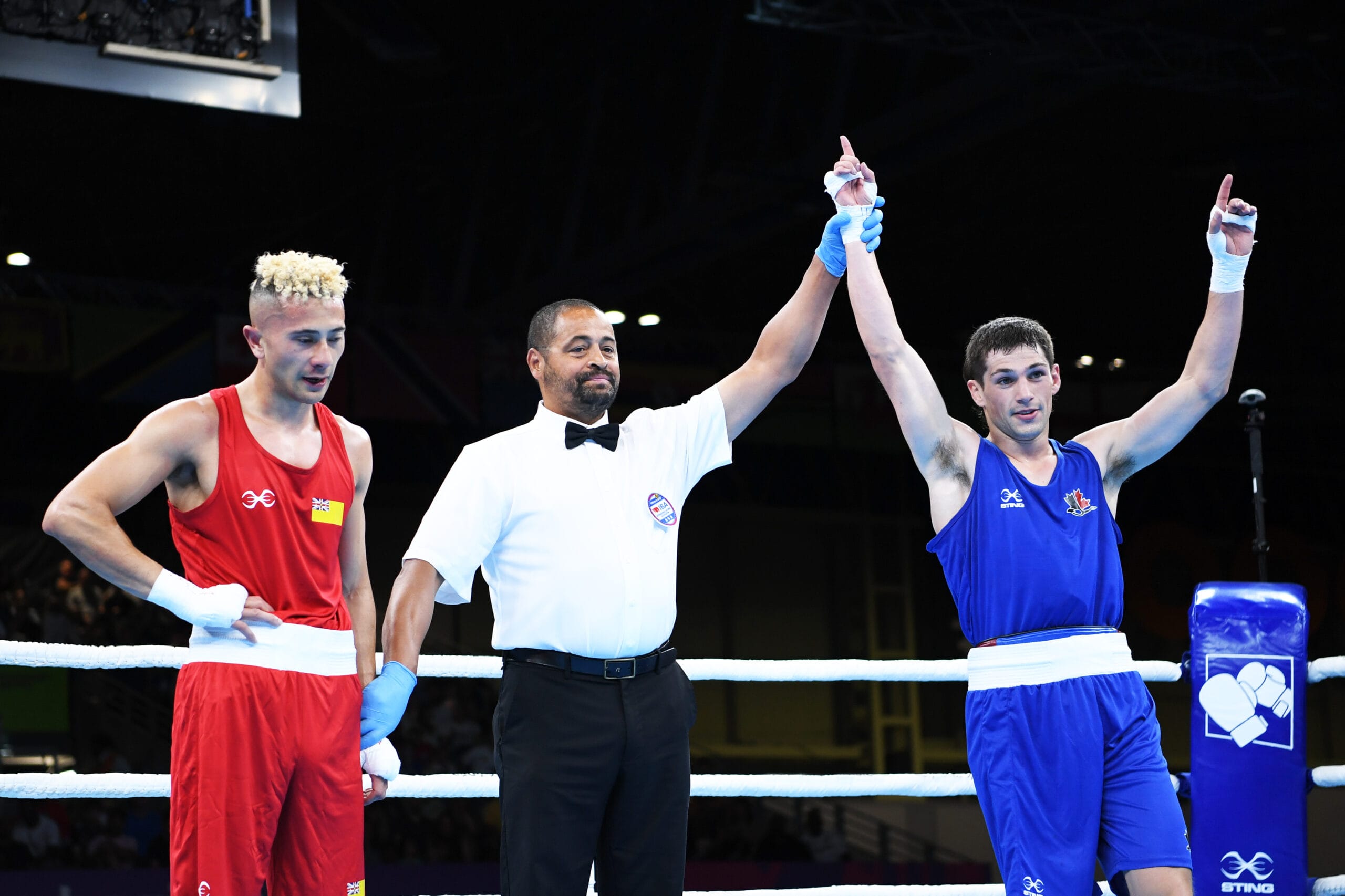 The boxing event of the Commonwealth Games started with nine preliminary contests in the first round of matchups. Uganda's Joshua Tukamuhebwa delivered the most significant result of the first session when he eliminated Northern Ireland's John Paul Hale.
The crowd at the National Exhibition Centre created a fantastic atmosphere in the opening session with two English stars, Kerry Davis and Lewis Richardson, competing. Australia's Billy Polkinghorn had the fastest win, knocking out his rival after 30 seconds.
There is a total of is 231 boxers at the Commonwealth Games, with 59 women and 172 men representing 55 nations from five Confederations.
Namibia's quick start at the Games
The very first bout at the Commonwealth Games was held between Namibia's titleholder Jonas Junias Jonas and Nauru's Colan Caleb at light welterweight (63.5kg). Caleb trains in Australia and has experience from several international tournaments since 2009, but Jonas was highly confident in the first minute, forcing the Hungarian referee to count Caleb twice before stopping the bout. Jonas is one of two top quality Namibian boxers at the Commonwealth Games and has already proved that he will be hard to beat at light welterweight (63.5kg).
Scotland's Reese Lynch stopped his first opponent
Scotland's Reese Lynch achieved a bronze medal at the Belgrade 2021 AIBA World Boxing Championships in a historic win for his country. The 21-year-old Scotsman gained control of the first exchanges against Kiribati's Timon Aaree, whose twin brother is also in the Games' squad for Kiribati, and dominated the opening minute of their light welterweight (63.5kg) bout. Kiribati joined the boxing events of the Commonwealth Games in 2010 and the small country has sent boxers to all of the recent four editions. However, Reese Lynch decided the contest quickly as he aims to write more history for Scotland:
"I went back to Scotland after the EUBC European Men's Elite Boxing Championships and trained hard to be in top shape for this Commonwealth Games. I did not know any details about my opponent, not even if he is orthodox or southpaw, but I felt what was working against him in the first few actions. It is great that we can fight against developing countries like Kiribati, good luck to them. My second opponent will be more difficult, he is experienced and a strong boxer, but I am looking forward to that challenge," said Lynch after his contest.
India's Shiva Thapa saved fuel for later rounds
India's Shiva Thapa won five medals at consecutive ASBC Asian Men's Elite Boxing Championships. Since the Amman 2013 edition, he claimed medals in these championships as the only Indian boxer in the history of the event. Thapa won the National Selection Trials in the first week of June and the 29-year-old fought for his spot to participate in the Commonwealth Games. He fought a neighbour, Suleman Baloch of Pakistan, who had experience from the previous Commonwealth Games and was famous for his strong punches. Thapa worked a lot on footwork to avoid Baloch's combinations, and his in-ring intelligence enabled him to win whilst preserving energy for his next bout.
"I made the first big step last month when I defeated my main local rival, Manish Kaushik, to be here in this wonderful Games. I am expecting that I will have four more fights in Birmingham, therefore I tried to be smarter than my Pakistani opponent. He is strong and I was planning to avoid any injuries in this fight as the Games will be long for me. My target is definitely to claim the gold medal." said Thapa.
Wyatt Sanford is the first Canadian winner at the Games
Canada sent six boxers to the Commonwealth Games , with five of them newcomers at this level and the other being Women's World Champion Tammara Thibeault. Wyatt Sanford is their most experienced male boxer in the national team, and has competed at the 2019 AIBA World Boxing Championships in Yekaterinburg, reaching the last 16. In the early exchanges, Sanford looked better than Niue's De Niro Pao, who had been training in New Zealand. Niue's young boxer landed a tough shot in the middle of the first round but Sanford turned up the heat in the following minutes and his punches were decisive in the second round.
"My preparation was not perfect for this Commonwealth Games as I got Covid before the start of the final training camp. I recovered quickly and only received the right to participate ten days ago. It is always great to start with a success in a Games, but there is more work to come as I still need two wins to get a medal," said Canada's Wyatt Sanford after his first RSC triumph.
Uganda's Tukamuhebwa defeated an experienced Northern Irish boxer
The Ugandan Boxing Federation hosted the boxing Champions League in recent months to select the team for the Commonwealth Games. Joshua Tukamuhebwa was a member of the national team in 2019 and after a poor year, he regained his place after his victories in his homeland. He was not expecting an easy fight against Northern Ireland's John Paul Hale but the Ugandan worked hard in this light welterweight (63.5kg) preliminary contest. The Ugandan southpaw had brave attacks in the second round and landed multiple shots on his opponent. Tukamuhebwa's defence was not the best in this contest but his honest fighting style and a change of rhythm delivered success for the Ugandan.
"My coaches have always motivated me in recent years to never give up and finally I am here at the Commonwealth Games. I believe the Northern Irishman was more experienced than me, he had more fights but I received the best advice from my coaches in the first break. We studied him in the first round and from the second I landed more punches with improved timing. I have my target here and I would like to make my country proud," said Uganda's Joshua Tukamuhebwa in the venue.
England's duo Kerry Davis and Lewis Richardson delighted the home crowd at the end of the first session
After the first difficult round, Kerry Davis, the English middleweight (75kg), eliminated her US-based opponent from Ghana, Ornella Sathoud and advanced to the last eight. One of the most anticipated contests was held between England's EUBC European Men's Elite Boxing Championships silver medallist Lewis Richardson and Wales' promising Haaris Khan at middleweight (75kg) during the last bout of the session. Richardson followed his coaches instructions and landed not the better and stronger shots in the first round of their meeting. Khan had a bigger reach, but stepped into Richardson's fighting distance and the Englishman used this as an opportunity to keep control. Richardson had a brilliant performance in the last bout of the first session and marched into the last 16 in Birmingham.
"I knew my Welsh opponent from previous sparring sessions, and I believe that it was a good start for me at the Games. I am so happy that I can box in England and the home crowd was fantastic today, they supported me so much," said Lewis Richardson after Bout No.9.