Two young boxers from the Fair Chance Team won their contests at AIBA World Boxing Championships on Day 6
October 30th, 2021 / IBA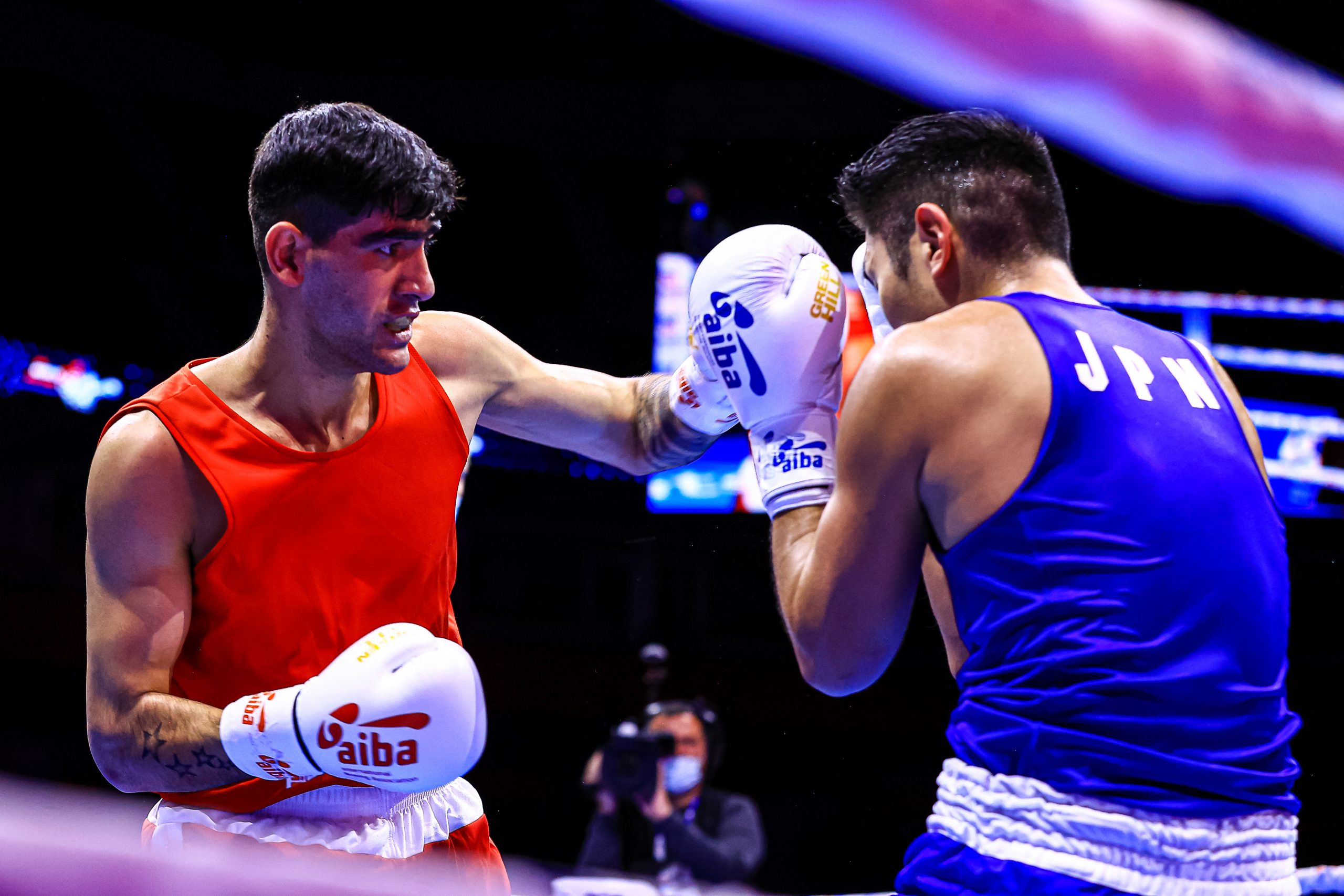 Kazakhstan's veteran Temirtas Zhussupov was the first boxer in the whole AIBA World Boxing Championships who advanced to the quarter-finals. He and three other boxers are in the Top 8 of the minimumweight (48kg) in Belgrade. Boxers in the middleweight (75kg) and light heavyweight (80kg) competed for the last 16. Fair Chance Team's two young boxers, Suliman Aslami (75kg) and Silab Noori (80kg) won their contests today with powerful fighting performances.
Kazakhstan's Temirtas Zhussupov is the first quarter-finalist in Belgrade
Serbia's Omer Ametovic claimed two bronze medals at the EUBC Youth European Boxing Championships in the recent two years. He gave it all in the previous minimumweight (48kg) contest when he defeated Turkey's Muhammet Unlu. The 19 years old Serbian had a few days to rest and recover and met with Kazakhstan's former ASBC Asian Champion veteran Temirtas Zhussupov. The 33 years old Kazakh worked from a long distance in the first round and overcame the energetic Serbian in the attacks. Zhussupov had 13 years of elite international experience to handle their contest at the tactical level and he became the first who qualified for the quarter-finals in Belgrade.
Uzbekistan's Nodirjon Mirzakhmedov needs only one further step to get a medal
Uzbekistan's Nodirjon Mirzakhmedov won the 2019 and 2021 editions of the ASBC Asian Elite Boxing Championships. The 27-year-old Uzbek faced an Irish newcomer, Rickey Nesbitt who did not compete yet out of his country. The new Irish National Champion at the minimumweight (48kg) does not have enough international experience yet but he was competitive in the first round. The experienced Uzbek landed more punches in their contest. Mirzakhmedov advanced to the quarter-finals as a first Uzbek and he needs only one further step to get a medal in Belgrade.
"The first contest was hard but I performed well today and deserved the success. My next opponent will be Kazakhstan's Temirtas Zhussupov, a well-experienced strong rival. I know him well, we met in the past in various events and I am ready to beat him."

Nodirjon Mirzakhmedov (UZB)
Suliman Aslami and Silab Noori secured successes for the Fair Chance Team
Fair Chance Team's Suliman Aslami attended the Dubai 2021 ASBC Asian Elite Boxing Championships after seven years of experience in our sport. The 22-year-old boxer moved ahead and tried to work closer against the taller Kenyan, Edwin Owuor Okongo. The All Africa Games competitor Kenyan had a few excellent counter-punches but Aslami had a strong motivation and put pressure on him. Tiger, which is Aslani's nickname, had impressive fighting spirit and stamina in this contest while his physical condition supported him to increase the tempo round by round. Aslami landed tough right-handed hooks and caught his older African rival with tough punches which delivered success for the Fair Chance Team. His teammate, light heavyweight (80kg) talent Silab Noori is only 19-year-old but he exceeded all of the expectations in the fight against Japan's Ren Umemura and won a second bout for the Fair Chance Team during the 10th session.
"I could not train well in the recent three months due to our hard situation but I am happy that I can represent the Fair Chance Team here. I can do better but this performance was enough for a historical success today. I believe I boxed well in the third round, I felt the distance well,"

Suliman Aslami (FCT)
Scotland's Sam Hickey was smart in his first contest
Scotland's Sam Hickey has been a member of his national team in various age groups since 2015, and the 21-year-old boxer is now a strong medal contender in the middleweight (75kg). The Scottish boxer adopted his opponent's tactic and he was better in it than Bulgaria's Rami Kiwan. The Bulgarian was also born in 2000 and progressed at this Championships but the Scottish boxer responded on his tactical changes in time to win their contest. Hickey was highly motivated and fought smart in the bout.
"I was quite skinny five years ago during my first international successes but after the intense training sessions I am now stronger than ever. I had to wait for six competition days for my debut but it was worth it. My Bulgarian opponent was a good boxer, it was a great tactical game today between us. My goal is a medal in Belgrade and I want to win the next year's Commonwealth Games."

Sam Hickey (SCO)
Croatia's Gabrijel Veocic accomplished today's goal  
The Croatians arrived with a strong team at the AIBA World Boxing Championships. Their middleweight (75kg) hope, Gabrijel Veocic claimed medals at all of the EUBC Junior and Youth European Boxing Championships where he attended. His father, Pero was a member of the national team in the 1990s and 2000s and Gabrijel is on his pathway with a different style of boxing. Pero was a fighter while Gabrijel is a counter-puncher. He showed that against Bosnia & Herzegovina's German-based Leo Cvitanovic. The Croatian dominated all three rounds and progressed into the last 16 of the category.
"I followed my father's instruction and I moved a lot on feet to keep the best fighting distance today. I believe this was much better performance than my first one here in Belgrade. I have big plans not only for the future but for this event as well. I have a strong rival at home, Noa Jezek who supports also my continuous development."

Gabrijel Veocic (CRO)
Tajikistan's Shabbos Negmatulloev knocked out his Sierra Leonean rival
Tajikistan's Shabbos Negmatulloev achieved a bronze medal at the 2013 AIBA Junior World Boxing Championships in Kyiv. He competed already at the 2015 ASBC Asian Boxing Championships in Bangkok and since then he attended various other competitions. His father, Abbos is his coach in his homeland but this time a former national team member, Khurshed Djurayev supported the boxer from the ringside. Negmatulloev was more experienced than Sierra Leone's Samuel Kamara and after the first standing count, he knocked out his African opponent.
"This is boxing, knockout is part of the game, I am happy that I can continue the World Championships in 1/8 finals."
Shabbos Negmatulloev (TJK)