Skogheim's second success guaranteed Norway's best result since the 1993 edition
October 28th, 2021 / IBA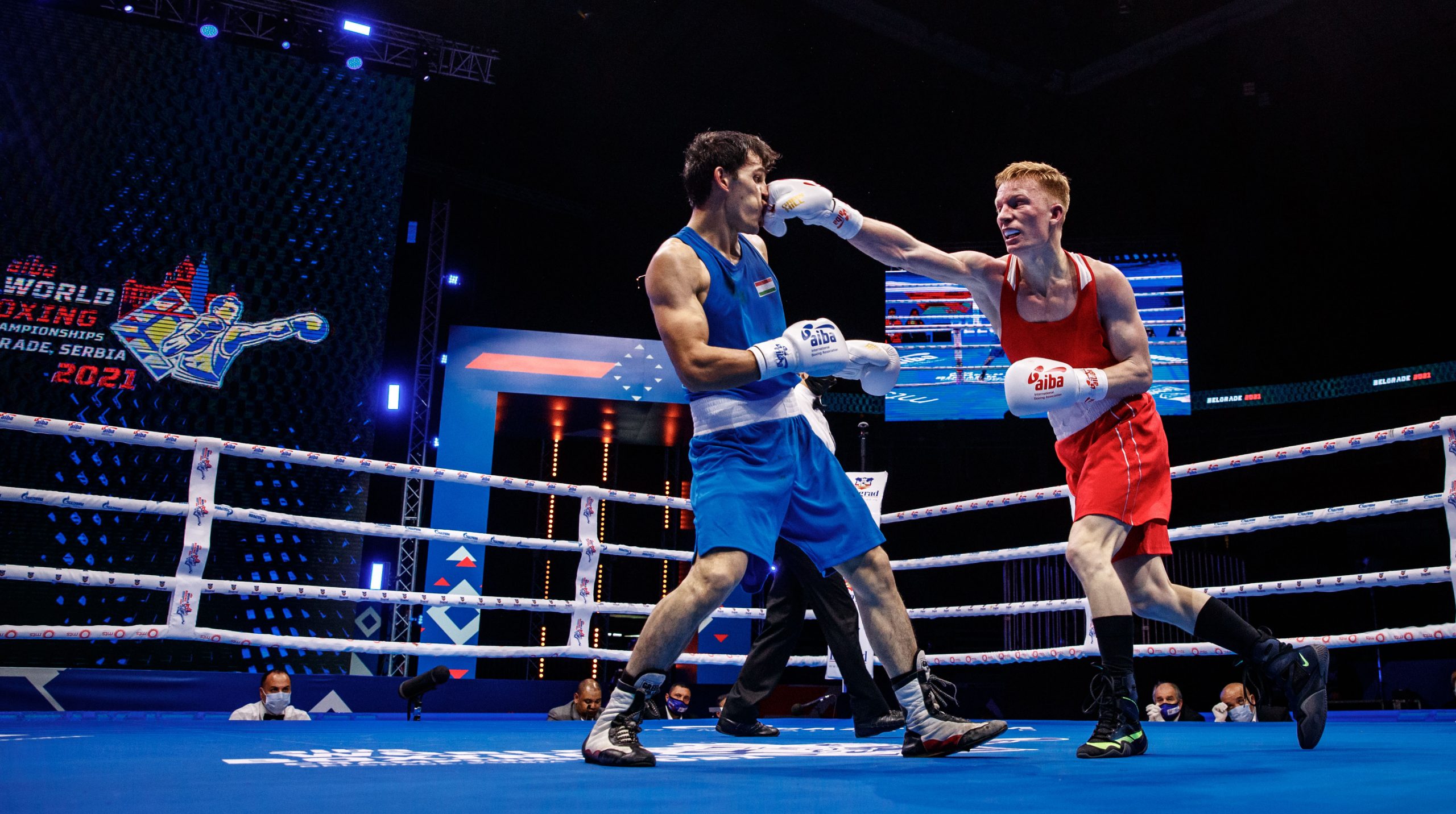 The second part of the Round 32 contests in the featherweight (57kg) and 16 bouts in the welterweight (67kg) were on the schedule of the evening session on Day4 at the AIBA World Boxing Championships. Kazakhstan's Serik Temirzhanov delivered another outstanding performance in Belgrade eliminating Japan's AIBA Youth World Champion Reito Tsutsumi who suffered his first international defeat. Norway's Martin Skogheim won his second bout in Belgrade and this is his nation's best performance since the Tampere 1993 AIBA World Boxing Championships.
Nurettin Ovat returned with a narrow success
Poland's Pawel Brach competed in the junior and youth competitions in the previous years and the 20-year-old talent moved forward to the elite. He met with Turkey's Nurettin Ovat who returned to the national team after five years of a break following his performance at their National Championships last month. The Polish had the full concentration in the first round against the more experienced Turkish and he had a narrow advantage after three minutes of boxing. Ovat, who achieved a medal already at the 2008 European Schoolboys Boxing Championships at the age of 13, produced much better performance in the second round until he had an injury. The judges had to score the bout and confirmed Ovat's narrow success in the first bout of the evening session.
India's Rohit Mor dominated his second contest in Belgrade
India's Rohit Mor is a new sensation in their national team who had only a few international contests but made a good impression in the first preliminary stage of the AIBA World Boxing Championships. Mor had amazing development in recent two years. He has a fantastic tempo feeling and knows when to launch a counter-punch with perfect timing which he showed in the first round against Bosnia & Herzegovina's Alen Rahimic who trains mostly in Germany. The 20-year-old Indian had longer reach and he used it several times to stop the Bosnian attacks. Mor moved in all directions and he had plenty of clear chances to land punches, therefore, he won his second bout by a large margin.
"My second opponent was taller than the first one, therefore, we used a bit different strategy today against the Bosnian. I used the recent two years to strengthen my physical skills and we worked a lot to develop my defensive skills. I am focusing now on the next step in Belgrade."

Rohit Mor (IND)
Kazakhstan's Serik Temirzhanov defeated Japan's teenage star Reito Tsutsumi
Japan's Reito Tsutsumi was AIBA Youth World Champion in Kielce this April and showed one of the most remarkable performances of the whole event. He is also ASBC Asian Youth Champion and ASBC Asian Junior Champion who moved down to the featherweight (57kg) and arrived in Belgrade as one of the favorites following his unbeaten series. His opponent at the round of 32 was Kazakhstan's four-years-older Serik Temirzhanov who won an important opening contest and proved he is in his best-ever shape during his whole career. Temirzhanov knew how to use his uppercuts and hooks from close range and he looked confident in these in-fighting actions. The Slovakian referee counted the 19-year-old Japanese boxer in the second round and after that Tsutsumi gave in everything but Temirzhanov had the perfect tactical responses to his attacks.
"We prepared with a strong strategy against the tough Japanese but I know I can do it better next time. I am still not enough satisfied with my performance."

Serik Temirzhanov (KAZ)

"I had weight problems before the AIBA World Boxing Championships and I lost my speed, I was not fresh in this bout. I am disappointed."

Reito Tsutsumi (JPN)
Japan's Sewon Okazawa vs. Uzbekistan's Asadkhudja Muydinkhudjayev in the next round in the welterweight
Japan's ASBC Asian Boxing Championships silver medallist Sewon Okazawa had a tough opening bout where he could not show his real skills. The Japanese welterweight (67kg) boxer worked differently this time against Moldova's former EUBC European Boxing Championships silver medallist Dmitri Galagot. The 26-year-old Japanese kept his experienced Moldovan opponent on a long distance and he landed punches from the safiest distance to win this next contest. Okazawa will be meeting in the next preliminary round with Uzbekistan's 20-year-old Asadkhudja Muydinkhudjayev who eliminated Palestine's Ahmed Harara.
"My today's opponent was an experienced and a very good boxer, therefore, I had to do my very best. I tried to keep the distance and stop him with body shots, and it worked. This was much better performance than my first bout in Belgrade but I expect the hardest battle in the next stage against the Uzbek opponent. He is young and very strong,"

Sewon Okazawa (JPN)
The Norwegians continued their unexpected winning series
Norway's Martin Skogheim competed in several junior and youth competitions but he is a newcomer in the elite national team. The young Norwegian opened his campaign in Belgrade with a triumph and met with Tajikistan's two-time National Champion Saidikrom Amonov in the welterweight (67kg). Skogheim tried to overcome his Central Asian opponent and landed several hooks to control the narrow fight. His teammate Mindaugas Gedminas started with a triumph in Belgrade and the 21-year-old Skogheim continued that pathway which was his second success. His victory in the bout means this is Norway's best performance since the Tampere 1993 AIBA World Boxing Championships.
"It is not so many times happens when Norway wins bouts at the AIBA World Boxing Championships but I worked hard to do that. I can recognize the seriously big difference between youth and elite boxing. I could follow the strategy partly but it was enough to win this contest. I landed single shots effectively today."

Martin Skogheim (NOR)
Results Session 7A / Session 7B