Saken Bibossynov won final-level flyweight fight at the AIBA World Boxing Championships
October 27th, 2021 / IBA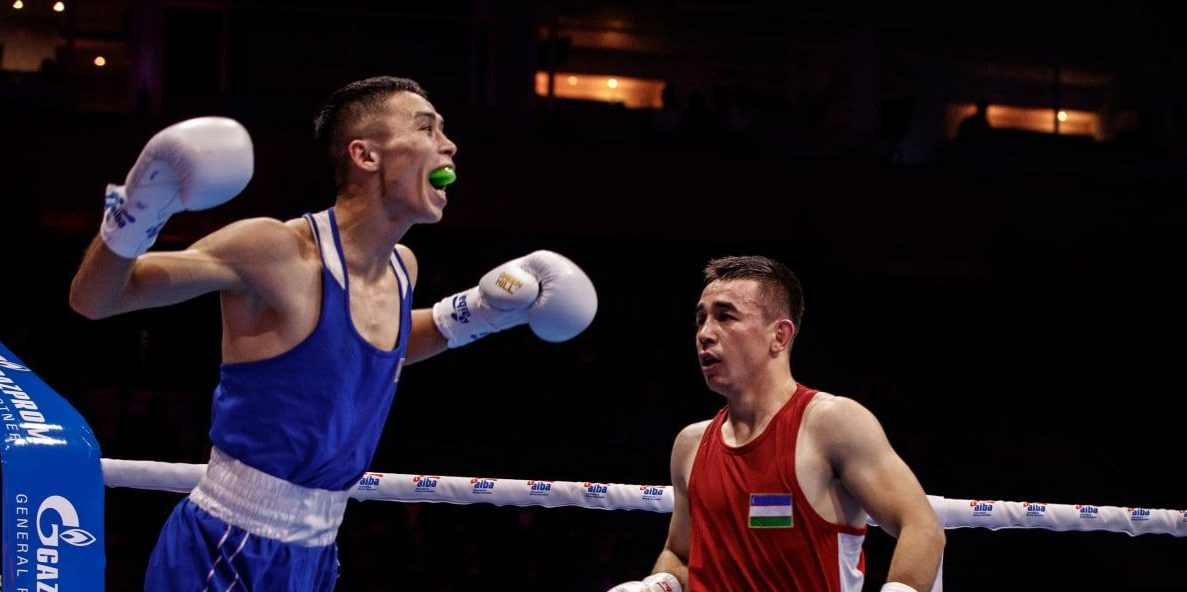 Further 29 preliminary bouts took place in the third session at the AIBA World Boxing Championships in Belgrade during the evening of Day 2. The winners of the flyweight (51kg) were the first boxers who advanced to the last 16 in Belgrade; Kazakhstan's Saken Bibossynov and India's Deepak won the key contests. Boxers in the middleweight (75kg), heavyweight (92kg) and super heavyweight (+92kg) also started their campaigns in the evening session.
 
Saken Bibossynov was smarter than Uzbekistan's Hasanboy Dusmatov
Uzbekistan's Hasanboy Dusmatov won several big events during his career but the gold medal of the AIBA World Boxing Championships is still missing from his collection. The Uzbek returned to the national team to compete in the flyweight (51kg) and accomplish his goal. He had a seriously tough draw, met with Kazakhstan's Saken Bibossynov who claimed the bronze medal at Ekaterinburg 2019 AIBA World Boxing Championships. Both are among the best boxers in this weight class and their contest was nearly final-level. Dusmatov started with excellent attacks, however, the younger Kazakh was able to respond from a longer distance. Bibossynov's hooks stopped most of the Uzbek attacks but Dusmatov showed better and better performance. In the end, the Kazakh talent's speed decided their amazing bout.
"We prepared hard with a strong tactic to this bout which we know that it could be important in the road to the gold medal. Saken is a clever boxer, he followed all of our instructions and accomplished the goal to beat the Uzbek boxer."

Mr. Myrzagali Aitzhanov, Bibossynov's coach

India's Deepak eliminated Usenaliev in a fantastic battle

India's Deepak claimed a silver medal at the 2019 ASBC Asian Boxing Championships and moved up to the new flyweight (51kg) category this year to prove his impressive skills. The 24-year-old Indian defeated Uzbekistan's AIBA World Champion Shakhobiddin Zoirov at the Strandja Memorial Tournament and arrived in Belgrade as one of the favorites. Deepak had a difficult opponent as a first one, Kyrgyzstan's ASBC Asian Champion Azat Usenaliev but he used world-class footwork to land his punches in the opening round. The Kyrgyz, who won around 90% of his international contests, increased his tempo but the Indian had the right responses to win their outstanding preliminary battle.
"I started strongly, the first round was the best for me in this tough contest. Following the advantage after two rounds, I did not risk, I moved a lot on feet. This is a very hard competition and the next bout will be even more difficult."

Deepak (IND)

Cavallaro's amazing motivation delivered success for the Italian

Italy's Salvatore Cavallaro joined the international events ten years ago when he claimed a bronze medal at the 2011 AIBA Junior World Boxing Championships. The 26-year-old Italian had strong motivation before the start of the competition and he knew that his good draw could deliver a career highlight result for him. Cavallaro started slowly against Finland's 20-year-old Anton Embulajev, he was patient but landed his quick shots with perfect timing. The Italian southpaw showed more from his skills in the second round and overcame the younger Finnish in the attacks. The final verdict was a unanimous decision to the Italian who advanced to the 1/16 final in Belgrade.
"I had a serious injury two months ago but my physiotherapy went ahead of our plans and I decided to compete in the AIBA World Boxing Championships. In the previous four weeks I could do only physical preparations, therefore, I was hungry for boxing today. It was not my best performance but a relatively good start after these circumstances."

Salvatore Cavallaro (ITA)
 
Strong Colombians were strong in the evening session
Colombia's Yuberjen Martinez won several medals at international events including a bronze at the Hamburg 2017 AIBA World Boxing Championships. The 30-year-old experienced flyweight (51kg) boxer had some tactical difficulties in the first round against England's Kieran MacDonald but from the second he could change his rhythm to overturn their preliminary contest. Martinez produced an outstanding final round and eliminated such a good rival as the English boxer. Colombia's next boxer in action was Diego Motoa at the middleweight (75kg) who demonstrated his amazing strength against Lithuania's Vytautas Balsys. The Colombian competed in several international events but this bout was his best-ever performance.
 
Norway's second success was achieved by Mindaugas Gedminas
Norway's first success at the AIBA World Boxing Championships was achieved by Martin Skogheim at the welterweight (67kg) on Day 1 and their second hope in Belgrade is Mindaugas Gedminas who attended the last edition of the European Games and many other events. The former Lithuanian boxer controlled the first round of his middleweight (75kg) debut against Ecuador's newcomer Hector Vera and landed several tough jabs. The younger South American gave everything but his technical skills were not matched to Gedminas' strength and physical condition and the Norwegian won his nation's second bout in Belgrade.
"I did not box in the recent two and half months but I was confident as I could do sparring with such stars as Oleksandr Khyzhniak and Gleb Bakshi. The first and second rounds were good enough to win this debuting contest at the AIBA World Boxing Championships. I know my next opponent very well and I will use my best strategy against him."

Mindaugas Gedminas (NOR)

Luxembourg made its debut in the history of the AIBA World Boxing Championships
Luxembourg has never competed in any of the previous 20 editions of the AIBA World Boxing Championships but their heavyweight (92kg) boxer, Michel Erpelding made his debut in Belgrade. Luxembourg's pride won a bout at the CISM World Military Boxing Championships in Moscow and he showed good performance against such a strong boxer as Georgia' Giorgi Tchigladze. The Georgian boxer won their contest today but the difference was small between them and Erpelding who has done a remarkable debut.
"I don't have any elite sparring partners in Luxembourg, therefore, I trained mostly in Ireland in the past. I had an outstanding two-weeks long preparation with the Italian team in Assisi before the AIBA World Boxing Championships. I had less than 50 contests and I know that I have to learn still a lot to win these level of bouts but the difference was not high today. I will prepare at smaller events in the upcoming months and I am planning to attend the 2022 European Boxing Championships."

Michel Erpelding (LUX)