President Kremlev thanks Asian Boxing Confederation for loyalty to IBA
October 15th, 2023 / IBA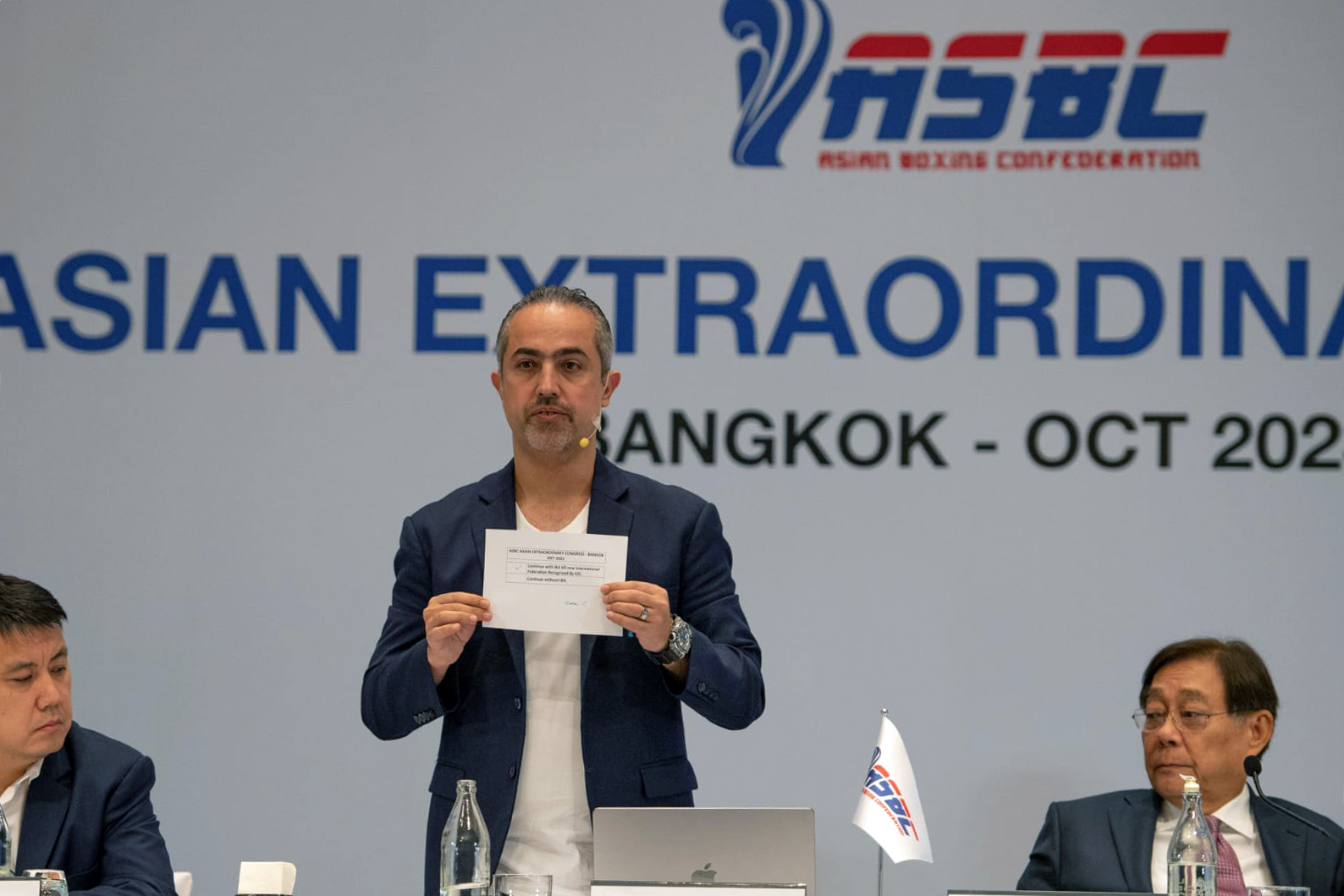 At its Congress in Bangkok, the Asian Boxing Confederation (ASBC) took a majority decision to stay with the International Boxing Association (IBA). IBA President Umar Kremlev extended sincere gratitude to the ASBC National Federations for their loyalty to the IBA and unwavering unity.
The total number of 35 of 43 National Federations were present, including Afghanistan, Bahrain, Bangladesh, Bhutan, Brunei, Cambodia, China, Chinese Taipei, Hong Kong, India, Indonesia, Iran, Iraq, Japan, Jordan, Kazakhstan, Kuwait, Laos, Macau, Malaysia, Mongolia, Myanmar, Nepal, Pakistan, the Philippines, Saudi Arabia, Singapore, Sri Lanka, Syria, Tajikistan, Thailand, Turkmenistan, United Arab Emirates, Uzbekistan, and Yemen.
Following the secret ballot, 31 National Federations voted to continue with IBA. The recognition and loyalty within the Asian boxing community underpins the great work that has been doing with IBA.
President Kremlev claimed, 'I welcome the ASBC delegates' decision to remain part of the IBA Family. At this crucial time, we need to be united and strong to overcome all challenges; this has been demonstrated here with the majority vote. The Asian continent's loyalty is invaluable to IBA, signalling a promising future.'
'IBA is the one and only International Federation leading from the front; this has been witnessed at the flagship IBA World Boxing Championships, and is in place at within our events calendar at tournaments such as IBA Champions' Nights, World Boxing Tour events and Continental Cups,' he went on to say. 'We are eagerly awaiting the Asian continent to confirm the dates and host country for the Asian Cup. IBA is also excited to stage next year the IBA Men's and Women's World Championships with $10.4 million and $4.8 million prize money respectively with medals made of precious metals.'
'As we progress with Asia, I am grateful to every nation that chooses to continue working with IBA for the best interests of our boxers and coaches. It remains clear that IBA stands at the forefront of boxing development and promotion, unaffected by any external influence or rogue organization. The future is bright, as we all see it, the future is IBA,' President Kremlev concluded.
During the Congress, the ASBC introduced its nations' rankings, and Uzbekistan became the number one with their 79 medals. Thailand's Chaiwat Chotima was elected as ASBC Honorary President.
The Extraordinary Congress was called by the ASBC Board of Directors in June at its meeting in Thailand's capital.