Oumiha, Mouhiidine, Alfonso and Gadzhimagomedov made it to finals of IBA Men's World Boxing Championships in Tashkent
May 12th, 2023 / Tashkent 2023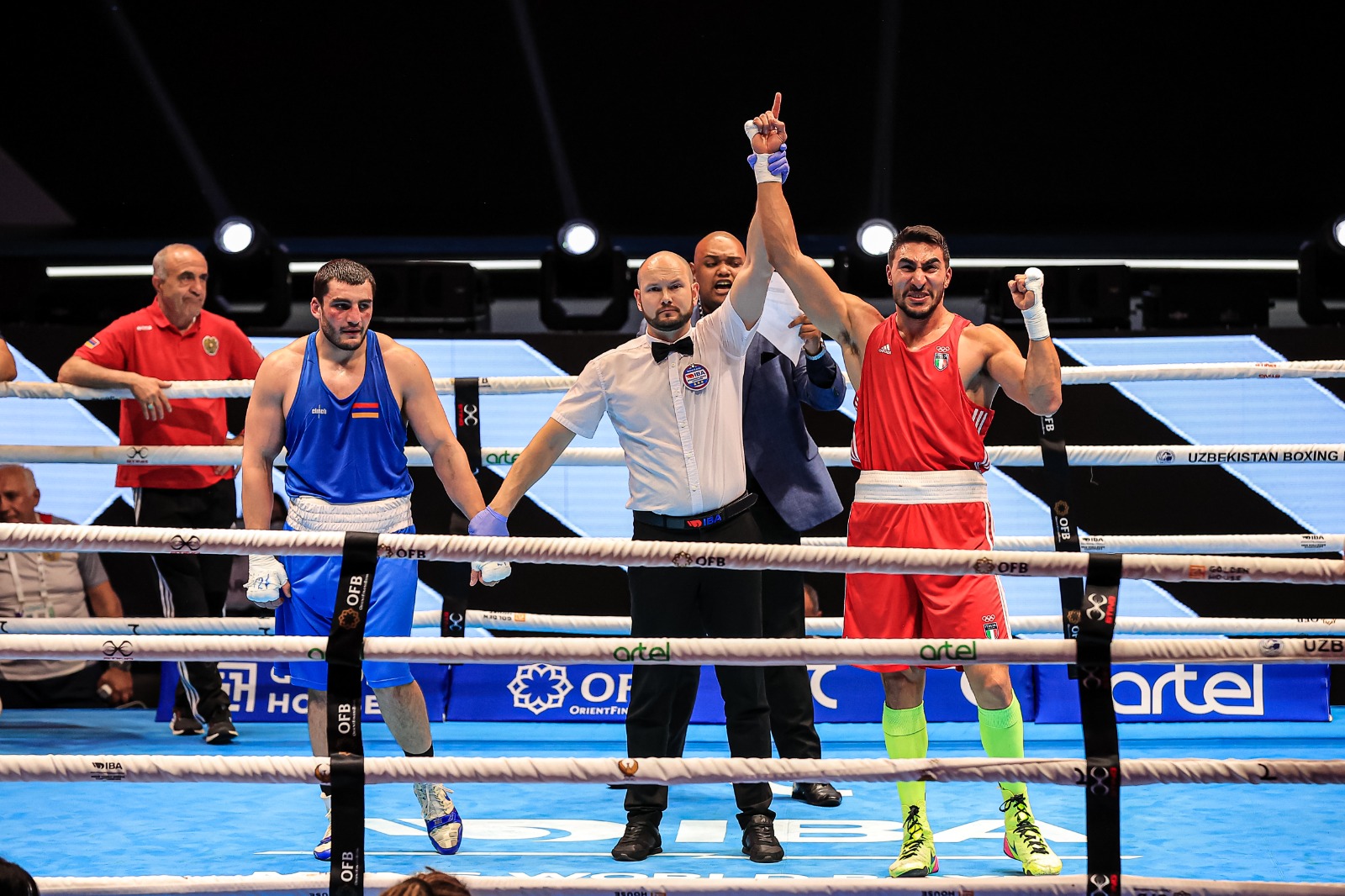 The first part of the semi-finals of the IBA Men's World Boxing Championships took place at Humo Arena in front of the excited public. The winners advanced to the finals to fight for gold and $200,000 USD prize money. 
In the opening fight of the day in 48kg division, Kazakhstan's Sanzhar Tashkenbay was stronger than Russian Edmond Khudoian. Taskenbay led after two rounds, and despite he received a warning for holding, all judges were in favor of him. With a unanimous victory, he proceeded to the finals where he meets with first-seeded Sakhil Allakhverdovi from Georgia who won by a walkover over Cuban Alejandro Claro Fiz. 
In the fight of 54kg, Makhmud Sabyrkhan from Kazakhstan met with Yosvany Veitia from Cuba. In the fast attacks from both sides, Sabyrkhan was more confident and threw more punches, he took the lead on the scorecards after two rounds. Following the final round, he was declared a winner by a unanimous decision. 
Dmitrii Dvali from Russia was challenging local boxer Oybek Juraev. After two rounds, Juraev led on two scorecards, and after the third one, the bout review was activated. Juraev was declared a winner, as both observer and evaluator were in his favor 5:2 (2:0BR). Sabyrkhan and Juraev are to meet in a Kazakh-Uzbek duel in the final.  
Mohammad Abu-Jajeh from Jordan faced Erislandy Alvarez from Cuba in the 60kg division. Cuban showed impressive skills, and the judge counted twice to Jordan's boxer. Without issues, Alvarez took the third round and proceeded to the final. Despite the loss today, Jodan can celebrate a historical World Championships bronze medal for the country.   
'I am very proud of myself for reaching this level of competition and making history for my country as it is our first medal in the world championships and Allah willing this is the first step towards glory. I will continue working with my coach and improving. And about the prizes that the IBA gives and the support for boxers, I want to thank IBA for supporting the boxers, it is something very important to keep going because all boxers need monetary support in their career,' Abu-Jajeh said.
In the close fight between Sofiane Oumiha from France and Vsevolod Shumkov from Russia in 60kg, both were performing well and had their precise punches. This was a bout of two different styles, while Shumkov was creating pressure, the French boxer worked on counter-attacks. After two rounds, a slight advantage was on the side of Oumiha, but the third round was decisive. French boxer celebrated a victory by a split decision 4:1. The final Cuba-France in the 60kg promises to be truly exciting.    
'It's true that I'm happy,' Oumiha said. 'It's a won semi-final, it was a tough fight against the Russian. Now on to the final. I'm the defending champion so it's close to my heart to win here and to be World champion for the third time, so I can't wait for the final. It's a special emotion, it's stress and adrenaline, and you have to know how to contain it to be ready for the fight, but today we tried to control our emotions and it went well. IBA supports these athletes and it is a privilege for us and the IBA does great good for boxing. The prize money motivates us a lot. I would like to add my 3rd World Championships belt to my collection and the prize money follows. It's truly extraordinary what is happening today for me.'
First seeded in 67kg, Lasha Guruli from Georgia repeated his best achievement earning the bronze medal at the World Championships. In the semi-finals, he lost to Dulat Bekbauov from Kazakhstan by a unanimous decision. While Guruli was precise in strong single punches, Bekbauov was better in serial attacks and secured his chance to fight in the finals.
In another fight of the division, Uzbekistan's Asadkhuja Muydinkhujaev moved a lot in the ring to set the tempo of his fight against Mongolian Misheelt Battumur without serious issues. The Uzbek boxer advanced in his attacks with the right timing and left his rival with a bronze medal. Another Kazakhstan-Uzbekistan duel is going to happen in the finals between Muydinkhujaev and Bekbauov.
Two young boxers, 19-year-old Alokhon Abdullaev from Uzbekistan and 22-year-old Wanderley Pereira from Brazil were passionate in the ring. In the bout of southpaw and orthodox boxers after two rounds, both had one point. The third one was decisive, and Brazil's boxer was provoking his rival to go forward to catch him on the counter-attacks. He was better in the decisive 3 minutes and claimed a victory by a split decision of 4:1.
Second-seeded in the 75kg division Yoenli Hernandez from Cuba fought against Moreno Fendero from France. Spectators were enjoying the technical and tactical advantage of Hernandez who didn't give a chance to his rival. Unanimously, Cuban won the fight and the right to represent his country in the finals. Defending World champion Loren Alfonso Domingues met with fifth-seeded Georgii Kushitashvili from Georgia. Two tall boxers were landing brutal punches, but Alfonso didn't give a chance to judges to score in his rival favor. 
Russian Sharabutdin Ataev managed to win Rogelio Romero from Mexico by a unanimous decision in the 86kg category. Mexican boxer showed a desire to fight and strong character but didn't manage to overcome Russian. After the bout, Ataev mentioned that in the ring he did more than he expected. His next rival is Loren Alfonso Domingues, they have met two times. Ataev lost in the quarter-finals of the previous edition of the IBA Men's World Boxing Championships two years ago and won at the World Boxing Tour event in Morocco this year. 
In the 92kg division, Muslim Gadzhimagomedov and Lazizbek Mullojonov were exchanging tough punches during all three rounds. The top-level contest brought a lot of emotions for fans, and to the sadness of the local public, Mullojonov couldn't make it to the final. Gadzhimagomedov proceeded to the finals, meeting with Aziz Abbes Mouhiidine from Italy. The boxer managed to overcome Narek Manasyan from Armenia by a unanimous decision and celebrated a well-deserved victory. 
'When the referee raised my hand, I'm always used to dedicating my victory to my passed away fater, my family and my beloved Italy,' Mouhiidine claimed. 'I want to bring a gold medal home now. It has been a difficult bout for me today, but my strongest opponent is always myself. I have to win first of all a battle against myself, and after I can win against everyone. The Russian boxer Muslim is one of the strongest boxers of my category. He won in his career many titles in his career, so it's going to be a hard fight, but I'll do everything to get the victory.'
You can watch the bouts of the second part of the semi-finals on the iba.sport website.