Nikhat Zareen shines in the ring on the first day of IBA Women's World Boxing Championships in New Delhi 
March 16th, 2023 / New Delhi 2023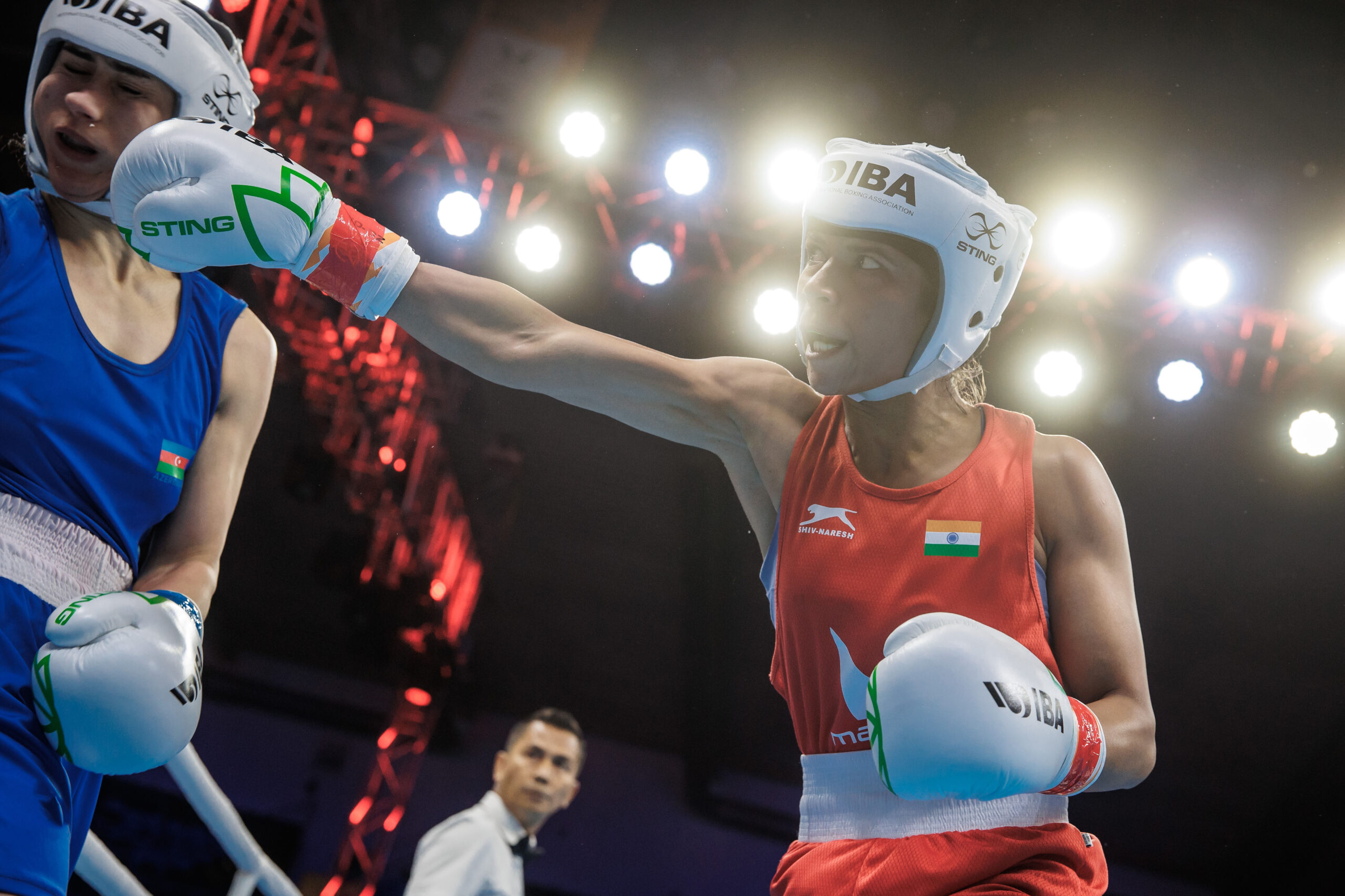 Indian team secured four victories, making a brilliant start to the IBA Women's World Boxing Championships in their home country. Two of these fights finished ahead of time, unveiling the prospects of the athletes to make their campaigns successful.
Defending World Champion Nikhat Zareen was literally the opening event in New Delhi as she had the very first fight of 50kg. She secured a referee-stop-contest (RSC) victory over Anakhanim Ismayilova from Azerbaijan in the middle of the second round.
'I am very happy with this victory and hope that I will continue winning. I have watched my opponent's recent fights, and I made a plan for how I attack. She's a southpaw boxer and my jab was the key. My strategy was to work more with my right hand, and it brought me RSC success,' Zareen said after the bout.
After the victorious World Championships 2022 in Istanbul, Zareen changed her weight category, going down from 52kg to 50kg. Due to this change, the 26-year-old boxer is unseeded and started in the Round of 32. In the next fight, the Indian boxer is going to challenge the top-seeded athlete of the category, Roumaysa Boulam from Algeria, who won last year's African Championships.
Another impressive win for India was scored by Preeti Preeti against Hanna Lakota from Hungary in 54kg. In the first seconds of the second round referee stopped the contest. Sakshi defeated Maria Jose Martinez Henao from Colombia in 52kg, and Nupur overcame Abiola Jackman from Guyana in the 81+kg weight category.
Commonwealth Games bronze medallist Australian Tina Rahimi went through the first challenge victoriously, overcoming unanimously Makhliyo Khabibulleava from Uzbekistan in their 57kg fight. In the next bout, she will be opposed by the local boxer Manisha, the 4th seeded, who claimed bronze at the World Championships 2022.
Sara Cirkovic from Serbia claimed gold at the IBA Youth World Boxing Championships last November, and today she made a strong debut at the elite major event, eliminating Beyza Saracoglu from Turkey in 52kg by unanimous decision. As a newcomer to elite boxing, she'll be fighting unseeded, and her next rival is second-seeded Rinka Kinoshita from Japan. Last year, the Japanese boxer tried her best at the World Championships but was eliminated in the Round of 16. However, this made her stronger and some months after Kinoshita won gold at the Asian Championships and now aims high in New Delhi.
A bout review rule is applied to all bouts, and it was decisive in several bouts during the day. A bout review is a full and transparent process that will create the opportunity to challenge the result of the fight, based on incorrect scoring fixed within a 3-2 split decision result, or whereby the IBA Technical and Competition Rules have been compromised or violated by the appointed Referee. The system is automatically activated should a discrepancy in either Refereeing or Judging be seen and acknowledged by both the Observer and Evaluator.
One of the best examples of the bout review in force was between Wassila Lkhadiri from France and Chang Yuan from China. The majority of judges gave a victory to Lkhadiri 3-2, and within a couple of minutes, both Observer and Evaluator agreed, making Lkhadiri the winner by points 5-2. World and Olympic medallist from Japan Tsunami Namiki will start her campaign by facing Lkhadiri in the Round of 16.
On Friday, World and Olympic champion from France Estelle Mossely will mark her comeback to IBA events fighting Porntip Buapa from Thailand.
'I am not the same as 7 years ago, but also I'm not the same as I have been in professional boxing. It's not really a surprise, I just worked hard to succeed. I don't like to talk a lot before championships, but for sure I'm ready,' Mossely claimed on the eve of her opening fight.
All schedules, results and live streams you can find on the IBA Women's World Boxing Championships page.