Lai Chu En won Chinese Taipei's first contest at the AIBA World Boxing Championships
October 30th, 2021 / IBA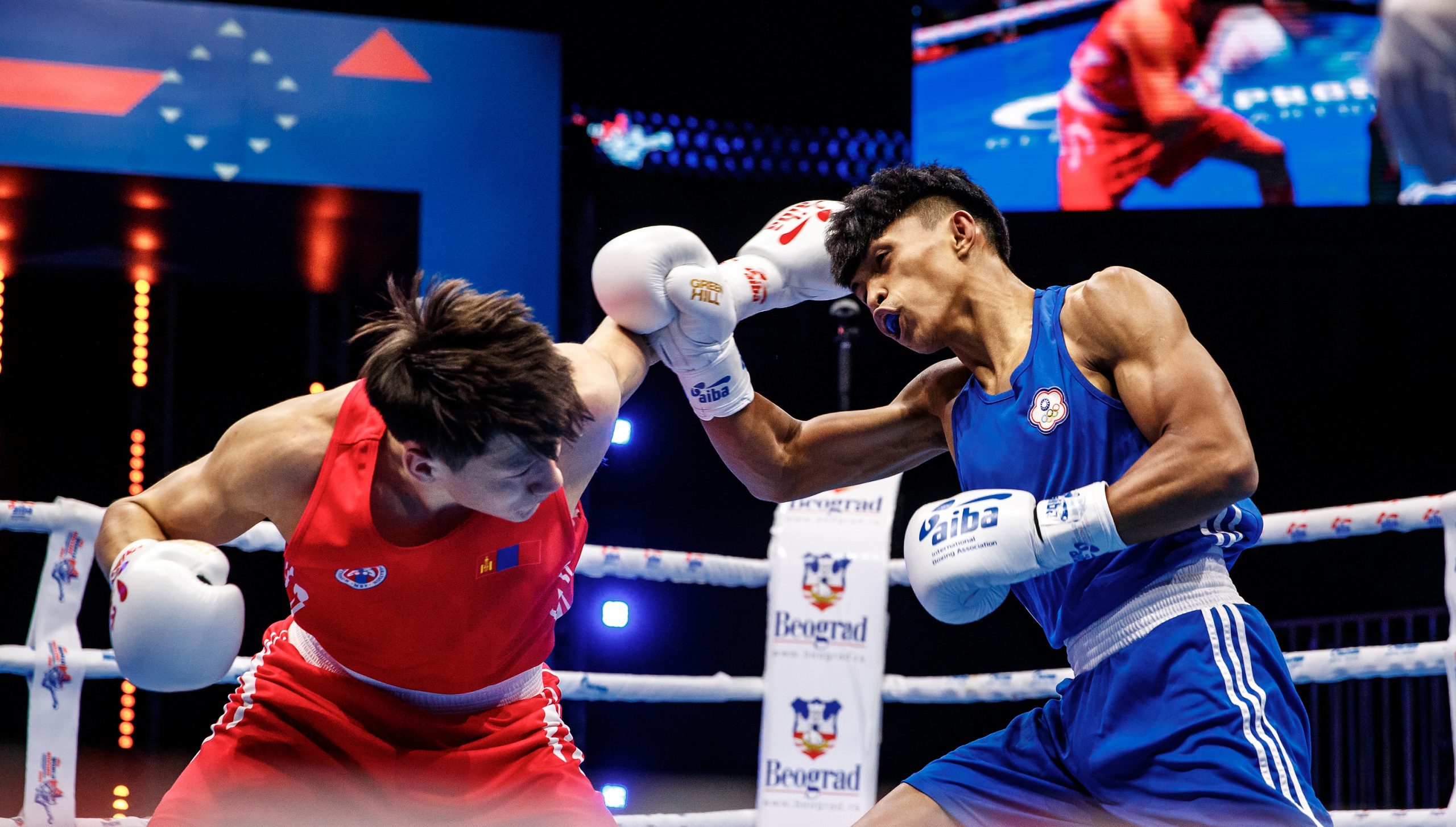 Another long session with 28 bouts was held in the official program at the AIBA World Boxing Championships today evening. The winners in the minimumweight (48kg) are now guaranteed quarter-finalists in Belgrade while the light welterweight (63.5kg) and middleweight (75kg) boxers competed for the last 16.
Chinese Taipei's Lai Chu En won his nation's first bout at the AIBA World Boxing Championships. Tajikistan's Bakhodur Usmonov and the RBF Team's Dzhambulat Bizhamov impressed in the session with strong performance.
Mirlan Turkbay Uulu is Kyrgyzstan's first quarter-finalist since the 2013 edition
Kyrgyzstan's Mirlan Turkbay Uulu is a bronze medallist from the Bangkok 2019 ASBC Asian Elite Boxing Championships, he has nine years of experience at international tournaments. The 31-year-old Kyrgyz was a hard target for Armenia's Seyran Yeghikyan in the first round, his footwork guaranteed his advantage in each scorecard after three minutes. Turkbay Uulu used his counter-attacking style in the first round but changed his tactic and attacked more in the second. Yeghikyan was not able to adopt the rhythm of the bout and the 20-year-old Armenian is not enough experienced enough to handle such technician boxers as Mirlan Turkbay Uulu. The Kyrgyz boxer was better in all aspects of boxing and deserved to win their minimumweight (48kg) contest which means he is the first boxer from his nation in the quarter-finals since the 2013 AIBA World Boxing Championships.
"I believe my experience played a big role in today's success against the young Armenian. I wasn't nervous, I could play my own game and used the best combinations today. The benefit of my work is that I can box for the medal in Belgrade."

Mirlan Turkbay Uulu (KGZ)
The Asian dominancy continued at the minimumweight (48kg)
Thailand Boxing Federation's Wuttichai Yurachai moved back to his smallest weight class following AIBA confirmed the new categories. The Cologne Boxing World Cup winner Thai could not attend any of the events since November 2020 but he won his second contest in Belgrade on Day 6. Yurachai found his best rhythm in the first round against Chinese Taipei's Lin Hong Da and he kept the control until the last gong in their minimumweight (48kg) contest.
"I had a strong mental preparation yesterday and I used my boxing style against my young rival which is based on dominancy."

Wuttichai Yurachai (TBF)
Another Asian boxer, Japan's 19-year-old Kazuma Aratake was not able to compete in the Kielce 2021 AIBA Youth World Boxing Championships but he had a strong preparation and eliminated Russia's National Champion Edmond Khudoian who was disqualified after the third warning.
Hungary's Richard Kovacs won a tough battle today
Hungary's No.1, Richard Kovacs qualified for the Hamburg 2017 AIBA World Boxing Championships at the age of 20 following his first elite national title. He was named as the Best Boxer at the 2021 Bocskai Memorial Tournament and won medals at all of his international competitions this year. He started with smart boxing against Mexico's Cesar Donovan Morales and land effective jabs. The Mexican adopted the high rhythm in the second round and he tried to come back to the match with his jabs. Both athletes began boxing at the age of 7 but Kovacs had the advantage in terms of international experiences to beat his Mexican rival.
"My Mexican opponent had the same style of boxing and I was expecting that it will be a close contest today. I used my footwork and distance to win this important first bout."

Richard Kovacs (HUN)
Lai Chu En won Chinese Taipei's first bout in Belgrade
Chinese Taipei has got a world-class women's team but their male boxers also progressed in recent years. Their best athlete in the national squad is the 25-year-old Lai Chu En who competed in three editions of the ASBC Asian Elite Boxing Championships and other tournaments. Lai kept proper distance against Mongolia's Battumur Misheelt who moved back to the light welterweight (63.5kg) which is better for his height. In spite of the Mongolian boxer's practical change, Lai caught him with tough shots from a long-range and won the first bout for Chinese Taipei at AIBA World Boxing Championships.
"I have a tough program as we had National Games last month, another local event in Chinese Taipei before the AIBA World Boxing Championships and we will have President's Cup this year. Mentally I was ready to compete in the international events and I was so excited that I can return. We knew my Mongolian opponent from previous events and I had to use my distance in this bout which was successful."

Lai Chu En (TPE)
Tajikistan's Bakhodur Usmonov turned back his contest against a young star
Tajikistan's Bakhodur Usmonov became the third boxer from his nation after Jakhon Qurbonov and Anvar Yunusov who could win a gold medal in the history of the ASBC Asian Boxing Championships. Tajikistan's best boxer in the national team, except for Shabbos Negmatulloev, was too steady in the first round when he met with RBF Team's Ilia Shakirov who claimed gold at the 2019 EUBC Youth European Boxing Championships. The Tajik boxer received impressive advice from his coaches, Mirzo Shamsiyev and Khurshed Djurayev, and his change surprised the younger Shakirov. Usmonov had the experience to turn back their contest and marched to the Top 16 in the light welterweight (63.5kg).
"It is always difficult to compete against a Russian boxer especially in the first bout of the AIBA World Boxing Championships. I knew of course Ilia Shakirov, he is a great talent and I needed time to find my rhythm in this contest. I felt the range better from the second round and I am ready to win a medal for Tajikistan."

Bakhodur Usmonov (TJK)
Dzhambulat Bizhamov proved he is a favorite in the middleweight
RBS Team's Dzhambulat Bizhamov won the Budapest 2018 AIBA Youth World Boxing Championships and the EUBC Youth European Boxing Championships two times. The youngster joined the elite age group in January 2020 and he immediately won the Russian National Championships. Talented Bizhamov is one of the favorites in the middleweight (75kg) despite his young age of 20. The Russian used his longer hands to keep the safest distance against Georgia's Giorgi Kharabadze who won medals in the main junior, youth and U22 events. Bizhamov kept his Georgian opponent on long-distance and deserved to win their contest by unanimous decision.