Karim Bouzidi, AIBA Executive Director: "#Headsup! will ensure the continuous development of our sport"
October 28th, 2015 / All
AIBA has unveiled its new Corporate initiative, #Headsup!, during the World Boxing Championships held in Doha. Mr Karim Bouzidi, Executive Director of AIBA, explains the objective of this ambitious programme.
What is the history behind #Headsup!?
Originally, since the removal of head-guards in 2013 at the last World Championships in Astana, we have understood it was mandatory to adapt boxers' behavior in relation to the recent rule changes. The absence of head-guards means boxers now have to make sure that they modify their stance to avoid clashing of heads during bouts (Heads Up). Our sport is not just about punching the opponent but also about competing in respect of the other boxer. It is important to emphasize that the health of the boxers is AIBA's first concern.
On the other hand, we have given our boxers the opportunity to participate in World Series of Boxing and AIBA Pro Boxing (APB) competitions in which the boxers do not wear headguards. The transition is easier as all our elite events are currently organised according to the same rule.
What studies have AIBA done to facilitate the decision around permanent removal of headguards?
The decision was made after extensive studies on boxers' safety, including two statistical reviews by the AIBA Medical Commission (more than 2,000 bouts studied). These figures were presented at a joint meeting between the AIBA Medical Commission Chairmen and the IOC Medical Commission.
It was proven that boxers wearing headguards tend to take more punches to the head and bang heads together because they feel they will not be hurt. By removing the headguard – and at the same time strongly penalizing head butts in the ring – we have seen a drastic decrease of head butts to a minimum. This is all part of the education programme we are currently putting in place.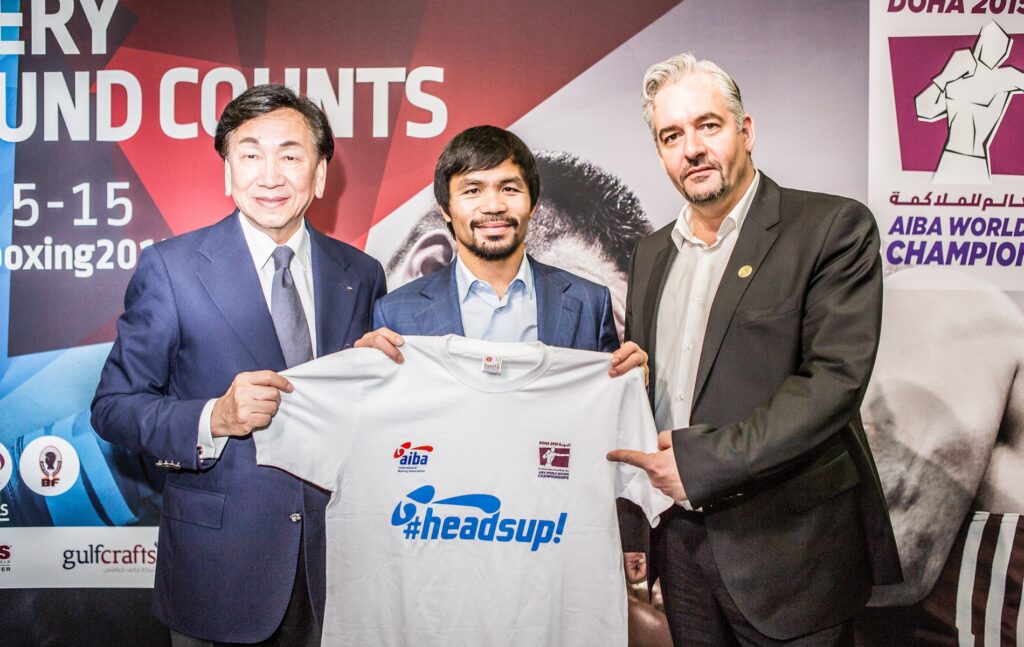 Will these studies continue for Doha 2015 boxing championships?
Yes, and we will be organising specific workshops with referees, judges and coaches to ensure that the education is thorough and that the change of regulation is as less disruptive as possible, ensuring entertaining and high level boxing across all weight categories.
Will this decision apply to Youth and Women's boxing?
AIBA relevant Commissions are tasked with amending the Technical Rules to allow the future removal of headguards for women and junior boxers, following further studies of these specific competitions and taking into account the safety of the athletes.
What are the values behind #Headsup!?
First of all #Headsup! will reflect the values of Boxing which are recognized worldwide. In the UK recently, a survey was carried out and it is interesting to note that boxing is one of the few sports which continues to grow in terms of young people taking it up. Parents recognise it is a good, clean sport for their kids to participate in – for both boys and girls. The intake into boxing clubs is also on the rise and overall boxing has become one of the UK's most successful sports at grassroots and pro level for such a relatively small nation, and this trend can also be seen across South America, Asia and the rest of Europe.
#Headsup! will regroup all these positive values and ensure the continuous development of our sport.
Will #Headsup! initiatives be around other activities?
Definitely. We have elaborated four pillars which will cover all HeadsUp initiatives: Health, Sports, Education and Sustainability. These "fields of play" will ensure the promotion of gender equality, a decent education and academic training for our boxers, the development of our competitions in a more sustainable way and an increased safety of our boxers during their competitions. Through the #Headsup! Charter, we will collaborate closely with the National Federations to support local projects which can be epitomized by the #Headsup! values. We are fully committed to improve the perception of boxing in the years to come and HeadsUp is the perfect vehicle to achieve this objective.