Julio La Cruz and Lazizbek Mulllojonov are to meet at the IBA Men's World Boxing Championships in Tashkent
May 8th, 2023 / Tashkent 2023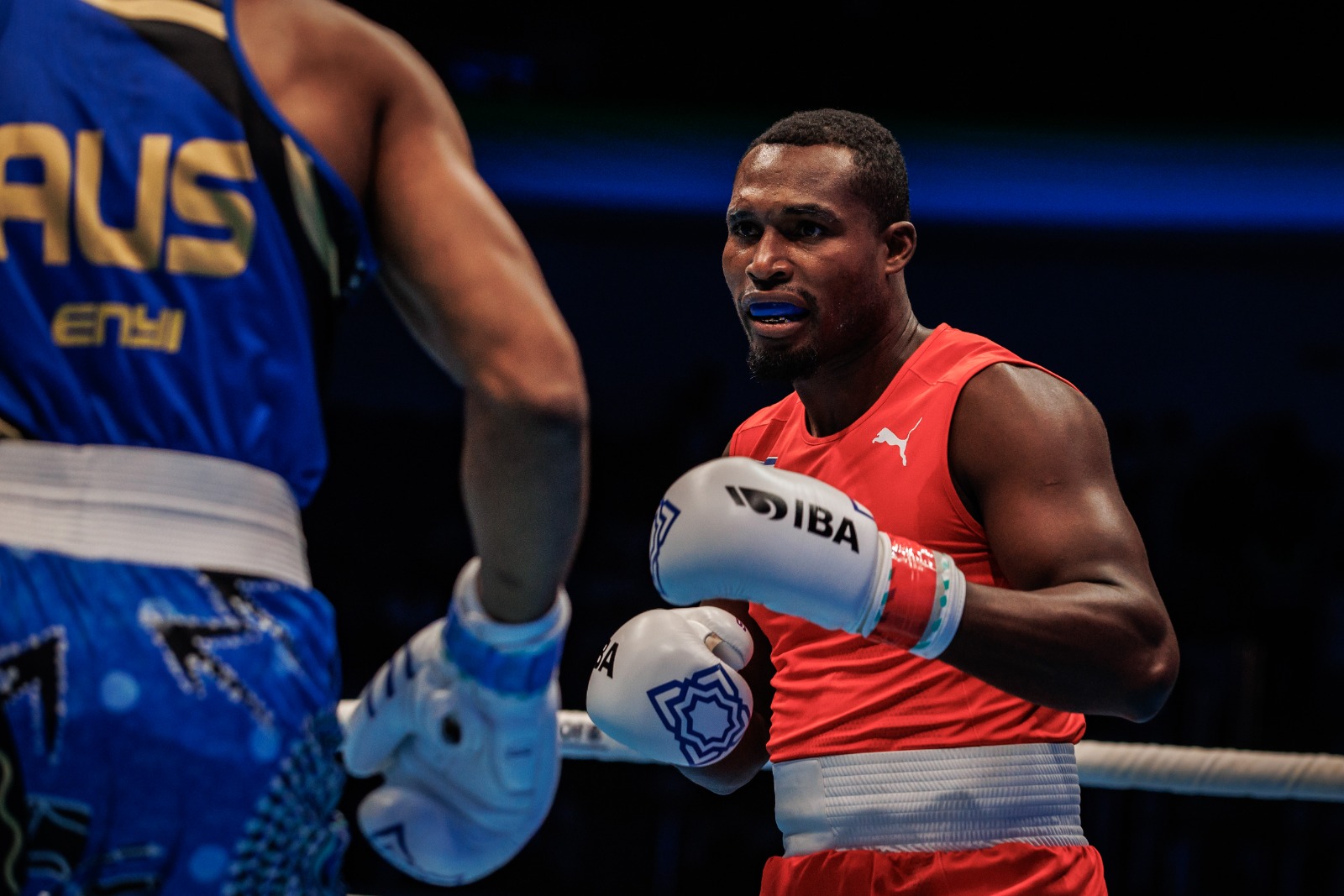 Day 8 of the IBA Men's World Boxing Championships in Tashkent brought more exciting action for the excitement of local crowd and viewers. 
First-seeded in the 54kg division, Makhmud Sabyrkhan from Kazakhstan eliminated Istvan Szaka from Hungary on the way to the Round of 16. His next rival, Indian Sachin Sachin, celebrated a victory today over Serghei Novac from Moldova. 
Eighth-seeded George Molwantwa from Botswana and Yan Carlos Perez from the Dominican Republic gave a real fight in 54kg. Boxer from Africa was leading after both rounds on the 3 scorecards out of five. Perez tried to take the initiative, but it was not easy to overcome Molwantwa with his precise counterattacks. The Botswanian celebrated a unanimous victory and advanced to the Round of 16, where he faces Mohammed Amadu from Ghana who eliminated Rejeki Manalu from Indonesia.  
Yosvany Veitia from Cuba, a World champion in 2017, marked his first fight in Tashkent in a new category of 54kg with a victory. The fifth-seeded Cuban eliminated Shaffi Hassan from Kenya. He meets with Enver Muzaffer from Türkiye, whose victory over Ganbold Dorjnyambuu from Mongolia was confirmed by a bout review 5:2 (2:0BR). Fourth-seeded Yoel Finol from Venezuela defeated Ruslan Aslikyan from Armenia and now faces Nijat Huseynov from Azerbaijan to enter Round of 8. 
5-time World champion Julio La Cruz from Cuba showed his impressive skills against Ikenna Enyi from Australia in their heavyweight contest. In the quarter-finals, he is to face Uzbekistan's eighth-seeded Lazizbek Mullojonov, which would be a serious challenge for a local boxer after he saw off Giorgi Tchigladze from Georgia by a unanimous decision. 
The world champion from the 2019 edition, Muslim Gadzhimagomedov from Russia was stronger than Chinese Xuezhen Han and now meets fourth-seeded Keno Machado from Brazil. World Championships silver medallist Aziz Abbes Mouhiidine managed to overcome Ecuador's Julio Castillo by a split decision 4:1. His next opponent is Davlat Boltaev from Tajikistan who won over Mexican Carlos Rodrigues, where the referee stopped the contest due to an injury.    
In 48kg, Sakhil Alakhverdovi defeated Indian Govind Kumar Sahani unanimously and is now to meet with eighth-seeded Ergyunal Sebahtin from Bulgaria. Aqeel Ahmed representing Scotland celebrated his second victory at the competition today after he eliminated World Championships bronze medallist Yauheni Karmilchyk from Belarus. 
'I put in a good performance and everything came to plan like I envisioned it to be,' Aqeel Ahmed commented. His next rival is a big challenge as he faces Cuban Alejandro Claro Fiz who won Yassine Issufo from Mozambique.
Second-seeded Wuttichai Yurachai from Thailand celebrated a victory over Tural Sariyev from Azerbaijan by a split decision 4:1. Russian Edmond Khudoian, who won Moroccan Hamza Essaadi, is his next opponent. 
In the 60kg division, Andrew Chilata from Zambia was stronger than Artysh Gomtsyan from Georgia by a decision of 4:0. In the American continent contest, first-seeded Alexy De La Cruz from the Dominican Republic lost to Cuban Erislandy Alvarez by a split decision of 1:4. Now Alvarez will face Chilata in a medal contest.  
Bulgaria's Radoslav Rosenov defeated Daniyal Shahbakhsh from Iran, as the result was overturned by a bout review 4:3(2:0BR). Jordanian Mohammad Abu-Jajeh saw off Jone Davule from Fiji and will face Rosenov in the quarter-finals. Defending champion of the 60kg category Sofiane Oumiha from France eliminated Jose Carfunjol from Venezuela. Seven-seeded Spanish boxer Jose Quiles overcame Shukur Ovezov from Turkmenistan and is to challenge Oumiha now for a quarter-final contest.  
In the 86kg division, first-seeded defending World champion Loren Alfonso representing Azerbaijan delivered a top performance against Billy Mcallister from Australia by a unanimous decision. In a tough fight between two Asian powers, Uzbekistan's Shokhjakhon Abdullaev and Kazakhstan's Sagyndyk Togambay, the former won to the happiness of a delighted home crowd. Now Alfonso and Abdullaev are to fight in the quarter-finals. 
You can watch IBA Men's World Boxing Championships at the iba.sport website.