IBA President Message: A Look Back at 2022 and Forward to 2023
December 21st, 2022 / IBA President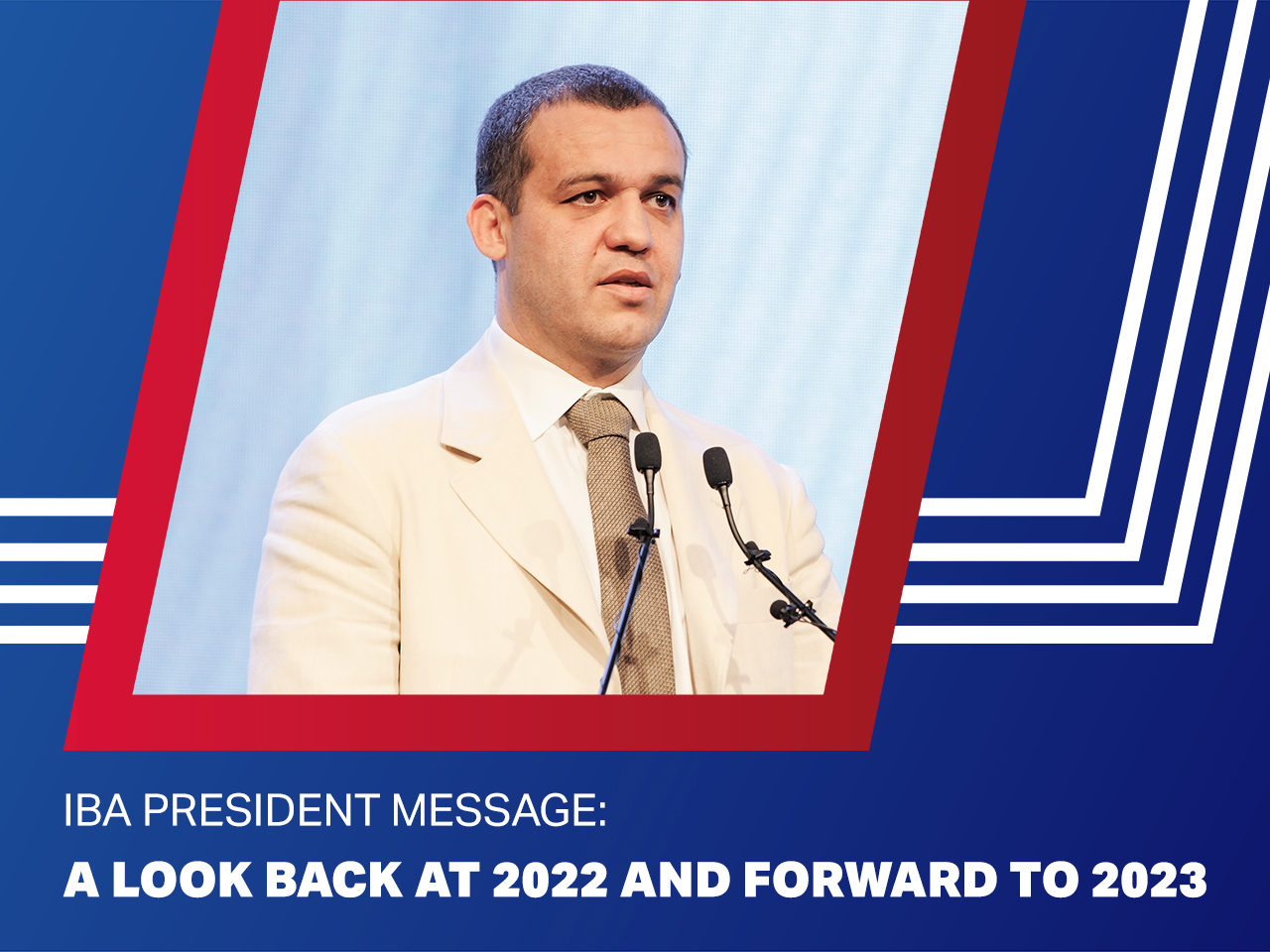 As 2022 draws to a close, I would like to take this opportunity to extend my personal and heartfelt appreciation to each and every one of you for your enormous contribution to the wellbeing of our organization and your strong commitment to boxing promotion all over the globe.
Looking back on this challenging year, we can take pride in reaching significant milestones in the key areas which I am happy to share and celebrate with you and which became possible due to our unity and joint efforts.
Athlete-Driven Approach to Governance
Giving priority to athletes' wellbeing, IBA succeeded in strengthening the athlete-driven approach to governance and all its activities, making sure that the boxers are provided with fair opportunities, to compete in the best possible conditions and use boxing as an instrument for upward social mobility. The latter was achieved through the extensive prize money pool for IBA and Confederations' competitions – in 2022 IBA dedicated over $3,000,000 into prize money and secured the prize fund for both major World Championships in 2023.
Assistance to IBA National Federations and Confederations
National Federations are the driving force for sustainable boxing development all over the globe, and I command the professionalism and substantial efforts of Presidents, Secretaries General and the key personnel standing behind every success of our boxers. Throughout 2022 one of the fundamental focuses of IBA was comprehensive support to IBA members with over $900,000 allocated to National Federations and Confederations to make sure boxing development is stimulated in every corner of the planet.
IBA and Continental Competitions
In 2022 IBA was proud to stage 2 World Championships – IBA Women's World Boxing Championships and IBA Youth Men's and Women's World Boxing Championships – both with 73 participating countries. In full cooperation with Confederations, we managed to hold 11 Continental Championships, including AMBC and AFBC Men's and Women's Elite Boxing Championships which returned to the boxing map after a several year break.
Seeking to provide more opportunities to the athletes, IBA successfully organized the first tournaments within the World Boxing Tour (WBT) series and inaugurated the IBA Champions' Night staged for the first time in Abu Dhabi, UAE on 11 December 2022 with a total prize fund of $400,000.
Following the successful conclusion of these events, I would like to express my deep gratitude to each host country for organizing the spectacular tournaments that became the highlight of this year and featured the top athletes from all over the globe.
Governance Reforms
Following recommendations of the Governance Reform Group, IBA completed the renewal of the Board of Directors based on the procedures established by Prof. Dr. Haas and his group, which for the first time in the IBA's history included rigorous eligibility checks and skills assessment. As part of the governance reforms, IBA also restructured its committees to ensure their effectiveness and independence and further amended its Constitution to place transparency and accountability at the organization's core, with latest amendments unanimously approved by the IBA Ordinary Congress in Abu Dhabi, UAE on 11 December 2022.
Education
Throughout 2022 in cooperation with the IBA committees and thanks to the extensive expertise of IBA instructors, we managed to organize 36 courses for Coaches, R&Js, Ringside Doctors, ITOs, R&J Evaluators and Instructors. Thus ensuring, that IBA has a bigger pool of well-trained officials who know to deliver strong performance within and outside of the Field of Play and are guided by high integrity standards.
Due to its partnership with the ITA, IBA continues to educate the 'Fairness in Sport' model to boxers, supporting personnel and National Federations through online webinars and courses on site of the IBA competitions to enhance anti-doping knowledge of key boxing stakeholders.
Since 2023, IBA plans to implement E-learning programs to maintain educational continuity, administer professional development and provide requalification opportunities.
IBA is also determined to support the creation and further development of international boxing academies on all continents to transfer the IBA's fundamental values outside the IBA competitions and courses.
Sporting Integrity
IBA continues to enhance its sports integrity management program with the help of Prof. Richard McLaren and his team through application of the random draw for selection of both ITOs and R&Js, background checks, workshops of refresher training prior to major competitions, including the Ethics and Behaviour program, followed by interviews conducted on-site by McLaren Global Sporting Solutions.
Financial Integrity
In less than 2 years, IBA has managed to become a self-sustainable organization with enough finance to ensure its prompt work, as well as to provide constant support to its stakeholders.
In the bid to enable commercial viability, IBA signed six-year global sponsorship agreement with STING, Australian boxing equipment, apparel, and footwear brand.
Partnership Agreements
In 2022 IBA renewed anti-doping partnership with the International Testing Agency (ITA), signed collaboration agreement with World Boxing Association (WBA) and memorandum of understanding with ISDE, Instituto Superior de Derecho y Economía.
These and many other achievements are the result of your tireless and dedicated work, and I would like to celebrate your efforts throughout the year and thank you for the tremendous support. It has been reassuring to see boxing family present a united front against multiple challenges and stand firm on boxing values fundamental to the International Boxing Association, Home of Boxing.