IBA Champions' Night: undisputed winners are crowned in Phuket
July 15th, 2023 / IBA Champions Night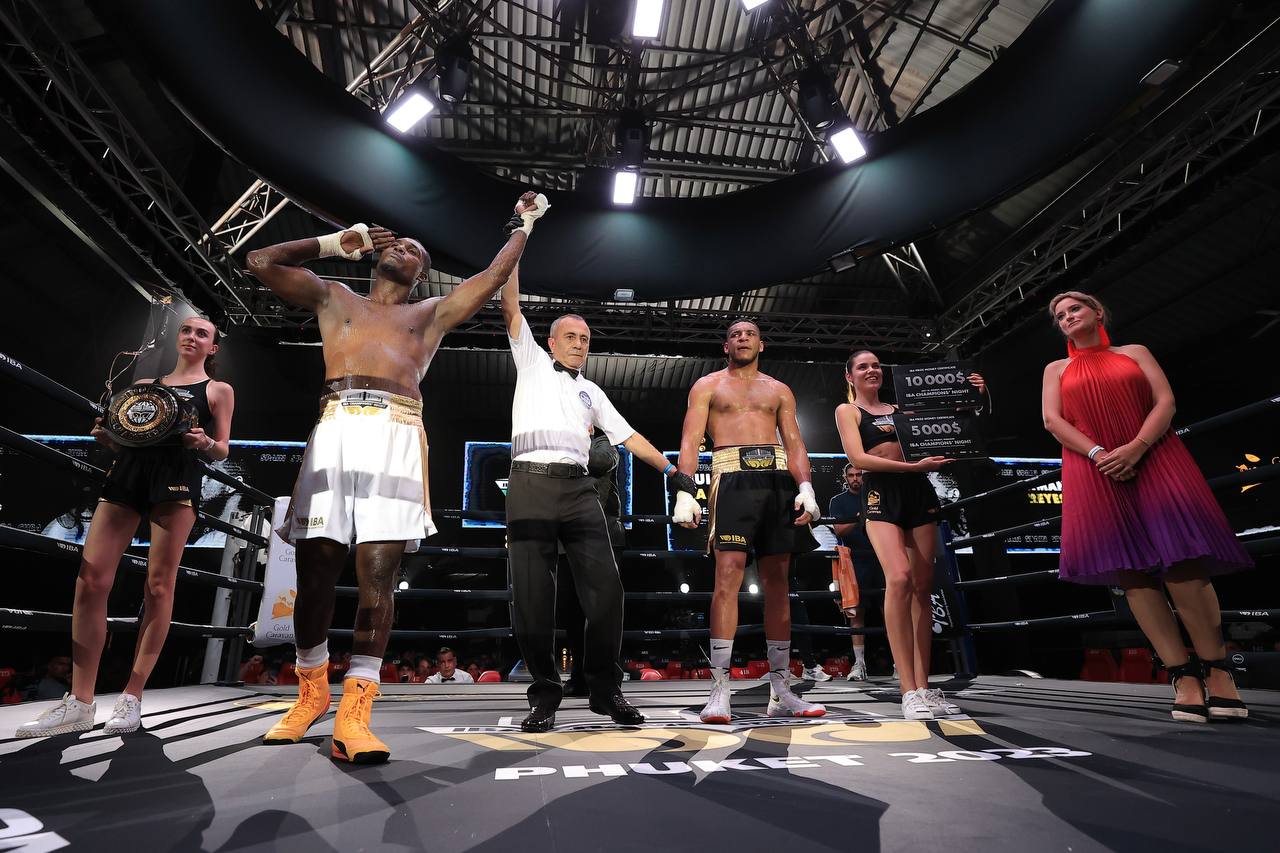 Patong Boxing Stadium witnessed IBA Champions' Night thrilling boxing bouts that became history with its crème de la crème rivals from around the globe.
In the exhibition warm-up fight of the day, two Thai boxers Khamron Klaphaisan and Adeison Boonvichit showed their skills in a 3-round format, where Klaphaisan celebrated a victory.
Dutch national Megan De Cler was full of desire to take revenge on her Mexican opponent Guadalupe Solis Acosta in their fight following the latter win at the IBA Women's World Boxing Championships this year. In a 63kg pro-style five-round bout, she started energetically with strong punches moving forward. The right hand worked perfectly for De Cler in the early rounds which created a comfortable situation for her. Solis could land several nice shots in the third and fourth rounds but the Dutch boxer was persistent in her attacks and overcame her rival with a large margin. De Cler was declared the winner by a unanimous decision and received her well-deserved champion's belt.
World Champion 2016 from Kazakhstan Valentina Khalzova has met with Elif Guneri from Türkiye previously at the IBA Women's World Boxing Championships in New Delhi and managed to win in their 75kg bout. Guneri is taller than her opponent as she came down from a heavier weight class while Khalzova changed to a one up, this gave the Turkish boxer a slight advantage. While Khalzova tried to throw punches from the distance, Guneri concentrated on counterattacks. Both had their moments but the strategy of Khalzova paid back with her speedy successful attacks, and she was declared a winner by a unanimous decision. Khalzova celebrated her victory with the national flag of Kazakhstan.
World Championships bronze medallist Martin Molina Salvador from Spain faced World and Olympic champion Hasanboy Dusmatov from Uzbekistan in a 51kg bout. The Spanish boxer lost to Dusmatov in the semi-final contest of the latest World Championships and was starving to receive a rematch. The boxers showed high-skilled competitive bout with mind-blowing combinations. Dusmatov sent the opponent to a canvas in the second round and increased the tempo. In strong and fast exchanges, the Uzbek boxer was more efficient and he claimed this victory by a unanimous decision.
In 63.5kg Mujibillo Tursunov from Uzbekistan challenged Mukhammedsabyr Bazarbay Uulu from Kazakhstan. In this Asian derby, the boxers exchanged speedy punches during all the rounds non-stop in a competitive bout. More experienced Tursunov was stronger and celebrated a victory by a unanimous decision, he received a champion's belt from legendary boxer Roy Jones Jr.
71kg contest brought us another principal clash between two boxing nations, Uzbekistan and Kazakhstan, with a repetition of the final of the recent IBA Men's World Boxing Championships where gold medallist Asadkhuja Muydinkhujaev faced his runner-up Dulat Bekbauov. Uzbek boxer was more confident in the ring while his rival knew him very well to leave his attacks unnoticed. Despite numerous good punches from Bekbauov and his hard work, the rich arsenal of combinations and smart strategy of Muydinkhujaev made him a winner in this contest by a unanimous decision.
In a co-main event in the 80kg division, World and Olympic bronze medallist, Russian boxer Imam Khataev challenged World champion and double Olympic champion Arlen Lopez from Cuba. Khataev, who won their only previous fight in Morocco this year, landed heavy body shots. Lopez switched the stances and managed to send some precise punches, too. In the second round, Khataev's right eye started to bleed after a head clash, but the Russian corner managed to fix this during the break. After three rounds of the close fight, Khataev had a slight advantage on three out of five judges' scorecards. The last two rounds were performed with a higher speed in a very close manner, and as a result, Khataev was declared a winner unanimously.
The main event in 92kg was truly impressive. Cuban-born World Championships bronze medallist Enmanuel Reyes Pla who is representing Spain faced one of the biggest stars among acting boxers, 5-time World champion and double Olympic champion Julio La Cruz from Cuba. La Cruz is famous for his unpredictable movements and defensive skills in the ring while Reyes Pla managed to land punches successfully despite that. However, La Cruz, in turn, replied strongly with a knockdown in the third round catching his rival on a counterattack. Being in perfect physical condition, the Cuban boxer performed well which brought him a unanimous victory and a champion's belt along with $10,000 prize money. Reyes Pla as a runner-up received $5,000.