IBA Champions' Night in Serpukhov to set the stage for International Boxing Day
August 21st, 2023 / IBA Champions Night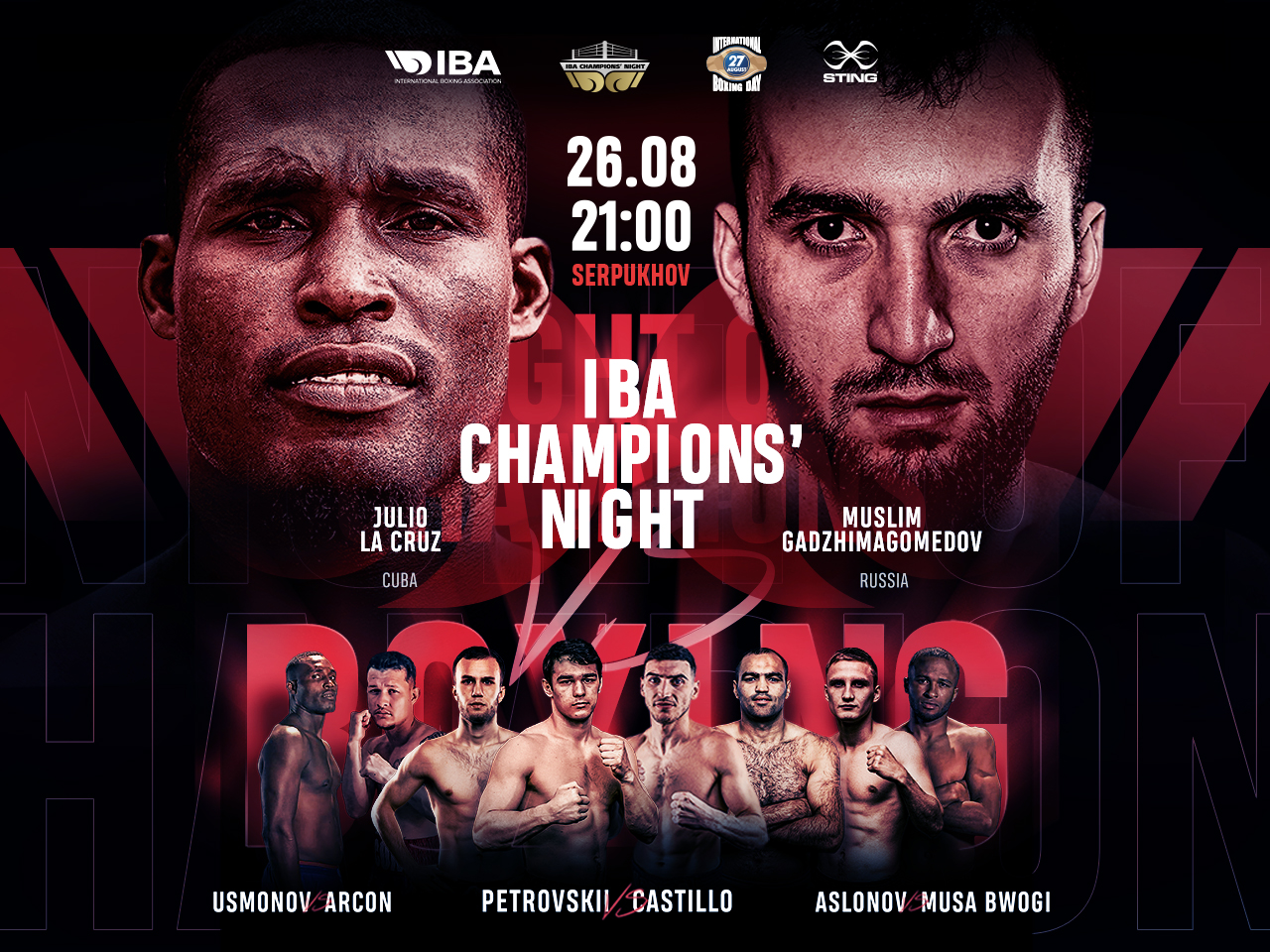 Nine top-level fights are to be featured at the IBA Champions' Night event taking place 26 August in Serpukhov, Russia on the eve of International Boxing Day. In the main event, two-time World Champion Muslim Gadzhimagomedov from Russia is to fight against legendary Julio La Cruz from Cuba, a 5-time World Champion and 2-time Olympic gold medallist.
Super heavyweight boxers, Gadzhimagomedov and La Cruz have met twice already during their career, with the Cuban declared the winner in both bouts. Now, one of the top Russian boxers has a chance for a re-match against one of the most decorated opponents in the world.
Ecuador's World Championships silver medallist Julio Castillo is to challenge World Champion Mark Petrovskii from Russia in their super heavyweight bout. World Championships bronze medallist in 63.5kg Bakhodur Usmonov from Tajikistan fights against Luis Arcon from Venezuela who is also a Pan American Games bronze medallist. Vsevolod Shumkov from Russia who claimed bronze medal at the resent World Championships is ready to face 3-time World Champion Lazaro Alvares from Cuba in 60kg contest.
Full fight card of the evening:
Egor Nazarov (Russia) vs Shohrukh Jiyanov (Tadjikistan), 67kg
Stanislav Vasilev (Russia) vs Muzaffar Rasulov (Uzbekistan), 70kg
Pavel Fedorov (Serbia) vs James Chereji (Romania), 63.5kg
Odiljon Aslonov (Uzbekistan) vs Shadiri Musa Bwogi (Uganda), 75kg
Bakhodur Usmonov (Tadjikistan) vs Luis Arcon (Venezuela), 63.5kg
Mark Petrovskii (Russia) vs Julio Castillo (Ecuador), +92kg
Vsevolod Shumkov (Russia) vs Lazaro Alvarez (Cuba), 63.5kg
Khariton Agrba (Russia) vs Xolisani Ndongeni (RSA), 67kg
Muslim Gadzhimagomedov (Russia) vs Julio La Cruz (Cuba), 92kg
'Serpukhov will become a capital of global boxing with a spectacular atmosphere and uncompromised bouts,' IBA President Umar Kremlev said. 'I am looking forward to witnessing exciting pro-style fights with esteemed boxers in the ring against each other. This is a magnificent event to precede International Boxing Day, when we unite and celebrate boxing's impact beyond just a sport.'
IBA Champions' Night brings together the crème de la crème of boxers from around the world facing each other in a professional format fight. It is a global event of breathtaking and non-stop boxing action, where the absolute best boxers' step into the ring to prove their worth. In this high-stake night of professional boxing, contenders do not just challenge champions – they challenge their own limits. IBA Champions' Night is a time of uncompromising action, a night where champions rise, and challengers dare to become legends.
'We continue to go from strength to strength with our events, demonstrating both the reach and capability of IBA and its event and competition management. Our championships remain as the world class standard, bringing in the very best boxers from across the globe. The IBA event portfolio will expand to new levels over the next 6 months, and we look forward to a further 3 more Champions' Night events through the month of September 2023,' informed IBA Interim Secretary General and CEO, Chris Roberts OBE.
IBA is to hold the next three Champions' Night events in the upcoming month, with locations to be announced shortly.
You can watch the event live on its dedicated page.