Hovhannes Bachkov: Judging became fair with President Kremlev
April 12th, 2023 / Tashkent 2023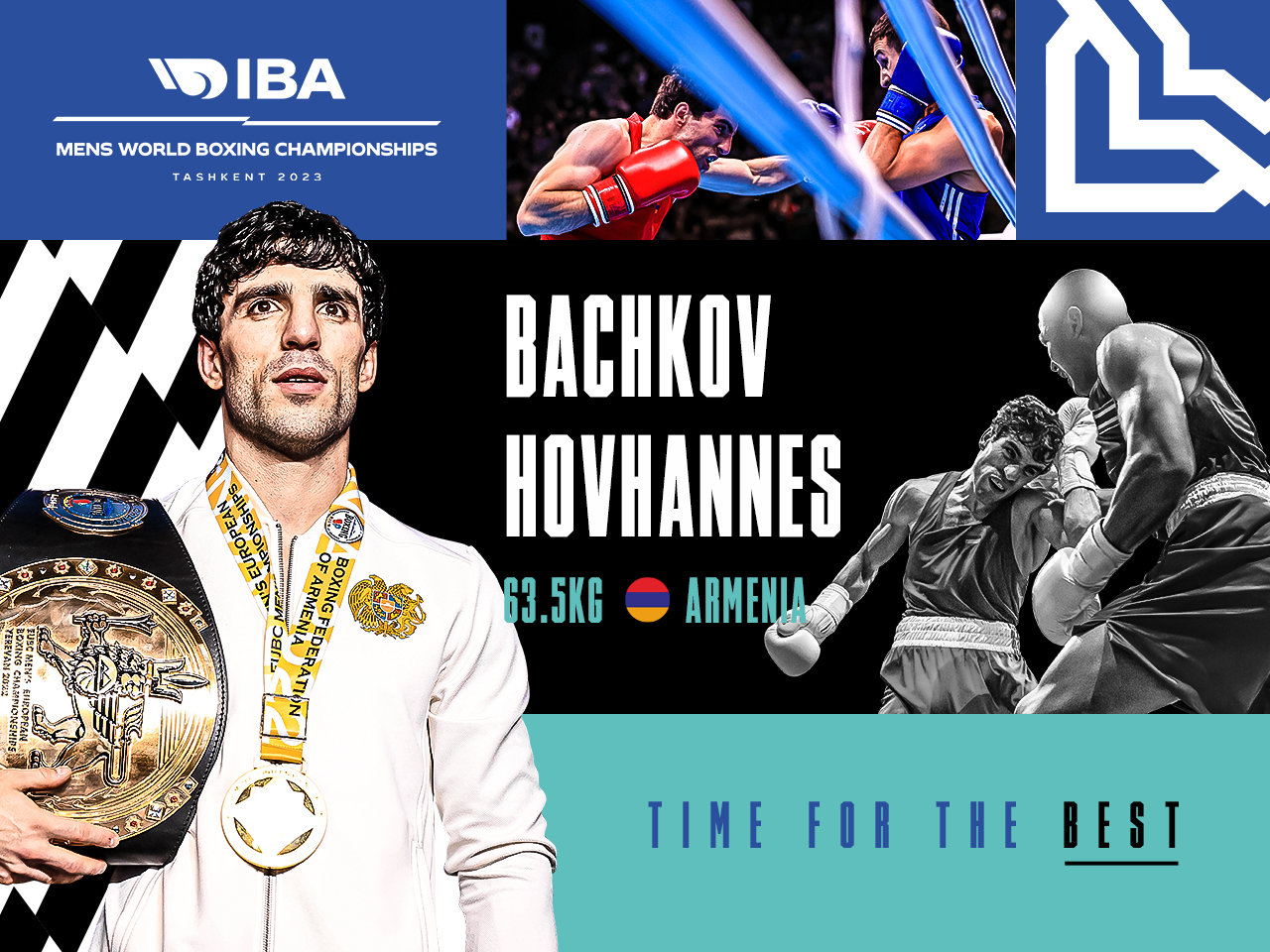 Armenian Hovhannes Bachkov was introduced to a boxing gym at the age of 7 when his uncle, who used to be a boxer, showed him the stance and first punches. Later on, his grandfather brought him to the gym saying that it was high time he stopped fighting in the streets. His first coach Davtyan Varuzh welcomed him in the city of Gyumri. Later on, Varuzh moved to England, and Rudik Mkrtchan and Karen Kazaryan are his coaches until today, for 22 years already.
'I stayed in the boxing gym because of my character. If I start something, I go till the end no matter what,' Bachkov explained his persistence. 'At the age of 15, I became a medallist at the Junior European Championships, and it set my goal: I wanted to become a well-known champion, I wanted to be among the best.'
With the first victories behind him, Hovhannes felt special support from people around. 'My family and friends have always cheered me up to make me stay in boxing and move further towards my goals,' the boxer added.
Bachkov took part in World Championships 2017, 2019 and 2021, every time bringing home a bronze medal and a bitter aftertaste. 'I should have become a champion at least once!' he claimed. Somehow, he thinks, every time there were some obstacles that prevented him from his dream coming true. 'This is not about me though, as I always give it all in the ring,' Hovhannes added.
'After each championships, I said to myself that it was the last one. However, my dream to become a World champion makes me come back.'
The most severe situation in boxing is a lost fight, or physical or mental injury, according to Bachkov.
'My character doesn't give me a chance to step back or give up. I shouldn't have any unaccomplished tasks. Most of my fights were lost because of biased judges, but that is left in the past. I am assured that everything is fair now, and last time I benefitted from the bout review system in Belgrade when Armenian Boxing Federation protested the decision. After that occasion, I respect IBA President Umar Kremlev even more, as he made everything transparent and kept his word to clean the judging system,' the boxer said.
Bachkov trains now without excuses to fulfill his ambition in the 63,5kg weight division at the IBA Men's World Boxing Championships in Tashkent. Meanwhile, he has his 5th professional fight just two weeks before the start of the event in Uzbekistan.
'It's tough to combine IBA boxing with professional one. I try my best to succeed. On April 14th, I need to avoid injuries to be able to participate in the World Championships,' he stressed.
As a professional, he trains with famous coach Manuel Robles in the USA.
'I work with Manuel to prepare for my pro fights, I like his approach. He doesn't push me to change my style but works to strengthen the skills I have. He reminds me of my coaches in Armenia, perhaps that's the reason why we like to work together. A good boxer without a proper coach is as a strong beautiful tree without a good gardener,' Bachkov said.
He aims to the top in both IBA and professional boxing, as the stakes are high.
'Only one goal is ahead of me, to win at any cost. I need to get even with boxing, as every time when I participate in IBA tournaments, I put my professional career on pause. I have beaten gold medallists, however, I am still not a world champion myself.'
'To start from scratch is also tough, to leave your family for training, to abandon all entertainment and pleasures for the sake of one goal. Once it is ruined, you start over again and again. This is what is really tough,' Bachkov confessed.
Boxing changes every year, says the Armenian, as it develops rapidly worldwide. This concerns prize money, which is a huge motivation for athletes.
'Prize money makes boxers happy, and the championships becomes more spectacular. To earn this money, one needs to be a wolf and fight till the end. All money I earn with my sweat and blood goes to good deeds only,' Hovhannes claimed.
'God gave me another level of life in boxing. I learned many people from various countries, I am strong, famous, and respected. What is more, I act rightfully and timely, that's what boxing gave me. My victories make me proud, too,' he added.
Bachkov is confident that the Olympic Games without boxing is "a king without a crown". As Tokyo 2020 bronze medallist, he cannot imagine one without the other.
'I hope that they would change their mind. Otherwise, a lot of boxers would be forced to suffer and their dream would be ruined. I am sure that after a successful IBA World Boxing Championships in Tashkent, they will change their mind. All decision-makers are people, as we all are, and we have to find a common language,' Hovhannes stressed.
'Boxing is an intelligent sport. Boxers don't use low blows, nor beat the recumbent opponent or stab someone in the back. It is a well-respected sport worldwide,' Bachkov concluded.