Highs and lows on Day 5 at the IBA Women's World Boxing Championships in New Delhi
March 20th, 2023 / New Delhi 2023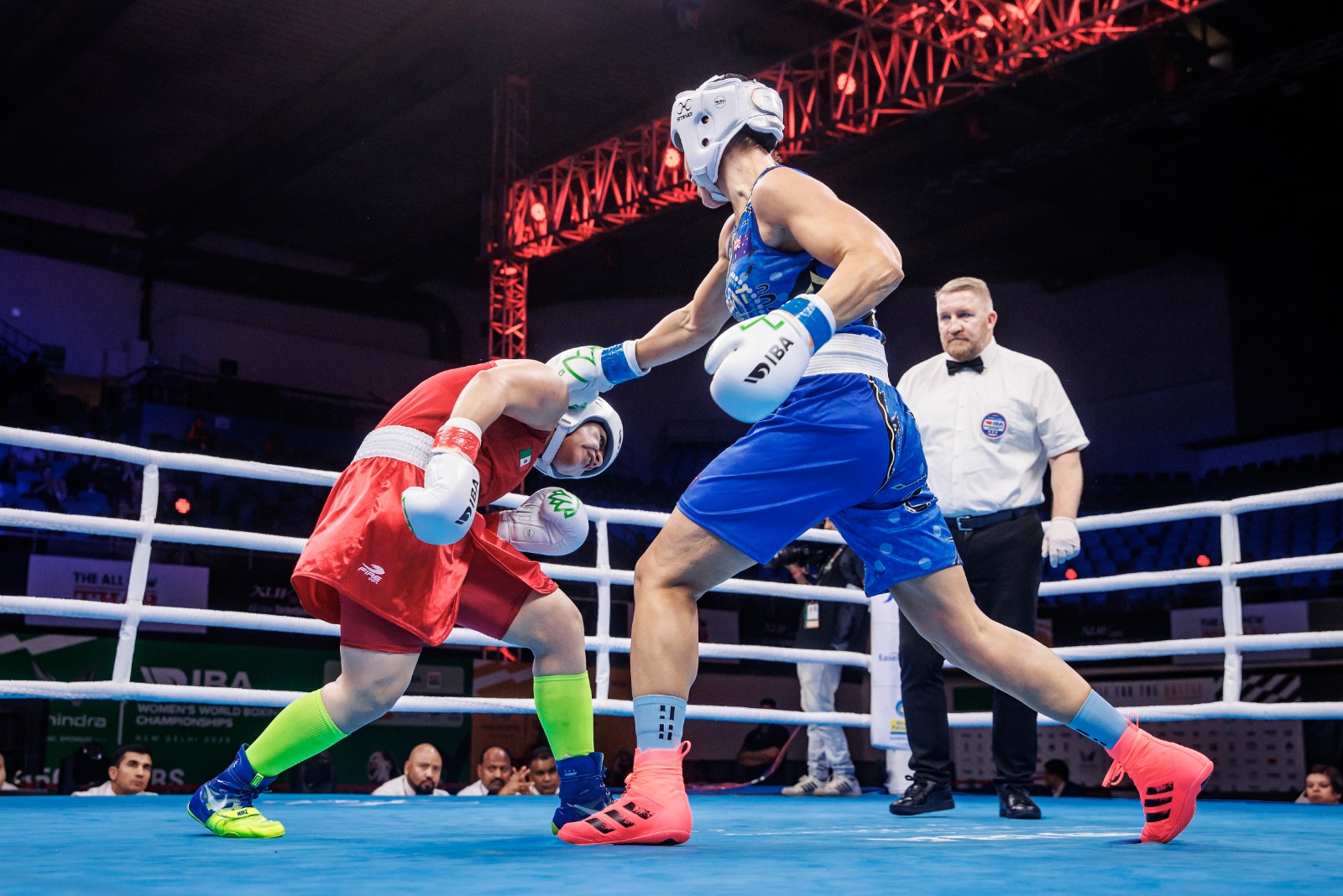 The round of 16 was held at the IBA Women's World Boxing Championships in India. The closer it's getting to the climax, the more exciting gets the atmosphere in the ring at the K.D. Jadhav Indoor Hall in New Delhi.
European champion in the 70kg division, first-seeded Ani Hovsepyan from Armenia, lost on points to Zhou Pan from China. For the Chinese athlete, this victory is the second step towards the podium, as in the first round she eliminated Indian boxer Shruti Yadav. Luisa Vasquez from Colombia will be the medal challenger for Zhou Pan in the quarterfinals.
Defending Youth World Champion Sara Cirkovic from Serbia couldn't complete the task to repeat her achievement at the elite level in the 52kg category, and Rinka Kinoshita from Japan advanced to the quarterfinals by a unanimous decision.
The home crowd saw Lovlina Borgohain in action today, who changed her weight category one up, to 75kg. She eliminated Vanessa Ortiz Citlalli from Mexico by a unanimous decision. The boxer, who is also the IBA Athlete's Committee chairperson, advanced to the quarterfinals where she meets with Istanbul 2022 bronze medallist Rady Gramane, who was successful today against Sokhiba Ruzmetova from Uzbekistan.
In the 54kg division fight, Jutamas Jitpong from Thailand made an upset of the day for the local crowd, defending Preeti from India in pre-quarters.
Kathreen Sterling representing Haiti fought against Anjani Teli from Nepal and, despite giving it all, didn't manage to win. She has started boxing in 2016, and a year after she participated in her first competitions. Her first international event took part in 2019, when she decided to represent Haiti. Sterling is here without a coach, and a head coach of Trinidad and Tobago, Reynold Cox seconds her. It's been a long time since these relationships have been in place, as Cox seconded her at many international tournaments where their teams were performing together.
'I started boxing because I was depressed from my first trauma in college, it was for my mental health. It helped, absolutely, and now I will encourage every woman to get into boxing and find themselves,' Sterling mentioned.
Haiti's participation in the event is covered by IBA Financial Support Program (FSP).
'My participation in this World Championships is completely supported by the IBA Financial Support Program. I am really grateful to IBA for covering this and allowing me to pursue my dream,' the boxer said.
Another athlete from French Polynesia is having her debut at the World Championships, as her country has never taken part in the women's major event. Edith Tavanae couldn't manage it to the next stage, losing to Ichrak Chaib from Algeria in the first round. She hopes that her 14-years-old daughter followed her way in boxing.
'It's an important experience to develop our boxing. In our country, women's boxing is not massive, there are not so many competitions in place. I started boxing when I was 13 years old because I had problems with schoolmates and wanted to protect myself. Now I want my daughter to follow my way, she's 14 and started very young. Thank you for all your support to IBA, I hope this is to be continued for our country,' Tavanae said.
Kaye Scott from Australia finished her bout against Mexican Jocelyn Garcia Lopez ahead of schedule with RSC in the third round.
'I am full of excitement and feel a bit of relief, as a first fight always means extra nerves, even though you've done World Championships several times. I am happy to move to the next stage and keep following the dream to be standing at the top of the podium. It's the minimum level for me to finish on the podium, but of course, gold is on my mind. We had a good preparation, did international tournaments on the way here,' Scott told.
She's been working as a personal trainer to cover her daily costs and reach her dream of coming to major events. IBA prize money would be a game-changer for Kaye.
'One of the hardest things being in Australia is that we haven't a centralized program. A lot of athletes have full-time jobs. Prize money would allow me to focus on full Olympics preparations and not having work, so it's a huge incentive,' she explained.
Scott also mentioned that she's here in India to concentrate on her performance, not on politics.
'You definitely do notice that some of the big countries as England and the USA are not being here, but I leave the political side out of the things, and I just want to box. I want to be up against the best athletes. This is such a big tournament, and I am just blessed to be here. I just want to be focused on the sport and do the best that I can in the most amazing sport in the world,' Kaye Scott concluded.
Her next rival is last year's World Championships silver medallist Alcinda Lucas Dos Santos from Mozambique.