Great challenge for French boxers, as IBA Champions' Night comes to Paris
October 13th, 2023 / IBA Champions Night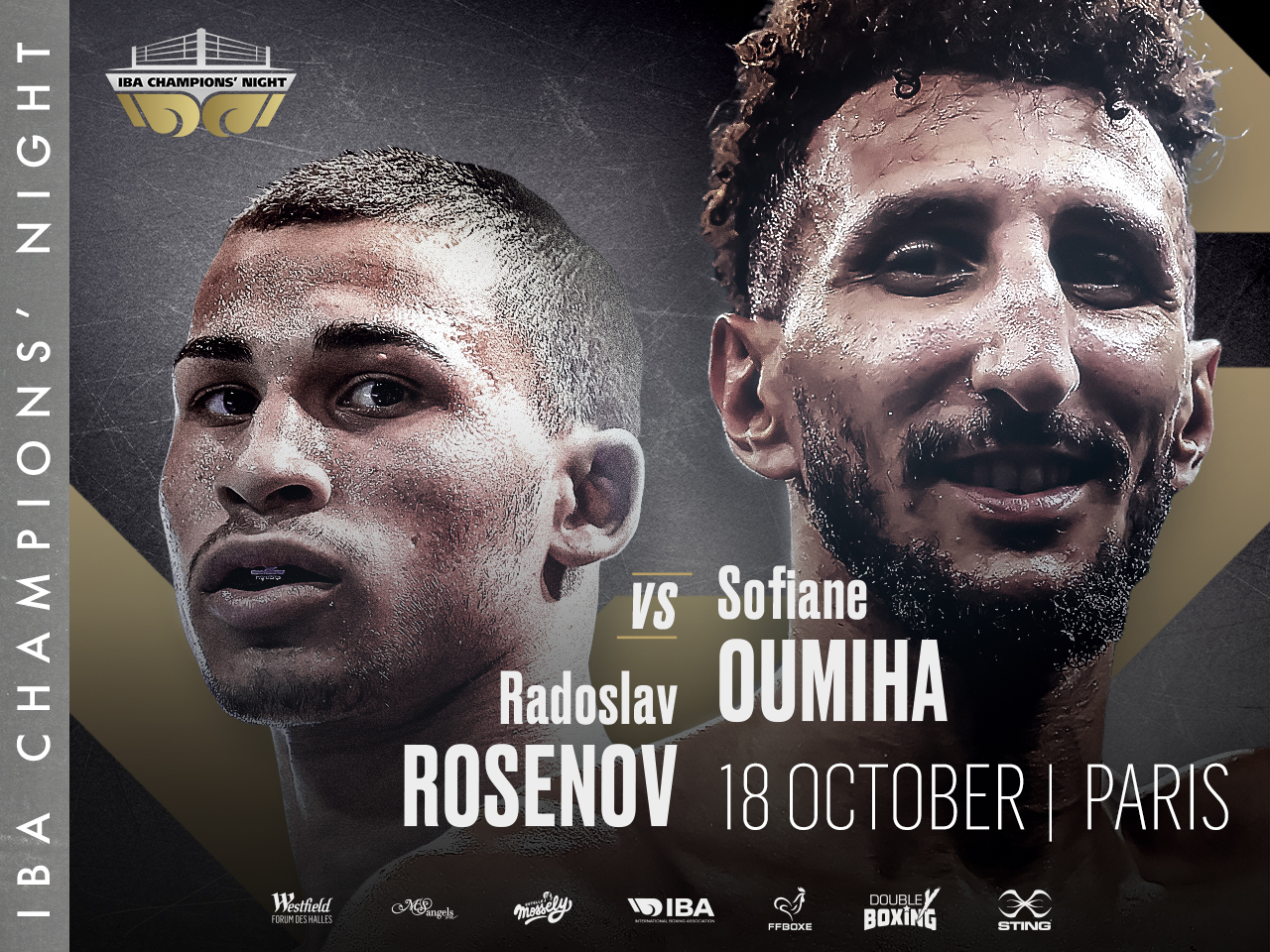 Paris is to host IBA Champions' Night on 18 October with renowned French boxers going into the ring in front of a home crowd. Three-time World champion and local star Sofiane Oumiha will be challenged by promising young Bulgarian Radoslav Rosenov  in their 62kg fight in the main event of the night.
28-years-old Oumiha, also a European Games winner, has already had experience in pro boxing, including successes at the IBA Champions' Nights. His rival, 19-years-old Rosenov, who won bronze at the IBA Youth World Championships in 2021, managed to perform well at several international events, including his gold at U22 European Championships and WBT Golden Belt event in Maribor in 2022.
The co-main event in Paris is a 80kg contest between Gabrijel Veocic from Croatia and Gradus Kraus representing the Netherlands. In his last appearance at the Champions' Night ring in Monaco, Kraus celebrated a victory over Arlen Lopez from Cuba, who is a 2-time Olympic champion and a World champion. 
'It was a wonderful new experience for me,' Kraus said. 'I enjoyed it, especially against a top-class boxer like Arlen Lopez. I always try to enjoy myself in the ring, especially at the IBA events, such as Champions' Night. My next fight in Paris will be different because of the different opponent, so I will also box in another way. I have special training with my father Albert Kraus and my coach Waleed Shekho.'
Four women's events are impressive with a strong French squad and no less spectacular opposition. 
IBA Champions' Night winner, Dutch-born Megan de Cler comes back to the event to face French boxer Fatia Benmessahel in a 63kg bout, the latter is a bronze medallist of the recent IBA World Championships.
World Championships bronze medallist, Wassila Lkhadiri from France will challenge Marta Lopez del Arbol from Spain in their 50kg bout. Lkhadiri has already won Lopez in a fight at an international event in 2020, and since then, this will be their second bout and another opportunity to determine the strongest in a 5x2min pro format.
Two World Championships bronze medallists, Rady Gramane from Mozambique and Davina Michel from France, who also managed to get silver at the recent European Games, meet in a 75kg contest. They have never boxed against each other before. 
World Championships bronze medallist and European Games winner Amina Zidani from France faces Commonwealth Games champion Michaela Walsh from Ireland in the 57kg division. The boxers hold one win each in their record against each other, and this fight will show who is stronger in the pro-style format. 
'IBA Champions' Night in Paris promises an unparalleled display of boxing's diverse styles and techniques,' IBA Secretary General and CEO Chris Roberts OBE claimed. 'Our dedicated athletes are gearing up not just to fight, but to deliver a mesmerizing show for the audience. With the French squad defending the home ring, the energy will be palpable, especially during the anticipated Oumiha-Rosenov bout – the true jewel of the evening.'
The fights start on 18 October at 17:00 CEST at Westfield Forum Les Halles in Paris, Terrasse 1. The boxing night will be live streamed on the Fight Nation platform.