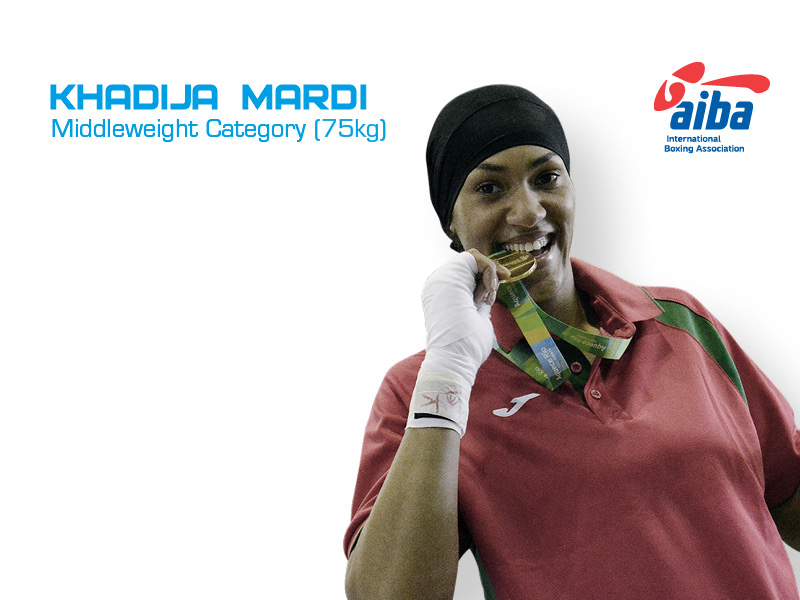 After winning your Rio 2016 quota place at the recent Olympic Qualification Event in Cameroon and the gold medal at the Rio Test Event last year, what are your goals for the World Championships in Astana?
I was very happy to win the Rio Test Event and it gave me a sense of how the Olympic Games will be, so I am very grateful to the organisers for selecting me. It also gave me a sense of where I stand today, and a lot of confidence going in to the Qualification Event in Cameroon which we won. Now it is time for the World Championships and I really want to take a medal back home. The world title is something close to my heart and I believe I am capable of beating all my middleweight rivals.
You are part of the AIBA Ambassadors program to promote women's boxing, why is that important to you?
​I am grateful to have been chosen for this honour and proud to represent women boxers and athletes, and to represent Africa and especially Morocco. I think that my personality, as well as the fact that I am a mother, will help engage people into sports and feel good about themselves. Promoting women's boxing is really important and I am sure that I can be an example for many Moroccan and African women who can follow in my steps and learn more about our sport.
Which three things have made you the athlete you are today?
First of all, my patience. Patience is essential to win and you need to train hard and be patient enough to see the results of that hard work. It is very difficult to build yourself a career without patience. Secondly, my determination. In boxing it is important to be determined to become an accomplished athlete and I am very determined inside and outside the ring, and my opponents can see that. Finally, the love I have for my country makes me truly happy to represent Morocco and its people at international events. I also represent Africa, and it is important to realize that people have faith and trust in you.
Who has inspired your career?
I started boxing in order to be able to protect myself, and it has evolved into performance. Now I like to be the best and to give my best, to outdo myself in this sport. I share a lot with my husband who has helped me to fulfil my sporting life, and I get inspiration from other sportsmen and women and Moroccan boxers whom I know, but my strength comes mostly from myself. My mother also played a big role in my life as she always wanted me to succeed in sport. I know she is always with me and that her love will always help me to succeed.
You are now a role-model for many women in your home country, how does that feel?
I am well-known in Morocco and I was named the 2015 Sportswoman of the Year together with (AIBA World Welterweight Champion) Mohamed Rabbii. We are a source of pride for young people in our country. Plus I am married and a mother, which shows a very positive image of Moroccan women. It proves that you can do many things at the same time and become an elite level sportwoman even if you have a family. The fact that I am in boxing shows that you should not hesitate to try new things, especially girls.
Are you involved in any charity work in Morocco?
I invest as much as possible to help handicapped people, both the physically and mentally ill. For me, it is very important to help those with fewer opportunities than you. In sports, physical strength and strategic intelligence are very important and it made me even more sensitive to people who do not have that capacity. When I retire from boxing, I want to dedicate time to these people and pass on courage and determination.
Who is your favorite boxer and why?
There is no doubt that Muhammad Ali is one of the greatest stars of the noble art, not only for his boxing style but also for his charisma and the fact he won big titles and was an Olympic champion. I also have a great respect for the Moroccan athlete (and IOC Member) Nawal El Moutawake, who was Morocco's first Olympic champion. She is a respected and remarkable person who always has encouraging words when she sees us and it was for me a great honor to meet her. I love the way she is close to all our sportsmen and women.
What is your favorite quote?
There is an Arabic proverb which states "Neither anxiety enriches us, nor generosity impoverishes us". It reminds me to have faith in the future and to be open to others to build strong and honest relationships.