Gadzhimagomedov beats La Cruz at the IBA Champions' Night in Serpukhov
August 27th, 2023 / IBA Champions Night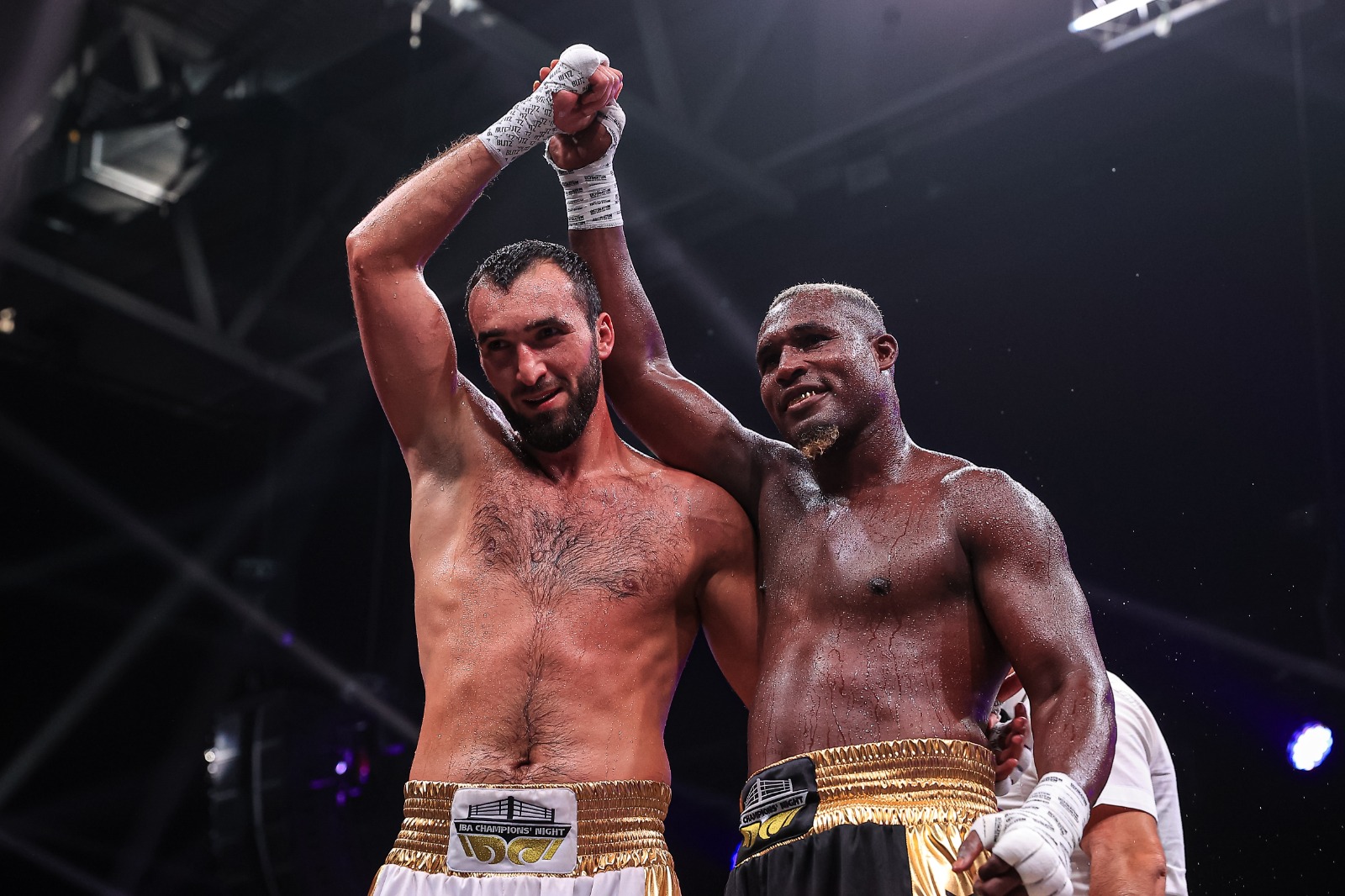 Russian Muslim Gadzhimagomedov celebrates a victory over Cuban superstar Julio La Cruz at the IBA Champions' Night in Serpukhov, Russia that preceded International Boxing Day and its worldwide celebrations. 
Nine 5-round boxing contests were held last night where the boxers showed their skills and dedication on the eve of International Boxing Day. Many esteemed guests, including IBA Board of Directors, were in attendance to witness the great night of boxing action.
In the main event, 5-time World champion, 2-time Olympic champion La Cruz and 2-time World champion Gadzhimagomedov impressed the audience with a fantastic 5 rounds showcasing outstanding defensive skills and combo attacks. In the close fight, according to judges, Gadzhimagomedov took the win by a slight advantage that brought the home audience to its feet.
'IBA Champions' Night is a top tournament, with good prize money, the best boxers face each other as we did tonight with Julio La Cruz, who is defending Olympic champion, and I am defending World Champion. It was tough, as we are extremely competitive rivals. Our plan paid off; we found the key to success. I haven't had any issues with other opponents during the last 5 years, and lost just 2 times, both to La Cruz. He is my main rival, an outstanding boxer, and now I have finally found my way through,' Gadzhimagomedov said.
The co-main event in super heavyweight featured World champion Mark Petrovskii from Russia and World Championships silver medallist Julio Castillo from Ecuador. Both boxers threw strong punches that could have gone either way. Petrovskii hit hard in the third round with his rival finding himself on the ropes, but in the next round it was Castillo who scored long and precise punches to the target area. In the final round Petrovskii took the initiative and with more energy kept attacking that brought him a unanimous victory.
'When my rival was in the final of the World Championships in 2019, I wasn't even on the national team. It was not an easy fight, I had to find the right moments to attack. Perhaps, I did not give it all to some extent, as there were several tough moments for me. However, this is more intriguing when there is no clear advantage, isn't it? One week ago, I had a professional fight, and today I had to switch to a strategy for a southpaw rival. It worked well. I am sure we are moving in the right direction,' Petrovskii said.
In 67kg, Russian Khariton Agrba eliminated Xolisani Ndongeni from South Africa. Agrba moved a lot and attacked from various angles, which made a lot of problems for Ndongeni. In the fourth round, Agrba hit his rival hard with unexpected counterattack, while South African counter attacks couldn't really reach the Russian. The judges gave the victory to Agrba unanimously.   
Pavel Fedorov representing Serbia used his height advantage successfully in his 63.5kg fight against Romanian James Chereji, he attacked from longer distance and used the jab to control his rival. Chereji looked good on the closer range in the episodes, but this wasn't enough to change the judge's decision who gave a unanimous victory to Fedorov. 
In 63.5kg fight, Cuban Lazaro Alvarez ddemonstrateda high standard of boxing and found the key to his younger rival Vsevolod Shumkov from Russia. With great timing, the Cuban stopped ccombinations from Shumkov with precise counter punches to the head and body. After the second round, Shumkov got a bruise under his eye that didn't make it easy, despite the great work of his corner. Alvarez confidently won by a unanimous decision.
Bakhodur Usmonov from Tadjikistan faced Luis Arcon from Venezuela in 63.5kg contest. In the middle of ring, Usmonov tried to work with combinations with 4-5 punches in a row, while Arcon responded with sharp counter attacks. Tajikistan's boxer had an advantage from his footwork that allowed him to choose better moments for attacking. Closer to the end, Usmonov managed to grow his advantage and was given a unanimous victory. 
Odiljon Aslonov from Uzbekistan challenged Uganda's Shadiri Musa Bwogi in 75 kg with his punching power. Despite strong and tough hits from Aslonov, a boxer from Uganda managed to go through all 5 rounds and responded with counter punches. However, these were not enough, and Aslonov deserved the victory with a unanimous decision.
In the two bouts of the undercard, Muzaffar Rasulov from Uzbekistan eliminated Stanislav Vasilev from Russia in the first round of their 70kg bout by RSC, and Tajikistan's Shohrukh Jiyanov delivered a split decision victory over Russian Egor Nazarov.