The first six gold medalists are crowned at the Toronto 2015 Pan American Games
July 25th, 2015 / All
An outstanding day of boxing saw the first six gold medalists of the Toronto 2015 Pan American Games crowned in Canada.
Besides the women's Middleweight (75 kg) final, five men's title bouts were also held on the seventh competition day in front of an excellent and loud crowd.
Bout of the day
Dominican Republic's Pan American Games Qualifier winner Hector Luis Garcia and Cuba's World Series of Boxing (WSB) team member Andy Cruz Gomez competed in a scintillating Bantamweight (56 kg) battle on Day 7.
Garcia had only lost twice over the past 18 months, while Cruz's performances in WSB last season established him as a serious domestic rival to decorated teammate Robeisy Ramirez.
Both technical boxers circled the ring in the opening stages as they sought to establish their dominance via counter-attacks.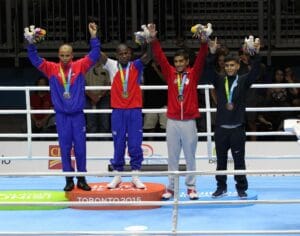 Cruz turned up the heat in the second round by utilising great jabs to set up many effective punches as he halted the attacks from the Dominican.
The Cuban maintained his lead in the third and final round to claim Cuba's first gold medal in Toronto, but Garcia should take a lot of confidence from almost beating the best in the continent on such a grand stage.
Gold medal winners of Day 7
Women's 75 kg: Claressa Shields, United States of America
Men's 49 kg: Joselito Velasquez, Mexico
Men's 56 kg: Andy Cruz Gomez, Cuba
Men's 64 kg: Arthur Biyarslanov, Canada
Men's 75 kg: Arlen Lopez, Cuba
Men's 91 kg: Erislandy Savon, Cuba
Team of the day
Following Andy Cruz's gold medal, two further Cuban boxers were able to win gold in Toronto.
Former AIBA Junior World Champion Arlen Lopez has now firmly established himself as the number one Cuban Middleweight (75 kg), and lived up to that ranking with a final victory over Colombia's current AMBC American Continental Champion Jorge Luis Vivas.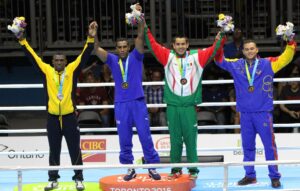 Lopez won all of the rounds of their entertaining bout, as he used his accuracy and strength to negate the bravery and effort that Vivas displayed.
Heavyweight (91 kg) star Erislandy Savon made it a hat-trick of Cuban wins after defeating Colombia's AMBC American Continental Champion Deivis Julio.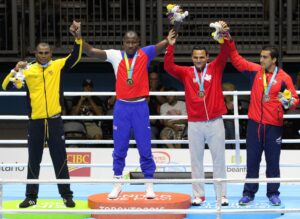 Julio performed very well in the opening round, before Savon raised his efforts in amazing fashion to ultimately prevail by split decision.
Surprise of the day
Cuba's London 2012 Olympic Games bronze medallist Yasnier Toledo Lopez was the defending champion from the 2011 Games, and fresh off a brilliant season in WSB, but lost his Light Welterweight (64 kg) gold medal bout to Canada's exceptional 20-year-old Arthur Biyarslanov.
Known as the "Chechen Wolf", Biyarslanov delivered a career best performance over the world class Cuban on home soil in Toronto.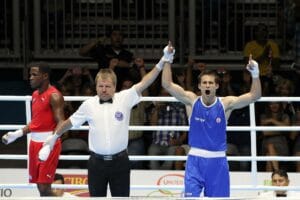 The Canadian used the adulation from the crowd to fuel his boxing, as his ferocious combination punches negated the counter-attacks from Toledo.
Biyarslanov constantly reduced the fighting distance, and eventually delivered the biggest surprise of the day against his world class rival.
The Round-Up
United States' Claressa Shields entered this event as the current Olympic Champion, AIBA Women's World Champion and AMBC American Women's Continental Champion, and finished the tournament with her very first Pan American Games gold medal.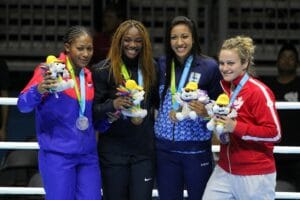 Still just 20-years-old, the Middleweight (75 kg) marvel fought Yenebier Guillen in the final after the Dominican Republic athlete eliminated Canada's Ariane Fortin in their semi-final.
Guillen attacked bravely from the first seconds, but the phenomenal US star was very aggressive in the opening round also.
Shields began to improve her performance even further from the second round onwards, and she ultimately enjoyed a deserved unanimous decision triumph despite receiving a warning during the bout.
As a result of her victory, Shields became the first US woman boxer  to win gold at the Pan American Games.
Mexico's Joselito Velasquez arrived to the venue of the Pan American Games as the defending champion of the men's Light Flyweight (49 kg) division, and sealed his second successive gold by defeating Cuba's AIBA Junior World Champion Joahnys Oscar Argilagos Perez.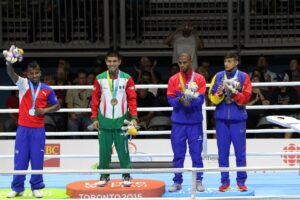 Velasquez defeated the 18-year-old Cuban last season in WSB, and won all of the rounds in his Pan American Games rematch with the youngest boxer in the event.
Fact of the day
Cuba claimed three gold medals on Day 7, while hosts Canada, Mexico and United States of America also won gold today.
Claressa Shields' victory was a historic one for the United States, while the youngest winner on the seventh competition day was Cuba's Andy Cruz Gomez.
Quote of the day
"It feels great to be a champion in the Pan American Games, and I am the first woman who could win a title for my country. My final opponent Yenebier is a great fighter, she is calm, had a game plan and she tried to execute it. Today's tactic was to keep it sharp, to not get into a dog fight, and to land my shots and move. I am never satisfied with my performance, I always see flaws that I want to fix in my style," said US star Claressa Shields after the final of the Women's Middleweight class (75 kg).
"That gold medal was what I came out here aiming for on home soil. My Cuban opponent was very tough, but my tactic was to show no respect and have fun in there. The crowd was incredible, and made me feel so much stronger and confident. I want to thank my family and coach Adrian Teodorescu for getting me well prepared," said Canada's new hero Arthur Biyarslanov after the medal ceremony.
Tomorrow's program
The second day of the finals will be held in the Toronto 2015 Pan American Games on Day 8, where the finale seven champions will be crowned in Canada.
The final schedule of Day 8:
Women's 51 kg: Marlen Esparza USA – Mandy Bujold CAN
Women's 60 kg: Caroline Veyre CAN – Dayana Erika Sanchez ARG
Men's 52 kg: Yosbany Veitia CUB – Antonio Vargas USA
Men's 60 kg: Lazaro Alvarez CUB – Lindolfo Delgado MEX
Men's 69 kg: Gabriel Maestre VEN – Roniel Iglesias CUB
Men's 81 kg: Julio Cesar La Cruz CUB – Albert Ramirez VEN
Men's +91 kg: Leinier Pero CUB – Edgar Ramon Munoz VEN