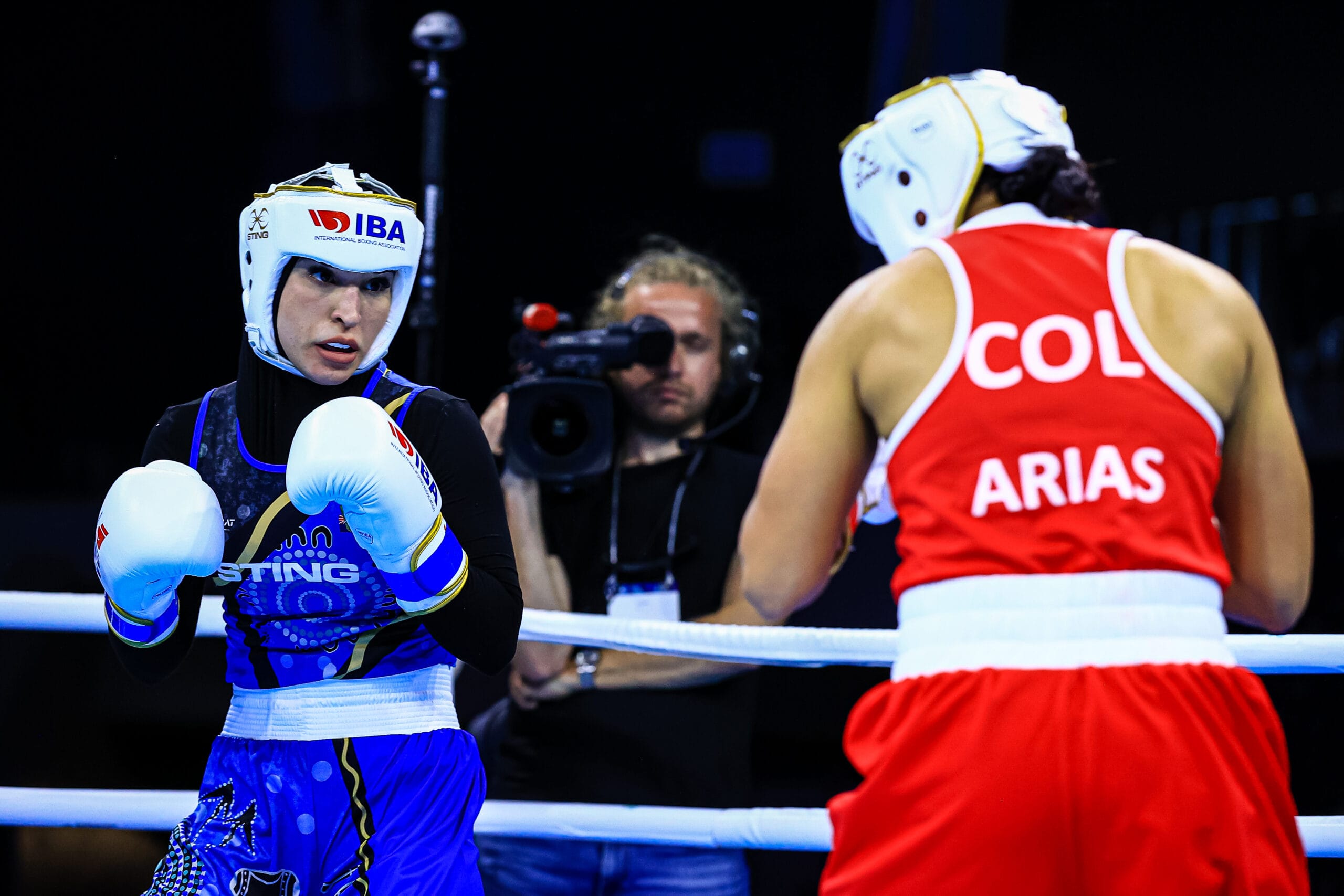 Tina Rahimi wins her quarter-final bout at the Commonwealth Games and guarantees her first major tournament medal in her second international fight. The first-ever Muslim woman in Team Australia tells her story of overcoming all obstacles to become a top-level boxer
She was born in Sydney, to an Iranian family. Tina was a very energetic kid doing some sports such as soccer for fun. However, after active school time she 'got a little bit lazy.' She was back to activity with a local sports gym to get fit but lifting weights and running on a treadmill got boring soon.
'That was the moment when I found boxing, I started to attend women-only classes. Later I realized that it is a passion,' remembers Rahimi.
She describes her first training as 'really, really hard.'
'I hit bags for the first time and I felt really strong compared to the other women in my class. It felt really good. After some time, it became a little bit boring in the women-only classes. I felt like everyone was not as committed as I was, they all were just doing boxing as fitness or for fun. Therefore, I couldn't do some partners work, and I joined the mixed class to give it a go.'
She recalls first sparring and a feeling that she was 'really strong.' Tina realized that she wanted to fight, which motivated her to train even harder. Just a few months after, she received her first opponent. 
'It was fast, yeah. I know something was in me, I felt it's something that I'd be good at.'
The first victory wasn't easy but brought her unforgettable emotions. 'After it, I knew that I had to get fitter and start running more. That's when I started to do more jogging.'
It was love from first sight, Tina mentioned. She used every single second to improve. 
'I remember being obsessed. Any opportunity I could have, I would just think about boxing. I was watching videos on Youtube, thinking how I can improve every day to be better.'
Rahimi started boxing when she was 21 years old.
'It was an independent decision. In fact, my dad and my uncles were into wrestling. My family doesn't really mind that I do boxing. My mom just told me to watch out.'
Tina keeps religious traditions, for instance, she fasts during Ramadan while she does her preparation for the tournaments. This year it coincided with the training period before the IBA Women's World Boxing Championships.
'I woke up at night, had my breakfast before the sun rises, and did my training. At night I ate again, and did my pray that take about an hour. Then I headed to the gym. So I had training twice a day every second day because it would be really hard to keep this routine daily as the body is dehydrated.'    
'It was a little bit harder and I feel like it mentally affected me, but I knew I had all my faith in God. Whatever's meant to be, will be, I'm going to try to train as hard as possible. I'll leave it all in the hands of God. That's how I handled it.'
At the IBA World Championships in Istanbul, she had the first international fight in her career. She didn't really know what to expect, and in a Round of 32, she lost to Columbian boxer Yeni Marcela Arias. 
'Being the best 57kg woman in Australia boosted my confidence. I thought I would be strong and could win that gold medal, and then I lost by a close split decision. Because of that, I wasn't too upset with the outcome. It just motivated me more to train harder and work on my weaknesses so I can improve for the next fights.'
Tina is the first-ever female Muslim boxer in Team Australia.
'I hope girls can be inspired to take up the sport. I want to show them that if you dedicate yourself to something, then anything is possible. Whatever you want to do, it doesn't matter what you look like, as long as you work hard. I don't even look like a boxer, but I worked hard, and I sacrificed a lot to be where I am today in a short time. I couldn't have achieved it without hard work. I'm happy to be a role model to not just Muslims, but everyone around the world.'
The main thing Rahimi sacrificed, according to her, was eating whatever she wanted.
'I think everyone in boxing does,' she laughs.
'What is more, people are getting upset when you miss their birthdays because of training. You cannot go out at night because you have goals that you want to achieve. Therefore, you make a lot of people upset, you lose friends.'
In fact, there are much more things to do to become a good boxer, Tina thinks.
'It is a tough sport and it is very lonely, but I guess you have to go through that to become the best.'
'You have to understand that nothing comes easy. It requires hard work and dedication.'
One day, her coach was watching Wonder Woman, and suddenly he realized that Tina reminds him of her.
'I took this image of Wonder Woman, she can do everything, she has superpowers. Since then, I am Tina Wonder Woman Rahimi.'
Before boxing, Tina had another role for 5 years.
'I always loved beauty and makeup and was really good at it. Back in high school times, I was always wearing makeup and always did my hair and liked to look nice. I always did makeup for my sister and all my friends, and later I pursued a career from there. I really loved it.'
Because of boxing, Tina had to dedicate her time to it and had to stop at the end of last year.
She still does makeup quite often not only for herself but also for one of her rivals. 'She beat me the first time, I won a re-match. Now we are really close friends with no hard feelings about our fights. She always comes to me, and I do her makeup from time to time.'
You hardly could imagine that she was a boxer, should you see Tina Rahimi some time ago, judging by her feminine appearance, and the way how she dresses and presents herself.
'A lot of people get surprised when I tell them that I box, but it doesn't bother me. Once I jump in the ring and then they get overwhelmed. It makes me happy because I shock everyone.'
'In the ring, I am not nice. I'm definitely not. Before the fight, I always talk to my opponents, after I show them my respect; but in the ring before the round starts, I always look them straight in the eyes. I'm there to win, that's it. I'm not the type that will give up at all. You need really do something to stop me. I won't let anyone just beat me, I'll put on a war before I go down.'
Rahimi is defending Australian champion in her weight class, she won the title this year. In some time, she received a ticket to Istanbul for IBA Women's World Boxing Championships, now she's representing her country at Commonwealth Games in Birmingham. 
'It's such a short period of time and especially because of Covid, it didn't really have many fights. This year I only got 11 fights. I had 21 fights in total, so just more than half of my fights are in less than six months. It feels pretty good to be like, not as experienced as the others, but still representing my country at the Commonwealth Games.'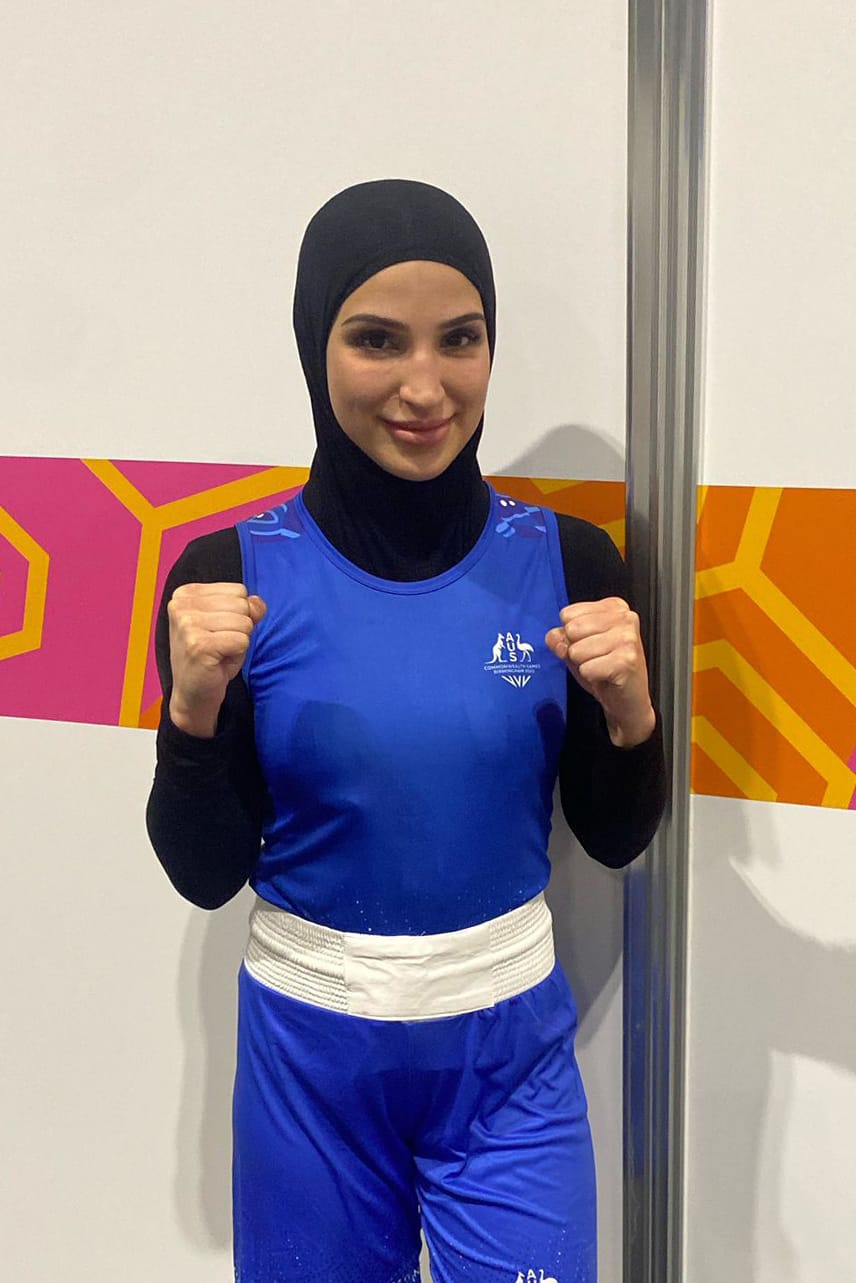 'I'm feeling well, really confident,' says Tina about the ongoing tournament in Birmingham where she secured a medal. 'After the World Championships, I've had a few fights, there were little things that I need to work on to improve, including inside fighting. So I've been working on that. I know that I'm capable of getting my goals.'
'I know I can get this gold; hopefully, you will see me higher on the podium, receiving my medal for the first place.'
She admits that they have good relationships within the national team.
'I have a really good team around me and we all just have one thing on our mind. We're all trying to motivate each other. If we see anyone eating something bad and they need to make weight, we would say "watch what you're eating." We try to push each other.'