European Olympic Qualification Tournament concludes in Turkey with thirteen nations able to confirm boxers for Rio 2016
April 17th, 2016 / IBA
The AIBA European Olympic Qualification Event drew to a close in Samsun, Turkey, on Sunday evening, with the men's lightweight, light welterweight and super heavyweights putting an end to a superb week of boxing. Thirteen nations shared the thirty men's and six women's quota places, with the British team securing an impressive nine places, Azerbaijan five and Armenia four. Italy, France and hosts Turkey saw three boxers through to August's eagerly awaited Olympic boxing competition.
The final session got underway with French 2015 European Games silver medallist Sofiane Oumiha avenging his defeat at the hands of Great Britain's Joseph Cordina in Hungary two months ago to take the lightweight title. Ireland's David Joyce had earlier secured himself a Rio 2016 berth with a fine win over home favourite Volkan Gokcek in the third-place box-off.
"This victory means the world to me. I have been trying to reach the Olympic Games since the qualifiers for Beijing in 2008 and London in 2012 and now my hard work has paid off. I am absolutely thrilled and very proud of achieving my ambition of becoming an Olympian after so many years," said Ireland's APB star Joyce afterwards.
Azerbaijan's 2015 European Games winner Lorenzo Sotomayor used all of his 15cm height advantage against Lithuania's 2012 Olympic bronze medallist Evaldas Petrauskas to take the light welterweight gold. The two finalists will be joined in Rio by Turkish APB star Batuhan Gozgec after he won every round of his box-off against Armenia's Hovhannes Bachkov.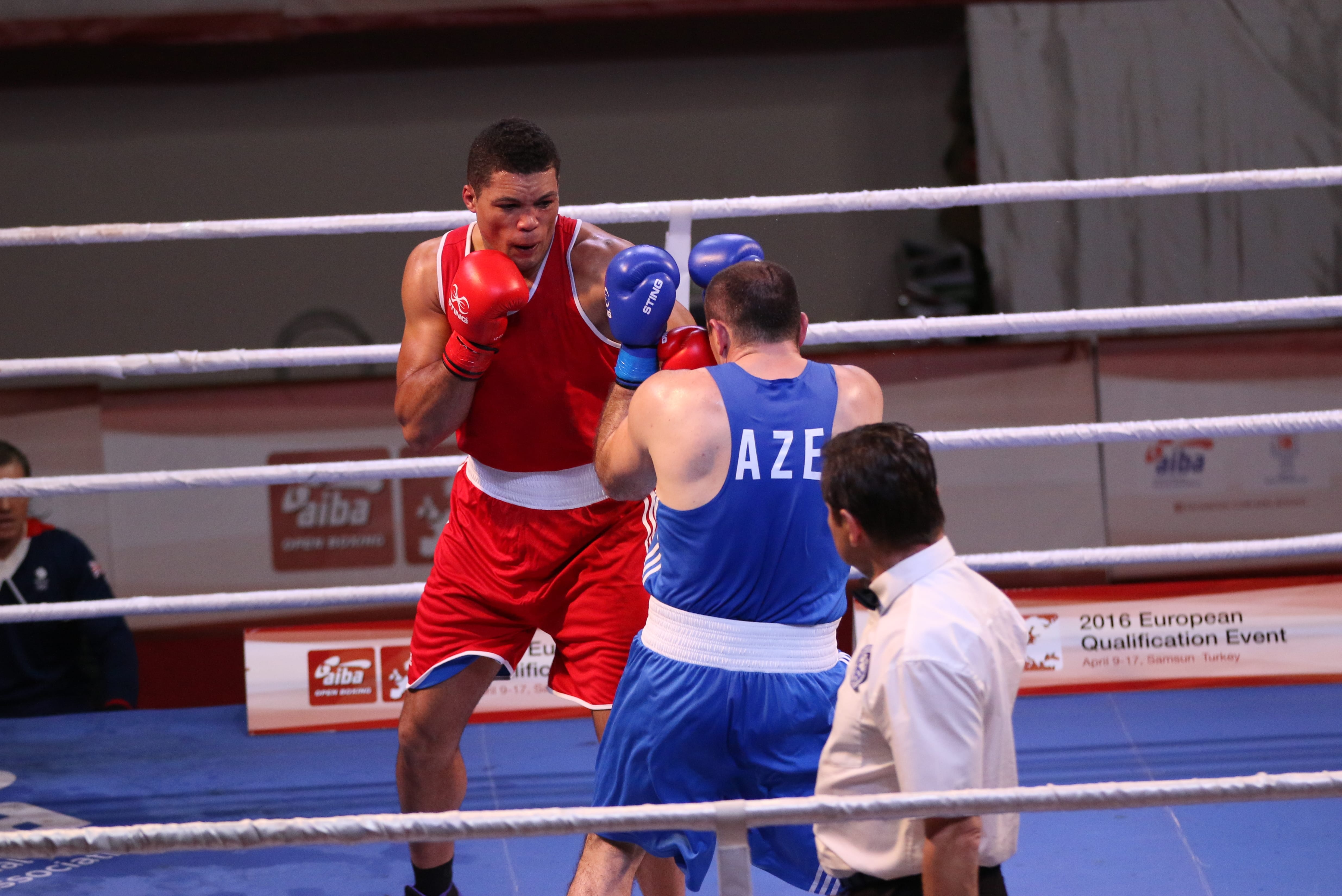 Joseph Joyce and Mahammadrasul Majidov
Great Britain's 2015 European Games winner Joseph Joyce and Azerbaijan's two-time AIBA World Champion Mahammadrasul Majidov also went into their super heavyweight final looking to finish the week off with gold and Joyce edged a superb, intense encounter to earn Britain's sixth gold of the tournament. The third Olympic quota place went to Turkey's Ali Eren Demirezen infront of a delighted crowd.
Winners in the AIBA European Olympic Qualification Event
 Women's 51 kg: Nicola Adams, Great Britain
 Women's 60 kg: Yana Alekseevna, Azerbaijan
 Women's 75 kg: Iaroslava Iakushina, Russia
 Men's 49 kg: Galal Yafai, Great Britain
 Men's 52 kg: Muhammad Ali, Great Britain
 Men's 56 kg: Javid Chalabiyev, Azerbaijan
 Men's 60 kg: Sofiane Oumiha, France
 Men's 64 kg: Lorenzo Sotomayor, Azerbaijan
 Men's 69 kg: Eimantas Stanionis, Lithuania
 Men's 75 kg: Christian Mbilli Assomo, France
 Men's 81 kg: Joshua Buatsi, Great Britain
 Men's 91 kg: Lawrence Okolie, Great Britain
 Men's +91 kg: Joseph Joyce, Great Britain