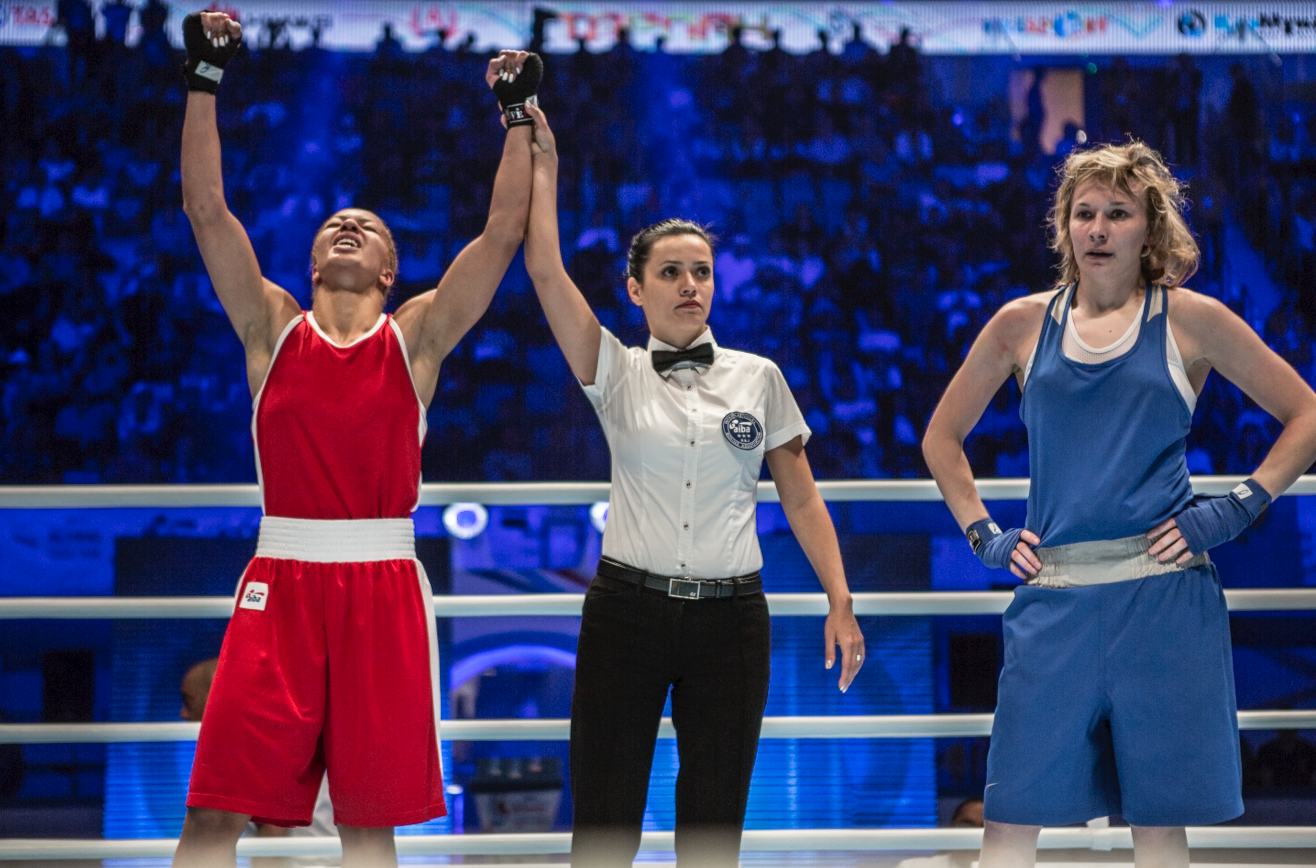 World and Olympic champion Estelle Mossely came back to the IBA competitions after several years of break. She was involved in professional boxing and managed to get the world title, as well as retain it several times.
Today, she starts her campaign at the IBA Women's World Boxing Championships in New Delhi in the 60kg weight category against the defending Asian champion from Thailand, Porntip Buapa.
A women's boxing star today, Estelle Mossely started her path in the sport being 12 years old. She tried classical dance, figure skating and swimming. One day she found herself in a boxing gym.
'I came to try, and I've never left this sport ever since. I found everything I need in boxing: hardness, reflection, and severity. I tried other sports, but it was only in boxing that I felt like being myself. Training is so varied, we are never bored, and every time is a challenge,' Mossely said.
Her last World Boxing Championships happened in 2016, and back then, 7 years ago, she was a different person. Same determined and passionate, but now even stronger and more experienced.
'I would say that my experience gained is the key. I am fully involved in my career, I know exactly what I need to perform, including what works for me at the time. I'm much more efficient than before,' the boxer mentioned.
Estelle explained that she knows how her body responds and can better control her emotions.
'I can be concentrated on a fight and release when it's time for rest. For the next challenge, I come back and focus again. Being the same boxer, I have more responsibilities. Since my last major amateur fight, I have given birth to my two kids. That is the reason why I am really focused, I value every training and every fight,' she mentioned.
Talent should go hand in hand with hard work, as Mossely said, and if one doesn't work a lot, it's impossible to explore some hidden sides of the talent.
'I love the idea that one should never give up and keep fighting for what one wants. I have faced some stereotypes about boxing as a "male-dominated sport" but the talent of many women in our sport has proven that wrong. To bring more women into boxing, we have to give everybody a fair chance,' she added.
Now the only goal of Estelle is to become a World champion for the second time in her career. She didn't study her opponents meticulously though, but she's fully ready for any opposition.
'When I turned professional, I cut with the amateur world. Usually, I stay focused on my rivals in professional, but it's high time I renewed with Olympic boxing and IBA World Championships is the best thing for that. In professional boxing, we take time for everything. For instance, I stay more time in the gym to do everything properly and forget nothing. I take time for warm-up, training, recovery, for everything we need to perform,' Estelle said.
Mossely wants to become a pioneer among boxers to be successful in pro and amateur rings. She finds it thrilling despite a fully booked competitions calendar.
'This busy schedule is what I like. Soon I am going to have a really big fight and I have this chance to come back to IBA competitions for a huge target in the same time. All of this makes me more powerful. I'm really focused because I know it's a hard target and I like that,' the French boxer claimed.
Estelle says herself to remember the hard work she did, and counts on the support of her family and friends.
'I was not the same as 7 years ago, but also I'm not the same as I have been in professional boxing. It's not really a surprise, I just worked hard to succeed. I don't like to talk a lot before championships, but for sure I'm ready,' she added.